ITV's Heartbeat TV series
ITV's Heartbeat TV series, produced by Yorkshire Television, is set in the mythical village of Aidensfield on the North Yorkshire Moors. Most of the location filming takes place in Goathland. Goathland has been transformed from a small Yorkshire village popular with walkers into a tourist trap. Bus loads of tourists arrive every day to have a pint in the Aidensfield Arms or to buy a souvenir from Bernie Scripps' Garage across the road. If you are lucky enough, Yorkshire Television might even be there filming an episode of Heartbeat.
Heartbeat originally was the story of the village bobby, PC Nick Rowan (played by Nick Berry) and his wife the doctor, Kate Rowan (Niamh Cusack). Its first episode was set in 1964. Heartbeat fortunately shows no signs of finishing and Aidensfield show no signs of moving past the sixties. It is 1969 now and likely to remain so for the foreseeable future!
When filming, Yorkshire Television create the fantasy world of Aidensfield, 1969. Shop windows are transformed. There are goods priced in pounds shillings and pence. Souvenirs of Heartbeat are moved out of sight. Road signs are changed. All trappings of modern life disappear and a small part of the village goes back to the sixties. That small part of the village is surrounded by all the paraphernalia of television. There are camera crews busy checking the light, people checking for any modern detail still in the shot. They have to be careful of reflections in windows, even if the scene is perfectly in period. Crowds gather to watch. The actors arrive. People shout "Quiet please! We are recording!". The cameras roll. A sheep bleats, or the train toots and they have to do the scene all over again.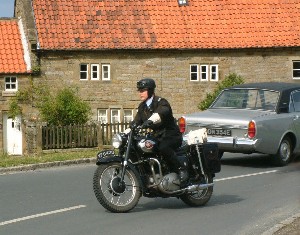 PC Rob Walker (played by Jonathan Kerrigan) passes a silver Ford Corsair 2000E. PC Walker arrived in Aidensfield only recently. He is one of a long line of village constables.
He seems to be developing a friendship with the Dr Helen Trent (Sophie Ward). Is it blossoming into romance?
This shot took several takes to get it exactly right. This is a rehearsal. The cars are carefully chosen so as not to be too colourful and draw attention away from the actors.


A new romance in Aidensfield? PC Rob Walker and Dr Helen Trent.

Will they be the new policeman and doctor combination? Right, a late night job for Bernie Scripps at Aidensfield Garage.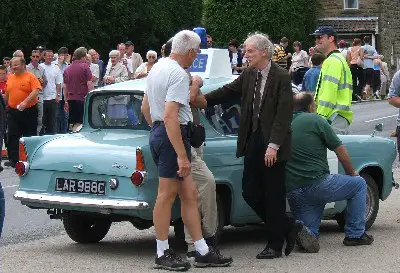 Right, Peter Benson, who plays Bernie Scripps, chats to the crew during filming of an episode of Heartbeat. Bernie Scripps owns Aidensfield Garage. David Stockwell's Aunt Peggy often ropes the reluctant mechanic-cum-undertaker into money-making schemes, which often end in failure. Claude Greengrass, played by Bill Maynard, was one of Bernie's previous associates, as was Vernon Scripps (Geoffrey Hughes) - Bernie's long lost step-brother.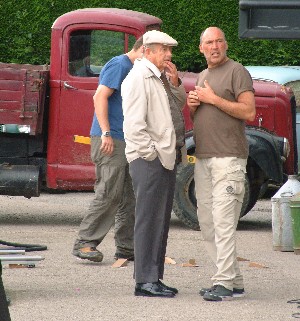 Left Derek Fowlds who plays Oscar Blaketon (wearing the flat cap). Oscar Blaketon owns the pub, the Aidensfield Arms. He used to be the scourge of PCs Ventress, Bellamy and Rowan as Aidensfield's Sergeant. After retirement following a heart attack, from which Claude Greengrass saved his life, Oscar ran the Post Office. Later some financial good fortune allowed Oscar to buy the pub, which he now runs with Gina Ward (Tricia Penrose).
| | |
| --- | --- |
| Right- Oliver Montgomery, who plays Matthew Trent, Dr Trent's estranged husband, signs some autographs. | |
More of the stars - Mark Jordan who plays PC Phil Bellamy (left), Vanessa Hehir (Rosie from the Aidensfield Garage), and the new Sergeant, George Miller (John Duttine). You might be interested to know that Vanessa Hehir first appeared in Heartbeat as Gail Smethurst, the girlfriend of unruly teenager, Gareth North in an episode first screened in 2001.
Below PCs Walker and Bellamy (left); David Lonsdale who plays David Stockwell chats to Jonathan Kerrigan, note the policeman's helmet on the railings and filming at night in the rain outside the Aidensfield Arms (right). By then only a bunch of die-hard fans were still braving the weather!
More on Heartbeat
See also www.nicholasrhea.co.uk/heartbeat/ a fantastic site about Heartbeat, its characters and author.