300 series telephones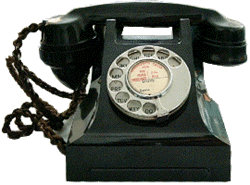 The classic squat black phone, star of so many 1950s' police dramas, was a design from the 1930s. It was originally conceived by Ericsson in Sweden in around 1930 and went into production in 1932. The Prince of Wales (later Edward VIII) saw one at an exhibition in Stockholm and had the phone installed in his home.
The General Post Office (GPO) in Britain wanted a phone with an internal bell to complement the existing 200 series phones (Telephones 162 and 232). GPO engineers worked with the British Ericsson Company to design a phone for the UK market. The Telephone 332 entered service in 1936.
The GPO originally intended this phone to be used mainly by businesses. Household phone systems were to be still based on the 232. These phones were used in the World War II and if you visit the Cabinet War Rooms in London, you can see the red and green 332 phones on display. The green for scrambler and the red for priority calls.
After World War II, the 332 became the standard GPO UK telephone. Like the 232, it was mainly supplied in black, but white red and green versions were also produced for domestic use. Like the 232, these coloured phones are rare and expensive today.
Telephone 312
The Telephone 312 was a variant of the 332 designed for use on shared service, or party lines. It had a separate 'Call Exchange' button. At the time, party lines were not particularly liked. You shared a connection with your neighbour and could listen in on their calls and vice versa.
The 312, with this extra feature, is more desirable as this adds to the charm of the phone from a collector's point of view.
What to pay
These telephones are not as expensive to buy as the 232 and 162 telephones. However, you still need to spend quite a lot cash for the red and green ones, whilst the white/ivory phones are a bit cheaper and black ones being the cheapest.
Green or red phone in excellent restored condition - £300 to 400
Ivory phone in excellent restored condition - £150 to £350
Black phone in excellent restored condition - £90 to £150
Black phone in good unrestored condition - around £50
Extras such as the cheese-tray drawer underneath the phone add to the value, as well as lettered rather than numbered dials. Genuine lettered dial phones have a model number of 332L or 312L, those with numbers only were model numbers 332F and 312F.
See 300 series telephones on eBay
Check out our price guide for more advice.
Resources
See Bob Freshwater's article on Telephone No. 332
Also see Bob Freshwater's guide on how to spot a fake: Collectors' information 300 types
See also the GPO telephones page on Wikipedia.
Your comments