What happened in 1982? - UK
What happened in 1982? - UK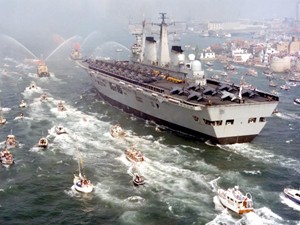 We look at events, new products, films and music.
In the news
25 February - Sir Freddie Laker's Laker Airways collapsed owing £270m. Sir Freddie had been a pioneer of low-cost transatlantic flights
February 25 - The European Court of Human Rights ruled corporal punishment of children, without the consent of parents, was a breach of human rights
18 March - Attorney General Sir Michael Havers intervened to end a private prosecution brought by Mary Whitehouse against the Director of the National Theatre, Michael Bogdanov. The play, 'The Romans in Britain', featured a male rape scene which Whitehouse held to be against the Sexual Offences Act 1956
1 April - The Argentinian invasion of the Falkland Islands started
24 April - The UK held the Eurovision Song Contest. Nicole won for Germany with 'Ein Bisschen Frieden' (A Little Peace)
2 May - A UK submarine sank the Argentine cruiser the General Belgrano
14 June - Argentine forces surrendered at Stanley ending the Falklands War
20 July - The IRA detonated bombs in central London during military parades at Hyde Park and Regent's Park. They killed 11 British soldiers and 7 horses
11 October - Henry VIII's flagship, the Mary Rose, was brought to the surface in the Solent. It sank in 1545
11 December - ABBA make their last UK TV appearance on Noel Edmonds' 'The Late, Late Breakfast Show'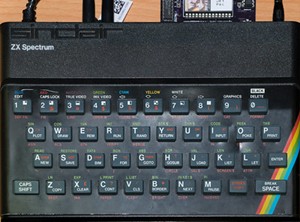 Facts about 1982
The average wage for male workers aged over 21 was £154.30 (Hansard: HC Deb 10 February 1983 vol 36 cc422-3W)
The average wage for female workers aged over 18 was £98.9 (Hansard: HC Deb 10 February 1983 vol 36 cc422-3W)
The best-selling car of 1982 was the Ford Escort MkIII. See Britain's best selling cars from the 80s
The best-selling cigarette was Benson & Hedges with 18.2% of the UK market (Maxwell International Estimates, September 1983)
In 1972 95% of British households had a television set, 76% had a telephone and 60% had central heating.
The BBC Sports Personality of the Year was Daley Thompson.
Sinclair launched the ZX Spectrum computer in 1982
For more information see How much did things cost in 1982?
Films
The films that made the most money in the UK in 1972 were:
E.T. the Extra Terrestrial
Annie
Mad Max 2
Rocky III
Death Wish II
Poltergeist
Star Trek II: The Wrath of Khan
Firefox
TRON
Blade Runner
1982 Top UK Box Office Movies on 25th Frame
Television
These British TV shows debuted in 1982:
Police - a documentary about Thames Valley Police
Fame is the Spur - drama based on novel by Howard Spring
King's Royal - drama about the whisky business in the nineteenth century
Cagney and Lacey - drama about two female New York cops
Wogan - long-running chat show programme
Fame - drama about the New York City High School for the Performing Arts
Beau Geste - drama about the French Foreign Legion
Shogun - epic drama set in Japan
Boys from the Blackstuff - Alan Bleasdale's classic drama
The Young Ones - sitcom parodying student life
Shine on Harvey Moon - comedy set in East End of London
Brookside - long running soap set in Liverpool
Falcon Crest - American soap
Clive James On Television - long-running show
Children's TV
Children's TV programmes starting in 1982 included:
Emu's World - with Rod Hull
Fun Factory
Let's Pretend
Square Pegs
Ragdolly Anna
Source: The Encyclopaedia of Cult Children's TV by Richard Lewis
Music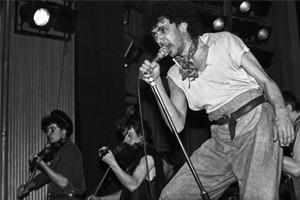 The best-selling pop records of 1982 were:
Come On Eileen - Dexys Midnight Runners
Eye Of The Tiger - Survivor
Fame - Irene Cara
The Lion Sleeps Tonight - Tight Fit
Do You Really Want To Hurt Me - Culture Club
Ebony And Ivory - Paul McCartney and Stevie Wonder
I Don't Wanna Dance - Eddy Grant
Seven Tears - Goombay Dance Band
Pass The Dutchie - Musical Youth
Town Called Malice/Precious - The Jam
Source: UK Top 100 Singles by Paul Gambaccini, Tim Rice and Jonathan Rice, published by Guinness in 1993
Sport
Tottenham Hotspur beat Queens Park Rangers to win the FA Cup. Liverpool topped the Football League.
Grittar won the Grand National at Aintree ridden by Dick Saunders. The owner and trainer was Frank H Gilman. The previous year's winner Aldaniti, ridden by Bob Champion, fell at the first fence.
Golden Fleece, ridden by Pat Eddery, won the Derby at Epsom.
Northern Ireland and England took part in the 1982 Football World Cup. Both teams made it to the second stage, but their World Cup dreamed ended there.
Toys
Star Wars Toys were Toy of the Year in 1982.
Other toys and games launched in 1982 included:
Armatron - a robotic arm. Robots were making Mini Metros and Ford Escorts in the 1980s; budding engineers could play with a robot toy
Commodore 64 - a computer with an enormous memory (for 1982)
Matsushiro Knight Rider radio-controlled car
My Little Pony
Trivial Pursuit
ZX Spectrum - Sir Clive Sinclair's latest computer. The Spectrum offered bags of computing power for a modest price
Cars
Some of the new cars launched for the UK market in 1982 were:
Austin Ambassador
BMW 3 Series (E30) - classic yuppie transport
Citroën BX
Ford Sierra - the 'jelly-mould' car
Lotus Excel
Mercedes-Benz 190 series
Nissan Micra
Porsche 944
Reliant Rialto - updated three-wheeler
Volvo 700 Series
Read more: What were the best selling cars of the 1980s?
References
More on 1982
More on the 1980s
By Steven Braggs, June 2022
Add your comments
Comments
No comments yet. Be the first!