Top UK babies' names from the 1960s
Top UK babies' names from the 1960s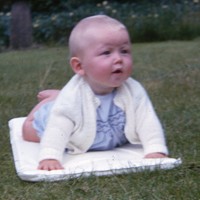 | Rank | Girls' names | Boys' names |
| --- | --- | --- |
| 1 | Susan (1) | David (1) |
| 2 | Julie (27) | Paul (7) |
| 3 | Karen (37) | Andrew (12) |
| 4 | Jacqueline(13) | Mark (32) |
| 5 | Deborah (59) | John (2) |
| 6 | Tracey (-) | Michael (4) |
| 7 | Jane (12) | Stephen (3) |
| 8 | Helen (22) | Ian (13) |
| 9 | Diane (33) | Robert (6) |
| 10 | Sharon (63) | Richard (10) |
Girls' names
Apart from Susan at number 1, it is all change for girls' names in the 1960s.
Julie was increasing in popularity. It was number 92 in 1944 and 27 in 1954. Karen was also becoming a popular choice, it was was 37 in 1954, moving to 3rd position in the 1964.
Jacqueline may be after Jacqueline Kennedy, especially as this list is for 1964 and US President John Kennedy was assassinated the year before. Although Jacqueline was only the 51st most popular name in the USA in the 1960s. Jacqueline was already popular UK. It was number 13 in 1954 and number 25 in 1944.
Sharon and Tracey were both newly popular names in the 1960s. This is when the Essex girls of 1980s' fame were born. Both names declined in popularity in the 1970s and were almost extinct by the 1980s.
Boys names
Boys' names are less prone to fashion than girls' names. Only four of the 1960s top ten were not in the 1950s top ten. The biggest climber was Mark which was 32 in 1954 and not in the top 100 in 1944. However, such a biblical name could hardly be radical.
Parents may have had the two most famous Beatles in mind when the chose either John or Paul for their son. But John was less popular than in the 1950s. George did not make a comeback and I am sure no-one called their baby boy Ringo!
The name Andrew may have had a boost because of Prince Andrew, who was born in 1960, but Prince Charles (born 1948) had no impact on the popularity of the name Charles.
Quads
Multiple births made headlines in the 1960s. In 1962 Mr and Mrs Meacham of Leigh-on-Sea, Essex, named their quads Christopher, Edward, Lucille and Yana. [1]
On 14 May 1963 Mrs Cumming of Aberdeen gave birth to quads. She already had two sets of twins: Dora and Heather (aged 6) and Carol and Grace (aged 3). The Cummings named their quads Betty, Margaret, Robert and Wilma. Robert was named after his father. [2]
References
I compiled the information in the table from 'First names - The definitive guide to popular names in England and Wales', by Emma Merray and published by HMSO in 1995. The information refers to the year 1964.
[1] What an armful of Meachams, published in the Daily Express 23 March 1962 (page 5)
[2] The high flying quads, published in the Daily Express 23 September 1963 (page 5)
Read more:
Add your comments