How much did things cost in the 1950s - USA?
How much did things cost in the 1950s - USA?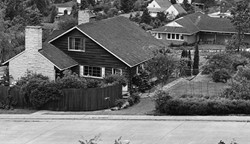 Are things more expensive today than they were in the 1950s? We look at a few everyday items in the USA.
Prices are not the whole story. You also have to think about how much people earned.
Average family income in the United States rose from $3,300 in 1950 to $5,400 in 1959. Prices also increased in this period, but less so than wages. So people were better off in 1959 than they were in 1950.
Housing
There was a housing boom in post-war America. 13 million new homes were built between 1950 and 1960. Most of them were in new suburban developments.[1]
The suburban building boom started just as the War finished. William Levitt was America's most prolific builder. His men assembled prefabricated houses on site in a day. His first development at Hampstead, Long Island near New York had 17,000 homes [2]. These developments were known as Levittowns.
Supply helped keep house prices stable in the 1950s. There was only a small increase. The original Levittown house cost $7,990 in the 1940s. In 1956, new homes costing as little as $7,000 could still be found. Though the average new build family home in 1956 was a 3-bedroom rambler (ranch-style house) selling for $14,500. Most people were shopping for homes in the $12,000 to $15,000 sector.[3]
With a huge amount of new building going on, most people setting up home moved into new houses. There was also a strong market for 'used' homes. Americans moved frequently, sometimes for new jobs, sometimes to trade up to a bigger house or a better suburb.
Cars
The 1950s was also boom time in the automobile industry. Between 1945 and 1960 the number of cars on America's roads increased by 133%.[4]
Most cars sold in America were made by the big three manufacturers: Ford, General Motors and Chrysler.
These are the prices of some typical family cars from the 1950s:
1950 Chevrolet Deluxe 6 cylinder 216 cubic inch - $1529
1953 Chevrolet Bel Air 6 cylinder 235 cubic inch - $1885
1954 Ford 8 cylinder 2-door Mainline - $2020
1954 Plymouth Plaza Club sedan - $1980
1954 Buick Special 4-door sedan - $2740
Imported cars were not a big part of the US car market in the 1950s. A few invaders did make it from Europe. The most successful was the West German Volkswagen. These small European-made cars did persuade the US automobile giants to make some smaller cars. The Ford Falcon, Plymouth Valiant and Chevrolet Corvair were all announced in 1959 for the 1960 model year. All were small by American standards, but much bigger than the European imports.
You could buy these European cars in America in the 1950s:
1958 Volkswagen (German import) - $1586
1959 Morris Minor (UK import) - $1495
1959 Renault Dauphine (French import) - $1645
1959 Fiat 500 (Italian import) - $1398
Gasoline prices
The average price of a gallon of gas rose from 27c in 1950 to 30c in 1959.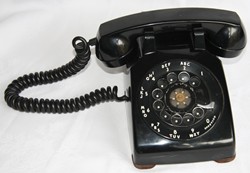 Telephone calls
America led the world in number of telephones per head of population. In 1959 there were 400 telephones for every 1000 people. Quite a few. Europe was less well blessed.
Sweden came second with 340, but the UK only had 150 and West Germany only 100.
But how expensive was it to make a call?
In 1951 the minimum cost of a call from a payphone in New York went up from 5c to 10c. For one Detroit man, Earl Synder, it cost considerably more. In 1953 a court fined him fined $50 for using a washer instead of a dime in a public telephone booth. [5]
If you had a phone in your house local calls were cheap, but long distance calls were expensive. These are the charges from New York to various US cities in 1950 and 1959.
| | 1950 | 1959 |
| --- | --- | --- |
| NY (New York) to Philadelphia | $0.45 | $0.50 |
| NY to Chicago | $1.55 | $1.45 |
| NY to Denver | $2.20 | $1.95 |
| NY to San Francisco | $2.50 | $2.25 |
Source: Statistical Abstract of the United States, 1961
The cost of calls was coming down. In 1930 the cost of a call from New York to San Francisco was $9.00
Calls abroad were expensive. Calls overseas to US territories were just as dear. These are some typical rates for a three-minute call:
USA to Germany, Japan or Holland - $12
Boston to Cuba - $6.50 [Pre-Castro Cuba was a popular holiday destination in the 1950s]
San Francisco to Hawaii - $7.50
New York to Hawaii - $9
Chicago to Haiti - $9
Source: various adverts by Bell Telephone Service from the 1950s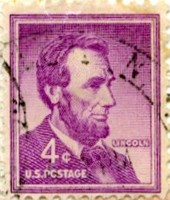 Posting letters
At the beginning of the 1950s, it cost just 3c to post a letter up to 1 ounce in weight in the USA. The rate rose to 4c in 1958.
Newspapers and magazines
Newspapers in 1950s' USA were very cheap
New York Times - 1950-59 - 5c
Los Angeles Examiner 1950 - 5c, 1959 - 10c
The Saturday Evening Post (1959) - 15c
Fast food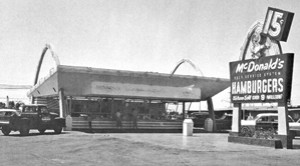 McDonald's prices from the 1950s:
Hamburger - 15c
Coffee - 5c
Milkshake - 20c
Source: 'Grand Expectations: The United States 1945-1974' by James T Patterson, published by Oxford University Press in 1996
Television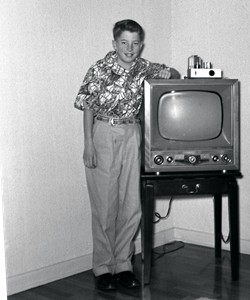 1951 - Philco - 12½ inch round screen, plastic cabinet - $149.95
1951 - Philco - 20 inch console model - $399.95
1954 - RCA Victor CT 100 color TV - $1000
1957 - RCA Wescott color TV - $645
1958 - Sears 24 inch console TV, mahogany finish - $269.95
1958 - Sears Silvertone portable TV - $119.95
1959 - Philco Safari portable battery TV - $250
At the beginning of the 1950s a black and white TV sold from $200 to $400 depending on its size and quality. The price of black and white sets came down and the size of the tube got bigger through the decade.
Color television first broadcast in the USA around 1953. It was hard to get hold of a color set even if you could afford one. The American Government banned their sale to conserve materials for the Korean War.
The RCA Victor CT 100 of 1954 was one of the first color TVs for sale. RCA's ticket price was $1000. RCA cut this to $495 later in the same year. They offered customers who bought the first sets a $505 refund as a prelude to introducing larger sets. Two years later RCA sold a 21 inch color set for $495.
Prices of black and white sets came down to around $100 for a basic portable that you still needed to plug into the mains.
Philco announced a real portable set, the Philco Safari, which ran off batteries for $250 in 1958.
Other consumer goods
In the 1950s, you could buy anything from coffee makers to popcorn poppers all in shiny chrome with Bakelite fittings. Perfect for the push button 1950s' kitchen.
Typical prices of consumer goods were:
Sunbeam 12W automatic mixer - $46.95 (Sears 1958)
Kenmore automatic toaster - $12.95 (Sears 1958)
Gian Kenmore Grill-Waffler - $21.95 (Sears 1958)
Sunbeam automatic coffeemaker - $24.95 (Sears 1958)
Fully automatic corn popper - $6.60 (Sears 1958)
Coldspot fridge-freezer - $329.95 (Sears 1958)
Kenmore electric cooker - $159.95 (Sears 1958)
Transistor radios
Japanese transistor radios became a must-have accessory in the late 1950s. They were far from cheap. Top Japanese makers, such as Sony and Toshiba, were becoming well-known in the United States.
Toshiba TR-193 Shirt pocket 4 transistor radio (1959) - $29.95
Toshiba 6TP-314 Shirt pocket 6 transistor radio (1959) - $39.95
Toshiba 8TM-2994 transistor portable radio (1959) - $49.95
Sony TR 810 8 transistor portable radio (1959) - $49.95
In 1958 Sears reminded customers that Civil Defence recommended carrying a battery radio in case of emergencies. Presumably to hear the four minute warning. Their models ranged from $23.95 for a basic model up to $42.95 for a deluxe Silvertone radio in a top grain leather protective case.
Record players
Other audio devices were not so portable. It was the age of the console radiogram. Most teenagers would have opted for a portable record player for their bedrooms.
Stereophonic radio phonograph (Radiogram) - $244.95 (Sears 1958)
Portable record players - $28.95 - $64.95 (Sears 1958)
Cameras
Photography was a popular hobby. Kodak served the cheap end of the market. The Argus C3 was the serious amateurs' camera. Polaroid instant cameras were a new craze.
Kodak Pony II - camera - $33 (Sears 1958)
Argus C3 camera outfit (camera, tripod, slide projector, flash unit and bulbs and film) - $142.95 (Spiegel 1955)
Polaroid (instant) camera - $69.95 (Spiegel 1955)
Stationery
Ball point pens were still a novelty in the 1950s:
Parker '51' fountain pen - $15 (Spiegel 1955)
Parker Jotter ballpoint pen - $2.95 (Spiegel 1955)
Esterbrook ball point pen - $1.69 (1959)
Toiletries
Old Spice after shave (1959) - $1
Chanel No 5 Perfume Spray (1959) - $5
Groceries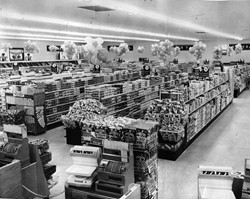 These are some typical groceries people bought in the 1950s and the approximate prices.
Bread
Skylark Homestyle loaf (1lb) (Safeway 1951) - 18c
Skylark sliced white loaf (1lb) (Safeway 1958) - 19c
Skylark Protein bread loaf (1lb) (Safeway 1959) - 19c
Skylark Slenderway loaf (1lb) (Safeway 1958) - 19c
Canned/bottled meat and fish
Swift's premium hamburgers, 10oz can (Safeway 1952) - 49c
Libby's corned beef hash 1lb can (Safeway 1953) - 28c
Libby's Vienna sausage 4oz can (Safeway 1953) - 19c
Safeway Skinless Franks 1lb pack (1959) - 59c
Canned fruit and fruit juices
Town House grapefruit juice 2 x 46oz cans (Safeway 1952) - 39c
Soups
Heinz tomato soup 11oz can - 11c
Sauces and pickles
Sauerkraut (Stone Crock) 2 x 27oz cans (Safeway 1952) - 17c
Hot drinks
Canterbury tea bags (pack of 48) (Safeway 1952) - 46c
Liptons tea bags (48) (Safeway 1953) - 48c
Cakes, biscuits and chocolates
Educator Crax (crackers) 1lb pack (Safeway 1952) - 27c
Peter Paul Miniature Mounds 6oz box (Safeway 1953) - 29c
Snacks
Fritos 6½oz pack (Safeway 1957) - 29c
Planter's cocktail salted peanuts 7¼oz can (Safeway 1957) - 37c
Ready meals
Swanson TV dinner turkey, chicken or pot roast 11oz pack (Safeway 1958) - 59c
Breakfast cereals
Post Sugar Rice Krinkles 2 packets (Safeway 1952) - 31c
Jellies and pudding mixes
Lipton's Frostee dessert mix (Safeway 1952) - 2 packs for 25c
Baking products
Crisco shortening 3lb can (Safeway 1952) - 81c
Royal Satin shortening 3lb can (Safeway 1952) - 69c
Cuplets cupcake mix 11¾lb pack (Safeway 1952) - 18c
Flako pie crust mix (Safeway 1957) 2 x 10oz packs - 29c
Fruit and vegetables
McIntosh apples 2lbs - 25c
Green beans 2lbs - 25c
Sweet corn 1lb - 8c
Honeydews (Safeway 1952) - 10c per lb
Dairy
Dutch Mill American sliced cheeses (Safeway 1952) - ½lb - 33c
Cheddar cheese (Chatham mild) (Safeway 1952) - 59c per lb
Kraft sliced Swiss cheese (Safeway 1952) - ½lb - 41c
June Dairy Muenster sliced cheese 6oz (Safeway 1952) - 31c
Dannon yogurt orange flavour ½pt (Safeway 1952) - 18c
Meat
Turkey 18-24lb (Safeway 1957) - 37c per lb
Smoked ham (Safeway 1957) - 49c per lb
Fresh grade A frying chickens (Safeway 1953) - 52c per lb
Ribs of beef (Safeway 1953) - 63c per lb
Frozen foods and drinks
Bel Air frozen lemonade 6oz can (Safeway 1952) - 2 for 29c
Jekyll Island frozen breaded shrimp 12oz (Safeway 1952) - 75c
Fordhook Bel Air lima beans 10oz (Safeway 1952) - 25c
Household products
Flit household spray (insect killer) (Safeway 1952) - 29c
Chlorox bleach (Safeway 1953) - 2 quart bottles for 31c
Holidays
Flight to London with Trans Canada Airlines (1952) - $265
Cigarettes
Smoking was common in 1950s' America. But evidence it was bad for health was mounting. A landmark article in Readers' Digest, "Cancer by the Carton", in 1952, explained the risk. Americans found smoking a hard habit to kick.
In the mid-50s, there was a switch to filter brands which were supposed to be better for health. In reality they brought no real benefit. Paradoxically there was also an increase in popularity of king-sized brands.
The most popular cigarette brands in the 1950s were Camel, Lucky Strike and Chesterfield. Of the filter brands, Winston was the most popular. It was made from stronger tobacco and had more tar, but slightly less nicotine than Camel. But people thought the filter made it safer.
How much did cigarettes cost?
Murad was the most expensive brand and cost 37c per pack. Parliament and Du Maurier, both filter brands with an exclusive image, cost 33c. Kent was also a premium brand and sold for 31c.
The popular brands cost from 24c to 25c per pack.
At the cheap end of the scale Sears sold Yorkshires for 17c per pack.
Source: 'Cigarettes' published in Consumer reports, February 1955 (Published by the Consumers' Union of the United States)
Read more about historic prices and inflation
References
[1] 'The unfinished journey - America since World War 2' by William H Chafe, published by Oxford University Press 2003, page 112
[2] 'Grand Expectations: The United States 1945-74' by James T Patterson, published by Oxford University Press 1996, page 72
[3] 'Average house built last year: 3-bedroom rambler costing $14,500' published in the New York Times 19 May 1957, page R1
[4] 'The unfinished journey - America since World War 2' by William H Chafe, published by Oxford University Press 2003, page 114
[5] '$50 telephone call', published by the Chicago Defender, 21 March 1953, page 6
By Steven Braggs, October 2020
Your comments