How much did people earn in the 1950s?
How much did people earn in the 1950s?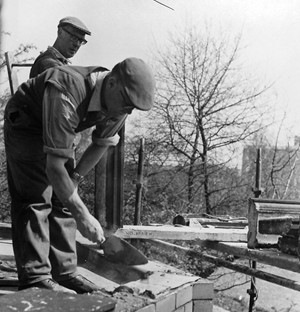 The 1950s were the 'never had is so good' years. Wages were rising quickly, but living standards were well below today's.
On average people earned a lot less than they do today, even allowing for inflation.
In 1950 the average weekly wage was £5.60. In 1959 it was £8.90, an increase of nearly 60%. [1]
Today average weekly earnings are £570. So people are a lot better off today than they were in the 1950s.
There was less of a gap between the richest and the poorest in the 1950s.
Today's top earning occupations were more modestly rewarded in the 1950s. Footballers earned average wages. Corporate greed was only just beginning. The public were appalled at the extravagances of BSA's Chairman Sir Bernard Docker and his wife's gold-plated car. But he was a paragon of restraint compared to today's corporate bosses.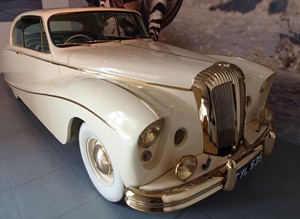 Jobs were rigidly divided on gender lines in the 1950s. The most common male occupations in the 1950s were:
Metal manufacture and engineering work
Transport and communications
Commerce, finance and insurance
Unskilled labour
Agriculture
Women were more likely to work in:
Personal service
Clerical and typing work
Commerce, finance and insurance
Professional and technical work (most likely teaching or nursing)
Textile manufacture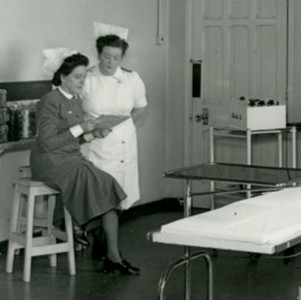 Women also earned less than men. It was acceptable to pay women less in identical jobs, such as police officers, teachers and prison officers.
Manual occupations
Manual work was a big part of the economy in the 1950s. Rates of pay for male manual workers improved greatly in the 1950s:
1950 - average male manual wage - £7 per week (£380 pa)
1959 - average male manual wage - £13 per week (£686 pa)
Source: New Earnings Survey (NES) time-series of gross weekly earnings from 1938 to 2017, published by the Office for National Statistics (some figures rounded)
Women doing manual jobs were paid lot less:
1950 - average female manual wage - £4 per week (£508 pa)
1959 - average female manual wage - £7 per week (£360 pa)
Source: New Earnings Survey (NES) time-series of gross weekly earnings from 1938 to 2017, published by the Office for National Statistics (some figures rounded)
A large number of men were employed in engineering in the 1950s making cars, buses, machines and tools. The average manual wage in engineering occupations in 1953 was £7 6s per week. [2]
In 1958 Ferdynand Zweig interviewed workers at four manufacturing companies. The four companies were The Workington Iron & Steel Company (steel manufacture, part of British Steel), Vauxhall Motors (car manufacture), Dunlop (rubber, including tyres) and Mullard (electronics, including radio valves). His study shows pay rates were similar across different manufacturing sectors:
| Company | Average pay (1958) |
| --- | --- |
| Workington (steel) | £13 4s 10d |
| Vauxhall (cars) | £15 7s 7d |
| Dunlop (rubber) | £15 13s 5d |
| Mullard (electronics - semi skilled) | £11 13s |
| Mullard (electronics - skilled) | £16 2s |
Source: 'The worker in the affluent society' by F Zweig, published Heinemann (1961), page 2
Zweig found that the rate of pay in a company could vary enormously. At Sheffield Steel a labourer could earn £8 9s for a 48-hour week, but a skilled melter could make £24 16s. He also found that the total take home pay did not vary that much. Those on lower basic pay often did more overtime to supplement their weekly pay packet.
Building work also paid well. Bricklayers earned 168s in 1953 (or £8 8s) per week. Agricultural workers did poorly. They only made £6 per week. [2]
School leavers
The school-leaving age in the 1950s was fifteen. If you left school at that age you would have no qualifications. Children did not take O-levels until their final year at age sixteen.
Wise school leavers learned a trade. They often started on low pay of 30 shillings a week. So called dead-end jobs paid a lot more. School leavers could get up to £2 10s for doing general labouring.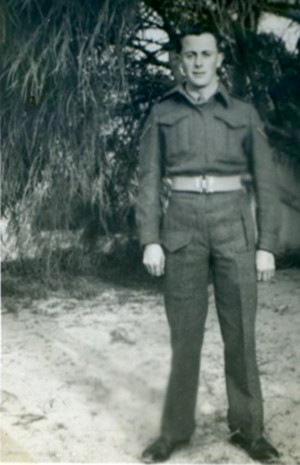 Armed services
National Service
In the 1950s young men aged between seventeen and twenty-one had to serve in the armed forces for eighteen months. The pay was poor. In 1948 they got just 28 shillings per week and in 1958 it was still only 31 shillings and 6 pence. [Hansard: HC Deb 02 April 1958 vol 585 cc1209-11]
RAF
Skilled jobs in the forces paid much better. A qualified pilot or navigator in the RAF could earn up to £1,000 pa in 1953.
Teachers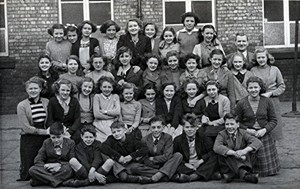 In 1954 the starting salary for a newly qualified male teacher was £415 in England.
By the end of the decade teachers' pay was on average £852 for male teachers and £1250 for heads. There was a basic scale which started at £498 15s and rose to £945 with experience.
In those days it was quite acceptable to pay women less for doing the same job. Pay for women teachers started at £485 15s and rose to £891.
Footballers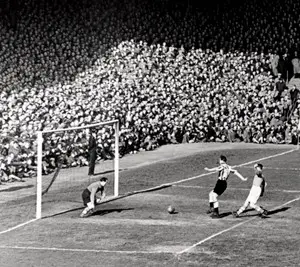 In the 1950s footballers earned a lot less than they do today. In 1953 the maximum weekly pay for a footballer was £14. It was increased to £15 in July of that year.
These were not poverty wages, but put footballers around the same level of teachers. Imagine that today! They had no shortage of players in the 1950s.
Police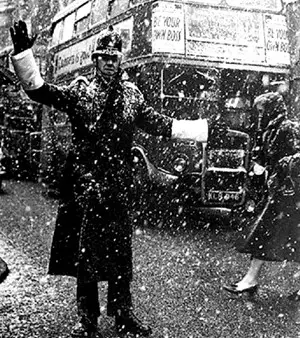 Police pay in 1951 ranged from £400 for a newly qualified constable up to £775 for an experienced chief inspector.
As with teachers, it was seen as acceptable to pay women less. A WPC started at £355 pa. A women chief inspector could earn up to £660 with twenty years' service.
Pay behind bars
Prisoners
Prisoners were paid for doing basic tasks during their time in the jail. In 1956 they could earn between 1s 11d to 3s per week sewing mailbags [3]. Of course, the prisoners' accommodation was included!
It cost the state £5 per week to keep someone in jail in the 1950s.
Prison officers
On the other side of the bars in 1954 a prison officer at Wandsworth Prison earned £8 15s.
By the end of the decade pay had improved. Officers started at £9 11s 6d rising to £13 8s per week for men. Women officers started at £9 3s
Politicians
In 1950 MPs were paid a salary of £1,000 per year. In 1957 their salary remained the same, but they were given an additional expense allowance of £750.
Source www.parliament.co.uk - History of payments to MPs
What were the best paid jobs?
One of the most high profile businessmen of the 1950s was Sir Bernard Docker. He was chairman and managing director of BSA, which owned Daimler Cars. His wife was known for her gold-plated Daimler with zebra skin seats.
In the year to July 1956 he was paid £44,000. In today's money that equates to just under £800,000. He was cheap compared to what today's company bosses draw.
The company decided they could do without Docker and fired him that year. [4]
In 1957 the Directors of Turner and Newall shared £247,698 between the six of them. The average director's pay was £41,283. [5]
Among its business interests Turner and Newall mined asbestos.
What did other jobs earn?
This is a selection of jobs that were advertised in the national press in the 1950s.
Assistant manageress at Lyons Teashop - £7 5s to £7 12s 6d (1959)
Copy typist prepared to train as teleprinter operator - £500 pa (1959)
Civil engineer for oil company - £2,000 pa (1959)
Customs officer - £1225 pa (1959)
Aircraft engineer - £985 to £1155 (1957)
Assistant architect - £770 to £835 (1957)
References
[1] Figures derived from 'The Bank of England's Three Centuries Macroeconomic Dataset Version 2.3 - 30 June 2016'
[2] Hansard: Agricultural, Engineering and Building Workers (Pay) Volume 529: debated on Thursday 8 July 1954
[3] '22,000 years in prison' by Merrick Winn, published in the Daily Express 30 May 1956, page 6
[4] 'Sir Bernard: £44,000 per year' published in the Daily Express, 17 July 1956, page 1
[5] 'The Guinness Book of Records (1958)', page 150
By Steven Braggs, July 2021
Read more:
Add your comments
Comments
No comments yet. Be the first!