Vintage Japanese binoculars
Vintage Japanese binoculars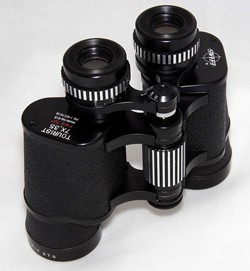 A licence was granted for the import of binoculars from Japan in 1961. Prior to that date binouclars sold in the the UK had been British, French or from within the British Commonwealth.
America had opened its doors to Japanese products much earlier. The well known brand Bushnell was selling Japanese binoculars in the USA in the 1950s. In 1954 America was the destination for 70% of Japanese exports of binoculars totalling $3.9m. The following year the market was worth $5.9m. [1]
UK firms were not worried about the extra competition. They had already been beating off competition from cheap, but good quality, military surplus binoculars since the end of the Second World War.
Germany was known as the home of quality optics. West Germany opened its market to Japanese binoculars in the 1960s. By 1963 82% of all binoculars sold in West Germany were Japanese.[2]
Britain did not give Japanese firms an entirely free hand and controlled imports by tariffs and quotas. Nevertheless the Japanese transformed the market for binoculars in the UK.
In the 1950s the cheap end of the binocular market was a choice between military surplus or imports from France or Hong Kong. British firms took the mid and upper markets. They competed with quality German brands, Zeiss and Steinhill, at the top end.
Britain was becoming more affluent and British consumers were looking for better quality products. Binoculars appealed to tourists visiting foreign countries for the first time. There were also horse racing fans and amateur astronomers.
Binocular sales grew rapidly in the 1960s. Much of the increse was due to good quality, but reasonabley priced, Japanese binoculars.
Pyser-Britex marketed Swift binoculars in Europe in the 1960s. They saw sales increase from a few hundred pounds in 1961 to £500m by 1967[3].
Another importer was Charles Frank, based in Glasgow. They did a deal with Japanse maker Nipole to sell binoculars in the UK. They were branded 'Frank-Nipole'. Their Frank-Nipole 8 x 30 sold for £10 19s 6d in 1968. Zeiss binoculars started at £40 and Ross £20.
Ultimately consumer choice prevailed and the Japanese firms prospered.
A number of Japanese manufacturers sold binoculars in western markets. This is a selection:
Swift
Swift was one of the first Japanese manufacturers to penetrate the US market. They also sold in the UK from around 1964. They were mid-range as far as price was concerned, but the quality was high. The 1964 range comprised:
Apollo 8 x 30 - £16 18s
Triton 7 x 35 - £18
Saratoga 8 x 40 - £19 19s
Skipper 7 x 50 - £21 10s
Newport 10 x 50 - £25
Zoom 7-12 x 40 - £30 10
The Apollo was a good quality binocular for general use. The Triton was similar to the Ross Soloross at 7 x 35. It offered a little extra brightness.
Swift's range-topping binoculars were the Skipper and the Newport. The Skipper was specifically designed for nautical use It was the 7 x 50 spec, ideal for low light. The binocular was sealed against moisture. The Newport was the classic 10 x 50 spec, ideal for general use.
Swift was one of the first makers to introduce zoom to binoculars. The zoom binoculars were expensive at £30 10s.
Swift also produced a range of entry-level binoculars, the TecnaR. They started at just £10 3s.
TecnaR 8 x 30 - £10 3s
TecnaR 8 x 40 - £11 8s
TecnaR 7 x 50 - £12 11s 6d
TecnaR 10 x 50 - £12 19s 6d
TecnaR 12 x 50 - £13 8s 6d
TecnaR 16 x 50 - £13 17s
TecnaR 20 x 50 - £14 13s 6d
Swift also made some miniature binoculars. The Swift Sport with 7 x 18 and 7 x 25 spec. They were miniature prismatic binoculars.
Sport 7 x 18 - £9 18s
Sport 7 x 25 - £14 16s
Swift's cheapest glass was the Scout miniature field glass. This was a galilean glass similar to opera glasses. The spec was 4 x 30. The Swift Scout cost just £4 17 6d.
Greenkat
Greenkat was an innovative mid-range maker. Greenkat was one of the first to introduce zoom to binoculars. Their range from 1964 included:
Greenkat de-luxe
This was a Bausch & Lomp-style binocular. It was available in a range of popular specifications costing between £15 10s to £21.
8 x 30 - £15 10s
7 x 35 - £15 17s 6d
7 x 50 - £20
8 x 40 - £16 17s
10 x 50 - £21
This price list shows the extra cost of the larger objective lenses in the 7 x 50 and 10 x 50 binoculars.
Greenkat 10
This binocular was distinguished by an extra wide field of view - 10°
8 x 30 - £15 15s
7 x 35 - £16 16s
8 x 40 - £19 19s
Greenkat Zoom
Greenkat introduced zoom binoculars in 1964. There were two models, Zoom 40 and Zoom 50. They both offered 7-12 magnification. The Zoom 40 was 7-12 x 40 and the Zoom 50 7-12 x 50. They were expensive. The Zoom 40 cost £27 18s 9d and the Zoom 50 £33 10s.
Greenkat
The entry level Greenkat range offered 8 x 30 to 10 x 50 binoculars at modest cost. The range was topped by some high magnification binoculars - 12 x 60 and 20 x 60.
8 x 30 - £11 5s
7 x 50 - £14 5s
10 x 50 - £15
12 x 60 - £22
20 x 60 - £24
Yashica
Yashica was another mid-range Japanese maker. They offered binoculars in the popular sizes from £15 to £22.
ZCF 8 x 30 - £15 15s
ZCF 8 x 40 - £17 17s
ZCF 7 x 50 - £19 19s
ZCF 10 x 50 - £22 10s
There was also a bargain entry level ZCF 6 x 30
References
[1] Hearings before a subcommittee of the Committee on Ways and Means (House of Representatives), published Government Printing Office Washington 1956, pages 1986 to 1987.
[2] Foreign competition hits Germany, published in the Guardian, 10 July 1964, page 18
[3] Binoculars break through the price barrier, published in The Times, March 1967
Add your comments
Comments
No comments yet. Be the first!