Vintage opera glasses
Opera glasses are small binoculars with low magnification. They are ideal to get a close-up view of actors on stage. Vintage and antique opera glasses were often very decorative and were a luxury item.
Opera glasses were in common use by the nineteenth century. In fact, they came before field glasses. The original opera glass was a small telescope.
By the mid-nineteenth century they took the form we know today, a miniature pair of binoculars. They were often finished in expensive materials, such as mother-of-pearl or ivory.
Most opera glasses are the older style Galilean glasses with no prsims. You can tell because the eye piece lens, the one you look through, is parallel with the objective lens, the one on the other end. Carl Zeiss started making prismatic opera classes in the 1920s and these are quite rare and collectable.
Victorian opera glasses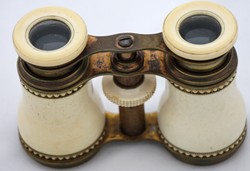 Opera glasses from the nineteenth century were usually gilded brass. The were often finished in ivory. This style was less common in the twentieth century, when mother-of-pearl became the favourite decorative finish.
Twentieth century
Most opera glasses you will see today will have been made in the first half of the twentieth century. They were usually made from brass or aluminium.
The 1907 Army and Navy Stores' catalogue lists opera glasses in a variety of finishes. There were plain aluminium glasses, Morocco leather, pearl (probably mother-of-pearl), enamel and painted enamel. They list makers Dollond (British), Ross (British) and Voightländer (German). Also look out for Lemaire of Paris, which also made binoculars and opera glasses. They are sometimes marked with their famous bee logo.
As a general rule, German makers are the most respected, then British, then French.
Opera glasses continued to be popular in the 1920s and 1930s. Mother-of-pearl and enamel patterns were still popular in the 1920s. The mother-of-pearl finish with gilt brass was still popular in the 1930s.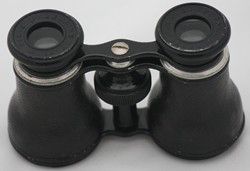 At the top end of the market, Carl Zeiss sold the prismatic 'Turolem' folding theatre and travelling glass. It offered 4x magnification. By the 1930s there was also the French-made Verdette prism opera. It offered 3.5x magification and was cheaper than the Zeiss.
Some Zeiss models from the early twentieth century were:
Zeiss Theatis (prismatic) - 3.5 x 15
Zeiss Galan (Galilean) - 2.5 x 34
Zeiss Turolem (prismatic) - 4 x 20
Values
Opera glasses in many different styles and decorative patterns are common today. The most commonly seen are aluminium glasses covered with leather and decorative mother-of-pearl. Ivory covered glasses from the nineteenth century are also common. Today ivory objects with more than 10% ivory content cannot be sold on the UK.
Surprisingly opera glasses generally are not very collectable today. Prices on eBay range from just a few pounds up to £200, but most sell for under £20. It is possible to get a good quality pair of Victorian opera glasses for £20 to £60.
Decorated enamel opera glasses are the favourites with today's collectors. They sell for £50 to £100. The pattern has to be well executed and in good condition. Other factors worth bearing in mind are:
Opera glasses with handles tend to be worth more
Opera glasses with a maker's name are worth more
The most sought after makers are Carl Zeiss, Negretti & Zambra and Voightländer
Nineteenth century glasses tend to be worth more
Glasses with Art Nouveau patterns can be worth more
Early prismatic glasses tend to be worth more
Search for: opera glasses on eBay
Folding opera glasses
Opera glasses were much less common in the post-war era. These folding glasses were made in Japan or Hong Kong from the 1950s to the 1970s. They were cheap and cheerful and offered low magnification. But they were convenient to put in a jacket pocket.
They were marketed under many different names, such as 'Pocket binoculars', 'Lumex', 'King - folding opera glasses', 'Stellar', 'Vida-Vue' and many others.
You should be able to pick a good set up with the original box for less than £5.
Add your comments
Comments
No comments yet. Be the first!