Houses in the 60s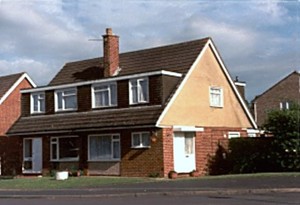 Houses of the 50s and 60s were very different from what had gone before. There was a reaction against the applied decoration and looking back to the past which was a feature or pre-war housing. The sixties' semi was ultra-modern on the outside as well as the inside.
In the years before the War, there had been an unprecedented housing boom in Britain. A combination of growing affluence in some regions - London and the Midlands in particular - the cheapest ever mortgages - and the cheapest ever houses in real terms - a basic semi could be bought for as little as 400 - saw a huge demand for private houses. There was also very little restriction on where builders could build. This led to 2.5 million new private homes being built between 1920 and 1939.
After the War, there was an acute housing shortage in the UK. The consequent rush to build new homes saw people being housed in pre-fabs - many of which are still in use today - lasting far longer than had originally been intended. Some of the pre-war developments were continued. The Elms Rise Estate in Botley, Oxford is typical. It was started in the inter-war years and continued immediately following the War. A shortage of building materials meant that the post-war houses were much plainer in appearance than those built before the War.
Generally, the semi-detached format, popular in the pre-war years, continued. However, houses were usually simpler in style. Pre-war housing had followed a style known as "Mock Tudor". Houses featured oak beams, pebble-dashing and large bay windows. They were much criticised by the architectural establishment of the time, but were what the people liked. Through the fifties, and increasingly in the sixties, fashions changed. Everything that had gone before was abandoned in favour of a brave new world. There was even a parody of the thirties semi at the Festival of Britain called "Gremlin Grange". It was meant to show the worst excesses of the old style - mock timbers combined with leaded lights and bay windows - topped with a bizarre television aerial.
Having said this, the change in actual houses built was gradual. Fifties semis were essentially re-skinned versions of thirties houses. Gone were the oak beams and bay windows, but pebble-dash was still common. Windows became larger - of the picture style.
By the sixties, a common style had been established. Flat roofs were often used, although rarely for the main roof of the house, which was usually pitched. Garages, porches and dormer windows all had flat roofs covered with asphalt (note the flat roofs over the dormers in the houses shown on this page). Sixties semis were often bigger than their fifties counterparts and occupied more land. By the standards of modern housing, they were generous. It was assumed that the homeowner would want a large drive, as well as a garage and a large garden. Growing vegetables was still popular, as was cultivating roses. Another sixties fad was the through dining room/lounge. Pre-war houses always had a separate lounge and dining room. In the sixties, they became one room.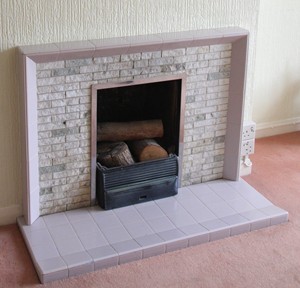 To give an idea of what these houses were like, the houses in the picture shown on this page were built by George Wimpey & Co Ltd towards the end of the sixties to a standard design at various different locations throughout the country. A rather unusual feature, for the time, was the front gardens which had no fence separating neighbours. Also the different coloured front doors were a nice touch. For an estate built in the Oxford area, Wimpey's quoted the following features:
Thermoplastic tiles to ground floor
Fibreglass insulation to roof space and all pipes lagged
Copper plumbing throughout
Fireplace with back-boiler providing domestic hot water will be fitted, together with provision for gas ignition to grate
Fire surround (choice of five types)
Immersion heater, complete with cylinder jacket, and indicator switch in the kitchen
Power points to all rooms, except bathroom and toilet
800W 'Dimplex' heater or similar to dining room
Curtain rail battens will be provided to windows in all rooms, except kitchen, bathroom and WC
Bathroom with 5'6" x 2'0" bath, together with wash-hand basin and low level toilet suite (white)
White glazed tiling to bathroom and kitchen
Kitchen with single drainer
'Supataps' to kitchen and bathroom
Cooker control panel
Gas points
Plastic decorative finish to ceilings
TV point in lounge
In addition, the customer could choose to have the rooms painted in "Jonquil", "Pastel Green", "Dawn Pink", or "Summer Blue". One colour was allowed per room - so you could have had each room in a different colour. One lady, who bought one of these houses new, told us that the 'Dimplex' heater was actually in the bathroom rather than the dining room which seems more usual for the time. The floor of the lounge and dining rooms of these houses were finished in 'Thermoplastic' Marley style tiles. Buyers were offered a choice of colours. I imagine that they would have made the rooms feel cold and many were later carpeted.
When they were new, these houses cost £5,050 - that would be £61,800 in today's money - I'm green with envy!
Read more about how much things cost in the 1960s.
Add your comments
Comments
No comments yet. Be the first!