Portmeirion Pottery in the 60s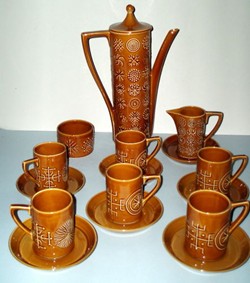 Portmeirion Pottery, with its impractically tall silhouette and primitive art decoration, captured the mode of the sixties perfectly. Portmeirion's proprietor and designer, Susan Williams-Ellis, brought new ideas to the world of ceramics. Her most successful design from the sixties, Totem, combined a modern shape with patterns rooted in ancient cultures. It was the prefect set to bring out at the end of a sixties' dinner party.
Susan Williams-Ellis was the daughter of Sir Clough Williams-Ellis who created the Portmeirion village in North Wales. He brought together a collection of features from buildings that would have been lost forever to create a miniature Italianate resort. It is a charming world and deceptively real.
Portmeirion Pottery is not made in Wales, but in Stoke-on-Trent. It came about when Susan Williams-Ellis took over the loss-making gift shop in the Portmeirion village.
Susan Williams-Ellis had an unconventional education, never taking an exam in her life. She went to the progressive Dartington School, studying pottery under Bernard and David Leach. She then went onto study painting with Graham Sutherland and sculpture with the Henry Moore Chelsea School of Art.
Susan Williams-Ellis married Euan Cooper-Willis in 1945. He was a Cambridge maths graduate and part-time stock-broker. They lived an almost self-sufficient life together in a farmhouse near Portmeirion. They had four children.
Susan Williams-Ellis' first venture into commercial pottery was to have her own designs painted onto blanks by A E Gray, the pottery famous for Susie Cooper's designs. At the same time Williams-Ellis was also producing textile designs.
She and her husband bought Gray's in 1960 and another pottery, Kirkhams, in 1961. They founded Portmeirion Pottery in January 1962. Kirkham's was a manufacturer of medical and scientific ceramics. The combination of these two firms and Susan Williams-Ellis' artist talent and vision made Portmeirion into the ceramic work that epitomised the style of the 60s.
Cylinder Shape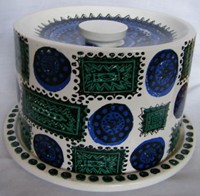 Pottery is described by shape and pattern. The tall shape known as 'Cylinder' was key to the look of Portmeirion in the 60s. Williams-Ellis based it on the fortuitous discovery in Kirkham's archives of patterns of tall cylindrical shapes for medical ware.
Talisman
One of the first designs launched with this shape was Talisman in 1962.
Early Talisman pieces were hand decorated, although most Talisman was decorated using a screen print process. Talisman featured an abstract, but informal pattern. I have seen yellow/orange, blue/purple and blue/green variants. There was also an early black and white version which is quite rare. It was originally offered as a cheaper alternative as it was less costly to produce when pieces were hand painted.
The blue/green combination is the most common. However, Talisman is scarce piece in comparison with the later Totem range. Look out for Talisman kitchen storage jars, which were quite popular in the sixties.
The Talisman range was discontinued in 1968.
Although quite scarce, pieces rather than complete sets can be found on eBay. Expect to pay £10 to £20 for individual pieces: milk jugs, cups and saucers or small pots.
Look for: Portmeirion Talisman on eBay
Totem
The range that defined Portmeirion in the 60s was Totem. William-Ellis combined the 'Cylinder' shape with patterns derived from native American Indian cultural art in a raised relief. The glazing process highlighted the raised patterns in a startling way. It was this marriage of a modern shape with patterns from traditional culture that proved so commercially successful. This formula was seen in other fields, for example Stag Minstrel furniture designed by Mike and Sylvia Reed, combined eighteenth century elegance with modern functionalism.
In spite of its modern looking profile, Portmeirion Totem, was not that functional. It won no Design Centre Awards. Its overly exaggerated shape proved easy to knock over, so collectors should carefully examine coffee pots for damage repair.
Portmeirion Totem though, is a design which symbolised the sixties. Like the Lava Lamp and G-Plan Fresco, it is a must-have product for any serious retro fan.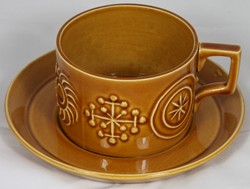 Totem was produced in amber, olive green, blue and a rare white finish. The coffee set is the most iconic, but there were also tea sets, plates and bowls.
Totem was so successful that other manufacturers started to imitate the style. One example was Folklore, by Lord Nelson Pottery, which used a very similar pattern, but on more traditional shapes.
To keep ahead of the pack, Portmeirion introduced a new range of Cylinder patterns based on a black basic shape with gold patterns. These included Coptic Brocade (1968), Gold Phoenix (1968) and Gold Lion (1968).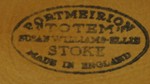 If you want to identify a genuine Portmeirion piece look out for the Portmeirion stamp on the reverse. The label reads:
PORTMEIRION "TOTEM" SUSAN WILLIAMS-ELLIS STOKE MADE IN ENGLAND
Totem was produced by Portmeirion for several years and is quite common. However, the large slender coffee pot was easily damaged, so look carefully for repairs and read eBay sellers' descriptions with care.
Prices are not astronomical as this design is quite common. You should be able to pick up a complete coffee set in amber on eBay for less than £40. Dealer prices will, of course, be higher. The other colours are more expensive. Olive green is the next most common, with blue being comparatively rare and white extremely rare.
Shop for Portmeirion Totem on eBay. Look for:
Greek Key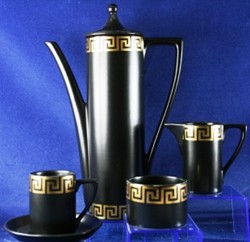 Of the later cylinder shapes, the most successful was Greek Key (1965), which was produced well into the 70s.
The original Greek Key pattern came from the archives of Kirkham's, the pottery Susan Williams-Ellis took over to found Portmeirion Pottery. It dated from Victorian times and was a copper plate used to decorate beer barrels and grocers' jars.
Susan Williams-Ellis used the pattern as a border around the top or edge of the pieces.
Like Totem, there was a strong hint of an ancient culture, this time that of ancient Greece. This combined with the modern cylinder shape to make a uniquely 'sixties' piece.
Greek Key was originally a black pattern on a glossy a white shape. Perhaps the most striking Greek Key colour combination though, is the gold and black illustrated above right. Portmeirion Greek Key can be found in the following combinations:
Black on white
Black on orange
Black on yellow
Black on turquoise
Gold on matt black
Gold on matt white
In 1968 the Greek Key range was further expanded when a new range of air tight kitchen containers was introduced. These were also made in 'Chemist Print', 'Ships' and 'Herald' patterns, all fitted with air tight wooden lids.
Greek Key was one of the more popular patterns, so it is relatively easy to get complete coffee sets. The range also included dinner plates and tureens, as well as the kitchen jars.
Expect to pay around £50 for a complete coffee set. Individual coffee pots sell for £10 to £20. Be careful about condition. The coffee pots are easily damaged and many will have been subject to repair. Look out in particular for re-glued lids.
Look for Portmeirion Greek Key on eBay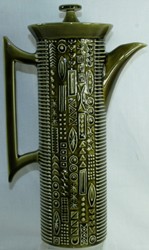 Serif shape
Portmeirion introduced a less exaggerated shape in 'Serif' in 1963. Note the shape of the handle (left), from which the name 'Serif' was derived. 'Serif' was initially sold with the Portmeirion Cypher and Jupiter patterns featuring a raised relief finish. The glaze finish on Jupiter proved difficult to perfect and it was quickly dropped, making it a rare pattern for collectors today.
The most commercially successful range in the 'Serif' shape was Magic City, introduced in 1966. Portmeirion Magic City featured images of dome shaped buildings suggesting Eastern culture. Also look out for Gold Rule (1968) which was an abstract pattern in black and brown on white.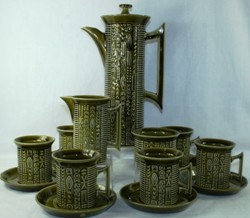 Cypher
The inspiration for Cypher came from ancient Minoan art from Crete. The Serif shape provided an alternative to the attenuated shape of Totem. The style though, was still very much in tune with the 60s' period.
Cypher was originally supplied by Susan Williams-Ellis as an exclusive order to a German distributer in the more common olive green colour. Initially UK distributors only sold pewter grey and brown colours. However, the olive green now seems to be the most common colour. As well as pewter grey and brown, there are also white and ice blue variations.
Although Cypher is comparatively rare, as it was not as popular as Totem at the time, it does not command high prices and bargains are possible on eBay.
Look for Portmeirion Cypher on eBay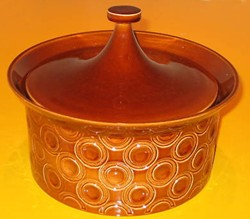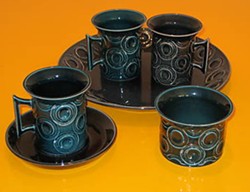 Jupiter
The Portmeirion Jupiter range, also based on the Serif shape, was introduced in 1964. Jupiter was a modern design comprising a relief pattern of circles.
The original Jupiter range was available in petrol blue and rockingham brown. However, the glaze originally used for Jupiter had problems. Mild acids could discolour it. So for example, fruit left in bowls could affect the glaze. As a result the Jupiter petrol blue range was withdrawn.
A new greyish blue (often described as pewter blue) was added in 1966, but the range was discontinued in 1968. So Jupiter is comparatively rare.
However, sets do come up from time to time on eBay. You will need to pay upwards of £50 for a coffee set. Pewter blue seems to be the most common colour. Individual pieces and small groups, e.g. cup and saucer, or two cups, go for around £10 to £20.
Look for Portmeirion Jupiter on eBay
Portmeirion resources
See www.thepotteries.org/allpotters/817a.htm for a short history of Portmeirion Potteries and a timeline.
See also our article about Portmeirion in the 70s
Books about Portmeirion
I would thoroughly recommend Portmeirion Pottery
which is a very comprehensive guide to Portmeirion containing a large amount of useful data for collectors
The Story of Portmeirion Potteries 1960-1995 A Collectors' Guide
is a small volume about Portmeirion Pottery containing many photographs and a useful history.
I also found Ceramics of the 1960s (Shire Album)
very useful resource for Portmeirion and other pottery from the 60s.
Add your comments on Portmeirion Pottery
Comments
I wrote to Portmeirion Customer Services a couple of years ago and posted a message on this site 18 months ago but as yet have not been able to get a satisfactory reply to my query ANY HELP!!! It is about a 1960s Black and Gold mug with the inscription "Save Snowdonia's National Park" - designed by Susan Williams-Ellis. The reply from the Company was not helpful and as yet have not had any response in trying to trace this. NOWHERE, it seems, is the any reference to this particular piece. Can anyone help? - and has it any value?
Hi George, Portmeirion produced a large quantity of black and gold mugs in the 1960s and 1970s. Some were to commemorate events such as the Moon Landing in 1969. They also produced mugs for sporting events. It seem probable that this was a one off commission for a campaign group. Sorry I don't have any further information. best regards