Stag furniture
Stag furniture was a mass market manufacturer that made some outstanding modern designs. They employed John and Sylvia Reid as design consultants. Their first designs for Stag, the 'C' range, were minimalist in the extreme. Later John and Sylvia Reid designed 'Minstrel', which united eighteenth century elegance and modern day thinking. Stag Minstrel was one of the most successful ranges of furniture ever produced.
Stag 'C' range
The first project John and Sylvia Reid did for Stag was a new range of bedroom furniture called Cumberland. They took functionalist principles to their logical conclusion and designed a range of furniture that was cheap to mass produce, but was of high quality. There was no pretence that this new furniture was handmade by craftsmen; it was built by machine and was meant to look like it.
The original range was just one bedroom suite: a 3 ft wardrobe, a three-drawer chest and four-drawer chest with a mirror to allow either chest to be used as a dressing table. The units were stark in the extreme. There were no handles; the drawers and doors had recessed hand grips instead. All were straight sided boxes. The wardrobe was simply decorated with a plain mirror only nine inches wide placed to the left hand side. However, it was good enough for its purpose. Stag advertised it as for 'the young in heart and in pocket' and for a design of this quality, it was amazingly cheap.
Stag's Chairman, Vaughn Radford, was not impressed with Cumberland. He thought it would never sell. His two sons, however, loved it. At first, Vaughn was right. Sales were slow; no more than £5,000 in the first year. It took a while for people to accept such a stark design. However, interest in the range grew dramatically and by 1957 it was earning more than £500,000 a year for Stag.
As well as being a commercial success, the 'C' range had a strong influence on the design of mass market modern furniture throughout the fifties.
Stag Madrigal
Stag announced a surprising departure when the Company launched a new range of bedroom furniture called Madrigal, which visually derived inspiration from the past. Just as Stag shocked the industry in 1953 when they launched the almost Cubist 'C' Range, Madrigal was just as revolutionary.
John and Sylvia Reid, Stag's design consultants, also designed the new range. Madrigal echoed the simple elegance of the eighteenth century, but was not a copy. It was finished in traditional Honduras mahogany and had antique style brass handles. Madrigal though, was nothing like traditional furniture.
There was a perfectly commonsense commercial reason for Madrigal. Stag's contemporary 'C' range was now well established and offered customers a choice of more fashionable, darker walnut, rather than the original light oak. Stag's traditional 'A' range was outselling it though. Stag wanted a range of modern furniture, made on a modern production line that would nonetheless appeal to customers who did not like contemporary. Stags directors also reasoned that traditional looking furniture would give people a break from modern life, especially in the bedroom.
Madrigal ought to have been a runaway success, but it did not sell well. However, the idea was a good one and John and Sylvia Reid developed it further in the sixties.
Stag's modern furniture
In 1960, John and Sylvia Reid produced a stunning teak dining set for Stag. It was Stag's first venture into dining room furniture and set the firm apart from its competitors. The low, long sideboard was in teak veneer on slender satin finished steel legs. It could be assembled in units giving the impression of a single piece of furniture that was 10 feet long. The sideboard, combined with some elegant metal dining chairs with wooden backrests and a beautiful oval dining table in teak with steel legs, in the right setting, made a very luxurious looking dining room.
This new Stag furniture was adaptable and suited much smaller rooms. Sideboard units of 3 feet and 4 feet 6 inches in length could be used on their own. All of the pieces were inexpensive for the quality of the design. The 4' 6" sideboard cost only £26 [£410 in today's money], the dining chairs £8 15s [£138] and the table £17 [£268]. These amounts, however, were still significant investments for working families in the sixties.
Stag continued with their policy of innovative modern design. A couple of months after introducing the new dining room furniture, the Company launched a new range of bedroom furniture to replace the popular 'C' range. Also designed by John and Sylvia Reid, this new range featured metal legs and satin polished steel handles too. To modern eyes, it resembles office furniture, but at the time, it was perfectly suitable for a modern bedroom. They finished the new furniture in revolutionary Fineline birch veneer. Fineline was a new veneer that had straight grain lines and was easy to match.
A year later John and Sylvia Reid produced a modern lounge suite with a steel frame. However, this and the dining furniture were far from successful and Stag discontinued both ranges in early 1963.
Stag Minstrel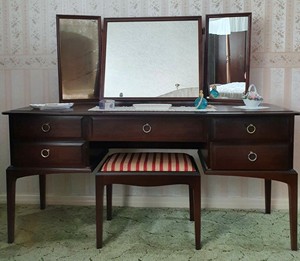 Stag's Madrigal range, introduced in the fifties, did not sell well. However, the Company's relationship with its creators, John and Sylvia Reid, continued. After designing some stunning modern furniture for Stag, the couple updated the traditional Madrigal range in 1964. The new range was Stag's best selling range of furniture, and possibly the best selling UK furniture range ever. Named Minstrel, the new range was an evolution of Madrigal.
Stag Minstrel furniture was made from makore (or African Cherry), both solid and veneered. It was of similar appearance to the earlier Madrigal, but had new, simpler brass handles.
Stag Minstrel was a great hit. Enough people had a liking for traditional style English furniture, without wanting genuine antique or modern reproduction. Minstrel gave them modern, practical and functional furniture that sacrificed no functionality to eye appeal, yet looked as elegant as any eighteenth century piece. It was also very good value for money. Stag's quantity buying of timber, efficient production and economies of scale meant no other manufacturer could offer similar designs at the same price.
Stag Minstrel found a place in the market that no-one had previously tapped. The adaptability of the design supported what eventually became a vast range. Stag Minstrel remained in production for nearly forty years.
Buy Stag furniture
I have found the best place to shop for any vintage or retro furniture is eBay. The choice is widest, you get to compare a number of different lots and you generally get a bargain price. You might pick up a bargain at a boot sale or charity shop, but eBay saves you the leg work.
Your comments on Stag furniture

"Hi,
looking to buy two (maybe more) John & Sylvia Reid dining chairs as illustrated above (teak, leather and metal frame), condition of leather & foam irrelevant as long as woodwork present as building a set and recovering. Any replies gratefully received . Malcolm at 0ffice@snailshell.co.uk" Malcolm Warner 07/01/2018
"I am looking for stag minstrel double bed frame in cumbria or lancashire area please." pat greenhalgh 28/01/2018
"I have a Stag Teak triple (gents) wardrobe that I am hoping to sell. It is in very good condition although it is missing one decorative key. It is currently dismantled, covered and being stored. I can give further details if anyone is interested. Buyer must collect from Angus area." Moraglouise Smith 11/03/2018
"I have a large collection of Stag Minstrel Furniture that has been in storage whilst we have been abroad. We have had it from new and it has been in our home for 30 years but apart from the occasional mark is still in remarkable condition which is a testament to the makers. Our family knew the owners of Stag and actually sold them some of the machines that made this furtniture. We have the following items for sale preferably as a single complete package.

1 Triple Door Wardrobe (not the 8ft tall one) two hanging spaces and one shelved/drawer section
1 Large width 6ft tall double wardrobe with mainly hanging space and a high level shelf
2 x 7 drawer tall boys
Dressing table with 3 part mirror and upholstered stool
2 single drawer bedside cabinets
I tall wall hanging mirror
I corner drinks unit (triangular with glass opening section at the top and door at the bottom)
1 double bed frame and base with headboard/base unit, bed end and sides.

These can all be collected dismantled (bed and wardrobe) from storage in London. Call 07710835837 for any questions or email 430eyk@gmail.com" John Stewart 24/03/2018
"Wanted ~ minstrel double mirrored wardrobe/ linen cupboard x 2, 2 x 7 drawer tallboy & a cheval mirror with a drawer at the bottom, not expensive thou please :) im near Grimsby
Jo" Jo 07/04/2018
"Hi, We have the Glass-Fronted Hi-Fi Storage Unit available. It is in excellent condition. We have owned it since new, maybe 25 years or so.
Nottingham/Derby Area, Collect or maybe deliver locally.
Call Kevin on 07790 938 227" Kevin 11/04/2018
"I have a tall stag minstrel dressing chest with lift up top to reveal mirror and jewellery drawer. 5 drawers below. £195
07908626441" John 18/04/2018
"Message for jo from grimsby. I have all the pieces you are looking for. Call 07908626441" John 18/04/2018
"11 x sets of Stag Bedroom furniture available to buy at reasonable costs, all in good order.

Ring Jamie 07894 635 741" Jamie 27/04/2018
"155 items of stag minstrel bedroom furniture. Possible delivery. Call 07908626441" John 08/05/2018
"Wanted

Small bedside tables in minstrel - a pair. I am based in London

Many thanks" Gini 11/05/2018
"I am looking for stag minstel bedroom furniture. Please email me with details
johnguest99@googlemail.com" John 28/09/2018
"FOR SALE: Stag Richmond chest of 5 drawers. London collection.
https://www.ebay.co.uk/itm/153211148646" kinamoo 08/10/2018
"A Stag Minstrel Otterman / blanket box and a single wardrobe in the darker version of the range. Newcastle-upon-Tyne David.Crook@unn.ac.uk Open to offers." David Crook 11/10/2018
"Desperately searching for a stag minstrel triangular stool, the companion to the stag minstrel corner dressing table" THeresa 29/10/2018
"Looking for 2 stag summer oak bedside tables please, 07866 492083" Sian 04/11/2018
"Theresa I have the Stag Minstrel dressing table stool in fantastic conditions my email is arysvintage@googlemail.com also I have the most of the pieces in Stag range" Patricia 24/11/2018
"Hi. Looking four 6 drawer tower stag minstrel. This will complete my collection. Remember it from years ago. Absolutely love it. In the last year we have bought 11 pieces. Travelled many miles to by it. Please contact me if you can help. 07860737138 thank you Laura" Laura 05/12/2018
"Looking for a summer oak chest of drawers or linen Cupboard.
Based N Ireland/ Glasgow. Thank you, Karen" Karen 30/01/2019
"Looking for a summer oak chest of drawers or linen Cupboard.
Based N Ireland/ Glasgow. Thank you, Karen
Kaitken745@c2kni.net" Karen 30/01/2019
"We have a CD Audio Unit with Glass Door and pivot side doors MD025. This is in excellent condition just one small mark barely visible. Holds 120 CD's and side doors hold 28 tapes each. Would like to sell buyer collect or possible deliver depending on distance. Email for photos or questions Thanks for looking l.kendle@ntlworld.com" Lynn Kendle 09/02/2019
"If you are looking for quality secondhand pieces of stag minstrel bedroom furniture try this guy up near sheffield he has loads of it in stock. 07908 626 441" John 11/02/2019
"I have four pieces of Stag Minstrel furniture for sale.
Stag Minstrel Mahogany 7 Drawer Chest Of Drawers
Stag Minstrel Mahogany TV Stand, with 2 drawers
Stag Minstrel Mahogany Bed Side Table with 3 drawers
Stag Minstrel Mahogany Sideboard with Cocktail Cabinet.

All in good condition. Available for collection only in Berkshire. Call 07786 107435" Aaron 19/02/2019
"Looking for 2 bed side tables. Stag Cantarta" Tricia 03/03/2019
"2 Stag Teak wardrobes 1 male 1 female complete with keys. Good condition. Buyer collects Benfleet Essex £100 pair. Denise.olley@sky.com" Denise 04/03/2019
"Stag minstrel bedroom furniture, nearly 200 items in one location between Sheffield Doncaster Worksop Chesterfield.
The ideal place to buy and sell your stag minstrel.
Delivery is possible.
07908626441
Uniquejustoriginals@gmail.com
5/3/19" John 05/03/2019
"Hi, I am looking for a runner/guide/stop not sure what its called as used in the Mistral Buro/Writing Desk. There are two of the one on each side of the Drop Leaf Writing Table. Any help greatly appreciated. Carleton 07713623084" Carleton M Smith 18/04/2019
"Selling Stag Double bed frame. Located Portsmouth area" Alison 06/05/2019
"Looking for 2 stag minstrel wardrobes. Perthshire Scotland.
suzycanonlynch@hotmail.com" Susan adamson 26/06/2019
"I have stag minstrel knee hole dressing table with triple mirror for sale plus matching head board with side drawers attached for double/king-size bed excellent condition £100 for both. To be collected from Nottingham. Email me for pictures sesmithy@gmail.com" sesmithy@gmail.com 02/07/2019
"Has anyone heard of any way to get Stag furniture, specifically the Minstrel Dressing Table, is the U.S without having to pay crazy freight shipping costs for one item? cathy.suter@gmail.com" Cathy 19/09/2019
"Stag minstrel bedroom furniture, nearly 200 items in one location between Sheffield Doncaster Worksop Chesterfield.
The ideal place to buy and sell your stag minstrel.
Delivery is possible.
07908626441
Uniquejustoriginals@gmail.com" John 25/09/2019
"Stag minstrel cherry 8 seater dining table plus 4 chairs. Also in cherry glass unit with drawers and 3 cupboards. Tall bookcase. Bought in early 90s. £500 for all or can be sold separately. Buyer collects from Kent. mckennahelen104@gmail.comD" HelenMckenna 28/09/2019
"Selling 7 piece bedroom suite with a pair of double wardrobes, a pair of bedside drawers, a tall chest of drawers, a dresser top mirror and a colonial double/king bed surround in good used condition with a few marks due to age. Stag labels on all items. Off ebay, collection from Low Fell in Gateshead near the A1 and A167 roads." Simon H 12/10/2019
"Hi, we have two lovely Stag Minstrel wardrobes but we have a problem with the metal parts inside the actual wardrobes where the door hinges screw into. Over the years the thread has sheared on some of them and the wardrobes are no longer fitting securely. We would like to know where we can buy replacements. Any help would be very much appreciated.
johnhareuk@yahoo.co.uk" John 01/12/2019
"Looking for the long 8 drawer stag minstrel
John 07908626441" John 10/01/2020
"Hi, I'm looking for one or two Stag C Range bedside cabinets in oak. jetter888@gmail.com Nick 15/01/2020" Nick Allen 15/01/2020
"looking for at least 2 stag wardrobes mahogany finish for delivery to bungalow near grimsby" ron bentley 19/02/2020
"I have a Sag Minstrel double pedestal dining table..I need to dismantle it as I am having the room plastered but cant fathom how to do it.

Can anyone give me some advice? Would be so grateful" Sandy Richardson 03/03/2020
"Hi I've just acquired a 6ft long 4 drawer 4 cupboard sideboard to upcycle. Is it a rare piece? I can't find another. Many thanks." Bernice Coles 27/04/2020
"Hi, I am looking for items of Stag minstrel bedroom furniture in any condition (not wardrobes) please send any details , photos, location, to John 07908626441" John 27/04/2020
"I have 2 stag minstrel bedside tables. The tops have become "crazed" - probably due to heat or sunlight.
Is it possible to restore the finish and if so how do I go about it.
Thank you." Janet Colclough 21/06/2020
"I have 4 Stag Minstrel Dressing Tables for sale, collection only from Penzance, Cornwall." John Bolton 09/07/2020
"Hi. I have an extending oval Stag Minstrel table and 6 chairs -two are carvers. Chairs need some attention as have been well used. Table unmarked as protector always used. There is also a 3 door, 3 drawer sideboard with glass double display and cocktail cupboard with pull down door above it and lighting for the display section. Some slight cosmetic marks but not hugely noticeable. Email ingadora49@gmail.com" Pat Hogan 22/07/2020
"For sale Cumberland set double wardrobe with full length mirror between the doors. Two sleeves to one side. Dressing table and chest of draws. Good condition for its use and age. Contact me on wand007@hotmail.com" David Wand 19/09/2020
"I am looking for stag minstrel bedroom furniture, bedside cabinets, chests of drawers, dressing tables, stools, mirrors ottermans, no wardrobes 07908626441" John Guest 16/11/2020
"Hi. I just posted a whole load of stag furniture items on Gumtree when I came across your ad. I'm getting ready to move house and am clearing out bulky items, including 6 items of stag furniture.. If you're interested in making an offer for any or all of the items... Kind regards, R.

https://www.gumtree.com/p/dressers-chests/stag-chest-of-drawers-mirrored-dresser-and-sideboards-10-items/1390355369" Rob 17/11/2020
"Does anyone have any screws and other fittings for a triple Stag Minstral wardrobe? Ours have gone missing during a recent move. Jcohalloran@yahoo.co.uk" Jan 23/11/2020
"Hi I've just been given a stag dual oval occasional table it's on its own but has orange label underneath table top it has 4 metal looking feet is it worth anything??" Chubby 28/11/2020
"I am looking for stag minstrel bedroom furniture. Any thing considered (not wardrobes).
Please let me know what you have. Photos , condition,location
07908626441
johnguest99@googlemail.com" John Guest 01/12/2020
"I am looking for 2 bedside drawers and a chest of drawers ( unpainted). I'm in the Midlands.
07877096400." Vicky Taylor 01/01/2021
"I am looking for a Stag Minstrel tall, slim 6 drawer chest - height: 99cm, width: 53cm, depth: 46cm in original condition. juliegallagher_1@hotmail.com" Julie Gallagher 20/01/2021
"I have a Stag Dresser with mirror, Gentlemans Wardrobe and tall wardrobe on gumtree.

https://www.gumtree.com/p/wardrobes-shelving-storage/stag-c-range-john-sylvia-reid-retro-60s-70s-dresser/1393064019

https://www.gumtree.com/p/other-bedroom-furniture/stag-c-range-john-sylvia-reid-retro-60s-70s-short-gentleman-s-wardrobe-tall-boy/1393064569

https://www.gumtree.com/p/wardrobes-shelving-storage/stag-c-range-john-sylvia-reid-retro-60s-70s-tall-wardrobe/1393064809" Angela Green 24/01/2021
"I have a price of Stag furniture oak & teak desk/dressing table with bureau style lift up mirror and solid brass u style handles with 3 draws, that I am looking to sell, if interested please email me at dleverick@hotmail.com for more details" Diane 09/02/2021
"I have a rare stag minstrel 4 poster bed, foot and head boards. with canopy, no slats original steel frame. and original nets. I also have a bed base and mattress hardly used that fit inside. Message me if interested. Collection Mansfield" Claire Rees 15/02/2021
"I am looking for 2 stag bedside tables and the large wide chest of drawers. Pleaseeeee these will look perfect in my little cottage. Yorkshire area but willing to travel a little. Sophiericho@hotmail.com" Sophie Richardson 20/02/2021
"I have purchased a filing bedside cabinet sold to me as stag. I am thinking it's not. Would you be able to have a look at a picture if I emailed one or do you know of a filing cabinet ever made? stuartbryan69@hotmail.co.uk" Joanne Brown 02/03/2021
"Just bought a Stag Sideboard/Media Centre and managed to break one of inset brass pull handles - photos available - Looking to buy replcement" Kati Walsh 12/03/2021