Stag furniture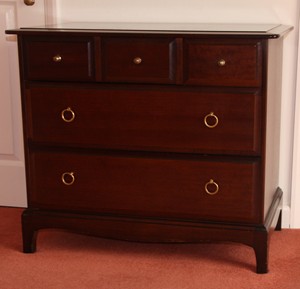 Stag furniture was a mass market manufacturer that made some outstanding modern designs.
Stag employed John and Sylvia Reid as design consultants. The Reids' first designs for Stag, the 'C' range, were minimalist in the extreme. Later John and Sylvia Reid designed 'Minstrel', which united eighteenth century elegance and modern-day thinking.
Stag Minstrel was one of the most successful ranges of furniture ever produced.
Stag 'C' range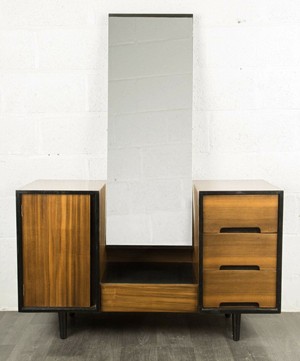 The first project John and Sylvia Reid did for Stag was a new range of bedroom furniture called Cumberland.
They took functionalist principles to their logical conclusion and designed a range of furniture that was cheap to mass produce, but was of high quality.
There was no pretence that the 'C' range furniture was handmade by craftsmen. It was built by machine and was meant to look like it.
The original range was just one bedroom suite: a 3 ft wardrobe, a three-drawer chest and four-drawer chest with a mirror to allow either chest to be used as a dressing table.
The units were stark in the extreme. There were no handles. The drawers and doors had recessed hand grips instead.
All pieces were straight-sided boxes. The wardrobe was simply decorated with a plain mirror only nine inches wide on the left hand side. The mirror was good enough for its purpose.
Stag advertised the 'C' range as for 'the young in heart and in pocket'. For a design of this quality, it was amazingly cheap.
Stag's Chairman, Vaughn Radford, was not impressed with Cumberland. He thought it would never sell.
His two sons loved it. At first, Vaughn was right. Sales were slow; no more than £5,000 in the first year. It took a while for people to accept such a stark design.
Interest in the range grew dramatically and by 1957 it was earning more than £500,000 a year for Stag.
As well as being a commercial success, the 'C' range had a strong influence on the design of mass market modern furniture throughout the fifties.
By 1958 the Stag 'C' range was available in natural oak, Australian walnut or walnut faced with white.
Stag Madrigal
Stag announced a surprising departure when the company launched a new range of bedroom furniture called Madrigal, which visually derived inspiration from the past.
Just as Stag shocked the industry in 1953 when they launched the almost Cubist 'C' Range, Madrigal was just as revolutionary.
John and Sylvia Reid, Stag's design consultants, also designed this range.
Madrigal echoed the simple elegance of the eighteenth century, but was not a copy. It was finished in traditional Honduras mahogany and had antique style brass handles. Madrigal though, was nothing like traditional furniture.
There was a commonsense commercial reason for Madrigal. Stag's contemporary 'C' range was now well established and offered customers a choice of more fashionable, darker walnut, rather than the original light oak. Stag's traditional 'A' range was still outselling the 'C' range.
Stag wanted a range of modern furniture, made on a modern production line that would nonetheless appeal to customers who did not like contemporary. Stag's directors reasoned that traditional looking furniture would give people a break from modern life, especially in the bedroom.
Madrigal ought to have been a runaway success, but it did not sell well. However, the idea was a good one and John and Sylvia Reid developed it further in the sixties.
Stag's modern furniture
In 1960, John and Sylvia Reid produced a stunning teak dining set for Stag. It was Stag's first venture into dining room furniture and set the firm apart from its competitors.
The low, long sideboard was in teak veneer on slender satin-finished steel legs. It could be assembled in units giving the impression of a single piece of furniture that was 10 feet long.
The sideboard, combined with some elegant metal dining chairs with wooden backrests and a beautiful oval dining table in teak with steel legs, in the right setting, made a very luxurious looking dining room.
This new Stag furniture was adaptable and suited much smaller rooms. Sideboard units of 3 feet and 4 feet 6 inches in length could be used on their own.
All of the pieces were inexpensive for the quality of the design. The 4' 6" sideboard cost only £26 [£410 in today's money], the dining chairs £8 15s [£138] and the table £17 [£268]. These amounts, however, were still significant investments for working families in the sixties.
Stag continued with their policy of innovative modern design. A couple of months after introducing the new dining room furniture, the Company launched a new range of bedroom furniture to replace the popular 'C' range.
Also designed by John and Sylvia Reid, this new range also featured metal legs and satin-polished steel handles. To modern eyes, it resembles office furniture, but at the time, it was perfectly suitable for a modern bedroom.
They finished the new furniture in revolutionary Fineline birch veneer. Fineline was a new veneer that had straight grain lines and was easy to match.
A year later John and Sylvia Reid produced a modern lounge suite with a steel frame. However, this and the dining furniture were far from successful and Stag discontinued both ranges in early 1963.
Stag Minstrel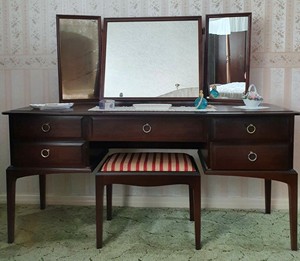 Stag's Madrigal range, introduced in the fifties, did not sell well. However, the company's relationship with its creators, John and Sylvia Reid, continued.
After designing some stunning modern furniture for Stag, the couple updated the traditional Madrigal range in 1964. The new range was Stag's best selling range of furniture, and possibly the best-selling UK furniture range ever.
Named Minstrel, the new range was an evolution of Madrigal.
Stag Minstrel furniture was made from makore (or African Cherry), both solid and veneered. It was of similar appearance to the earlier Madrigal, but had new, simpler brass handles.
Stag Minstrel was a great hit. Enough people had a liking for traditional style English furniture without wanting genuine antique or modern reproduction.
Minstrel gave them modern, practical and functional furniture that sacrificed no functionality to eye appeal, yet looked as elegant as any eighteenth century piece.
Minstrel was also good value for money. Stag's quantity buying of timber, efficient production and economies of scale meant no other manufacturer could offer similar designs at the same price.
Stag Minstrel found a place in the market that no-one had previously tapped. The adaptability of the design supported what eventually became a vast range. Stag Minstrel remained in production for nearly forty years.
Stag Concord
Stag Concord was a range of light oak bedroom furniture introduced around 1965.
Concord was a simple, understated modern design. It was not as stark as the 'C' range.
Concord included headboards, wardrobes, dressing tables and chests of drawers.
Stag Nocturne
Nocturne was also a new range from the mid-1960s. It was finished in Tola (African mahogany)
Nocturne included headboards, wardrobes, dressing tables and chests of drawers.
Stag Cantata
Ronald Carter designed Cantata for Stag.
Ronald or 'Ron' Carter was much influenced by the Scandinavian style of the era. His design for Stag was finished in teak. The handles were also in a teak finish.
Cantata included beds, headboards, wardrobes, dressing tables and chests of drawers.
Stag made Cantata for many years. It was still selling in the 1980s.
Buy Stag furniture
I have found the best place to shop for any vintage or retro furniture is eBay. The choice is widest, you get to compare a number of different lots and you generally get a bargain price. You might pick up a bargain at a boot sale or charity shop, but eBay saves you the leg work.
By Steven Braggs September 2007, updated June 2021
Your comments on Stag furniture
Comments
I have a Stag dressing table that we bought in England in 1976 and then emigrated to New Zealand and brought it with us. It was bought at Binnies Furniture store in Birkenhead. It doesn't have the stag picture on it anywhere. It doesn't look like any of the photos on your website. Do you remember making this style please?
It has a teak veneer top / six drawers / seating space / triple hinged white rimmed mirror. I am unable to attach the picture sorry. IMG_20210919_111227.jpg