Vintage cigarette packets
Vintage cigarette packets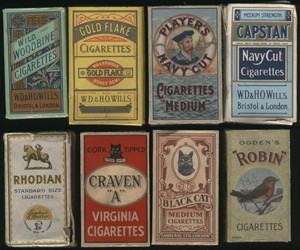 Collecting vintage cigarette packets is a guilt-free way to enjoy the smoking culture of the twentieth century. Smoking was a huge part of life in Britain, the US and Europe. Cigarette packets represent an important source of social, cultural and marketing history.
There were a huge variety of brands, each with a particular personality portrayed in the packaging and advertising of the time. The evolution of pack design shows both changes in marketing technique and period graphic style.
Cigarette packets from the 1920s and 1930s
Pictured right above, is a collection of cigarette packets from the 20s and 30s. On the top row are two of the most popular cigarette brands of all time: Player's Medium (or Player's Navy) and Wills Wild Woodbine. Woodbines were cheap cigarettes targeted at the working man. Strangely, Woodbine was named after a wild flower. The intricate nineteenth century packet design remained current until the mid 1960s. When Wills changed the packaging, the public were having none of it and Woodbine sales continued to head south. Those in the trade knew this rebranding as 'the rape of the Woodbine pack'.
The star of the Player's Medium packet was bearded sailor known as 'Hero'. The original design, featuring the sailor a lifebelt and the sea, was used until the 1960s. Also in the top row is Wills Gold Flake, which was Wills' premium brand. Wills Capstan was an attempt to compete with Player's Medium. On the bottom row, Carreras Black Cat was heavily promoted in the interwar period and was one of the first brands to offer cigarette coupons which could be exchanged for free gifts. Craven 'A' was an early tipped or filter brand aimed initially at women smokers.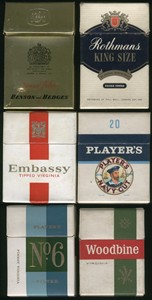 Cigarette packets from the 1950s and 1960s
Wills Woodbine and Player's Medium continued to dominate the UK market in the 50s. However, change was on its way. Filter or tipped cigarettes were becoming more popular both for health reasons and for economy. They used less tobacco, so the duty payable was less. Also cigarette coupons, which were dropped in the 30s following a 'coupon war', returned. J Wix successfully introduced coupons to its Kensitas brand in 1956.
In the sixties the two established market leaders, Player's Medium and Wills Woodbine lost out to two new brands. The most popular cigarette brands of the 60s were Embassy Filter and Player's No6.
The prestigious cigarette to be seen with in the late 50s was the new king size. The most successful king size brand of the late 50s and early 60s was Rothmans King Size. However, Gallaher's Benson and Hedges Special Filter, with its distinctive gold packaging, was number one by the end of the 60s.
Read more about 60s smoking culture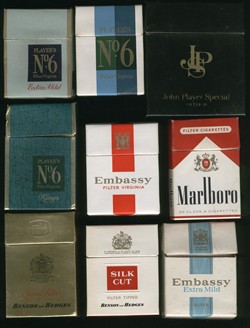 Cigarette packets from the 70s
Illustrated left is a collection of cigarette packets from the 70s that shows how smoking habits changed in the face of health issues and changes in the market. The old favourites are still there: Player's No6 and Embassy. However, they were joined by mild versions: Embassy Extra Mild and Player's No6 Extra Mild. The rise of the mild cigarette was a 70s' phenomenon. Benson and Hedges Silk Cut, pictured bottom middle, started this trend.
Which? Magazine named Silk Cut as the mildest UK cigarette in 1972. Although, the Which report was intended to convince people to stop smoking, it gave an enormous boost to Silk Cut sales. (In fact there is no evidence to suggest mild cigarettes are any better for you.).
The other big trend ran in the opposite direction. King size cigarettes were increasingly popular. John Player Special, with its distinctive black packaging, was a rival for Benson and Hedges.
King size cigarettes also went down market and were available in the cheaper brands. Both Player's No6 and Embassy had king size versions. You could buy cigarettes in a bewildering number of different sizes: international, king size, regular, intermediate, mini and sub-mini. Collectors of cigarette packets from the 70s should look out for different sizes in all the popular brands, for example, Silk Cut, Silk Cut King Size, Silk Cut No1, Silk Cut No5, Silk Cut No3, as well as Silk Cut Extra Mild.
At the same time competition from US cigarette manufacturers started in earnest in the 70s. The famous Marlboro brand with is cowboy print advertising campaign started to take sales away from the home grown brands.
Read more about Smoking and the 70s
How to collect cigarette packets
There are several ways to collect cigarette packets. You can buy complete unopened packs, empty packets, slides from the hull and slide packs or fronts only. eBay is the best place to source vintage cigarette packets.
Packet fronts or sleeves
In the early days of collecting cigarette packets, collectors kept the front only, cutting out the rest of the pack and discarding it. This method makes for the most compact collection, but is frowned upon by collectors today. It is also the cheapest way to get into the hobby. You can buy a whole collection of fronts for only a few pounds.
With the older hull and slide type packs some collectors kept only the sleeve. This was slightly better than keeping the front of the pack only. Sleeves are a bit more expensive than fronts. They can also be worth buying if you have a scruffy sleeve and a good slide, especially if the pack is rare.
Empty packets
Another way to collect cigarette packets is to buy empty packets. They are cheaper than full ones and you can amass a larger collection more quickly as they are more common.
Very rare packets can go for £100, but expect to pay between £1 and £5 for an empty cigarette packet from the 30s to the 70s.
Vintage cigarette packets on eBay
Full packets
Full packets are rarer and consequently expect to pay more. However, prices of £5 to £10 for post-war packs are still common.
Expect to pay more for packs with contents and original cellophane wrapping. There is an increasing interest in packets from the 50s, 60s and 70s. So don't hang around!
Sadly full packets are no longer sold on eBay.
Read more:
Resources for cigarette packet collectors
The official website for the Cigarette Packet Collectors Club of Great Britain - www.cigarettepacket.com
Add your comments on vintage cigarette packets
Comments
Hello, I have a large collection of mainly sealed unopened USA cigarette packets from the 1940s to 2000s, mainly 70-80s. I have discovered the excellent collectors facebook site, but wondered what are the best auction houses for job lots, can we send them abroad to collectors without breaking tobacco export law and at what age do they become 'collectables'. also what quantities of packs are best to sell them in as job lots. thanks in advance
much remembered brands and prices. they bring back many good memories of my energetic and healthy youth. however, due to consumption of the smoke from those comparitavly cheap tar filled cancer sticks many good people died far to young. i am, now, so very pleased that they are so much more expensive for many children and teen agers to be able to buy. I LOOK FORWARD TO THE DAY WHEN COMMON SENCE PREVAILS AND THEY ARE REMOVED FROM ALL SOCIETIES THROUGHOUT THE WORLD. They should be burned on a massive fire not between the lips of innocent victims as a result of governmental induction.
List of Items or highlights: Carton of 555 cigarettes in round sealed tins , photo enclosed Also carton of Black & White cigarettes in sealed tins , photo enclosed Would like to know approx value . I think both were make in UK just after the 2 nd world war Have a great weekend , Signal or WhatsApp +923008200990