Hottest retro collectables
What are the most collectable retro objects? I have done a survey of some of the best selling and most valuable retro collectables on eBay. eBay is a good guide because it is a perfect market place. Anyone who has something to sell can sell it for a relatively small fee and everyone has a chance to bid.So eBay sold prices are an invaluable guide to the true worth of anything.
Some of these objects are old friends like the Bakelite telephone and there are some surprises: £425 must be a record price for a bottle of Fairy washing up liquid - I wish I had a stockpiled a few of these from the 70s!
On the list is a wide selection of collectables from the 50s to the 70s. They all bring with them a large dollop of nostalgia, whether it is riding back from school on a Raleigh Chopper or your parents' lounge, complete with a starburst clock and rocket lamp. Or perhaps a trendy bachelor pad complete with lounge bar and an eight-track tape player.
I hope this selection will whet your appetite and give you a feel for what is out there.
Raleigh Chopper £100 to £1200
Bringing back memories of a childhood in the 1970s, the Raleigh Chopper has been a firm favourite with retro enthusiasts for many years.Values have continued to increase steadily over the past few years.Well restored examples of rare models now change hands for well in excess of £500.
Some examples:
Raleigh Chopper GT Sprint 1972 - £1250
Raleigh Chopper SE (Special Edition) 1977 - £805
Fully restored Mk1 1971 - £835
Fully restored Mk2 1971 - £700
For around £500 you will get a pretty good Mk1, which has probably been resprayed and rechromed to a good standard. Mk2 bikes are worth a little less at around £400. Raleigh Chopper restoration projects start at £100.
The bike illustrated above is an early Mk1 painted in pumpkin orange.It has been restored to a high standard.
Raleigh brought out a repro version the Mk3, these are worth a lot less than the original.
Read more about the Raleigh Chopper.
Look for Raleigh Choppers on eBay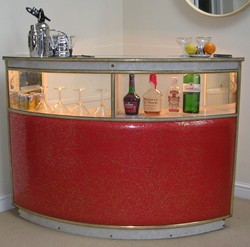 1950s/1960s Cocktail bars £100 to £500
Once the epitome of bad taste, (remember Del Trotter from Only Fools and Horses had one?) the cocktail bar is once again back in fashion. Examples in good condition with plenty of retro detailing will cost upwards of £500. Look for plenty of over the top style and start practising mixing those dry martinis.
See Retro cocktail bars on eBay
Dansette record player £50 to £500
A favourite with teenagers in the 50s and 60s, the Dansette record player has become a classic of its era. Look for clean, working examples. Fully serviced and restored players in near mint condition will fetch as much as £500. Restoration projects are a lot cheaper. Beware of players with damaged trim and be prepared to get it serviced if you buy an unrestored example.
Look for Dansette record players on eBay
Read more: Dansette record players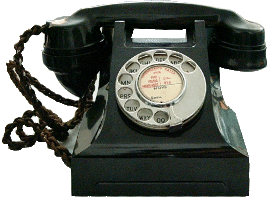 Bakelite telephones £100 to £225
You cannot beat the authentic ring from a 1950s bell telephone. Remember all those black and white movies?
The 200 and 300 series phones which the GPO installed from the 1930s to the 1960s have been collectable for a few years now, but still hold their appeal. Values range from £50 for restoration projects or damaged phones up to £200+ for good quality restored examples and rare coloured models going for much more.
For a more detailed price guide see retro telephone price guide
Packaging from the 50s to the 70s, up to £400
Packaging for consumer products is normally thrown away as soon as the product is used. Looking back containers, jars, boxes and packets can conjure up an image of a past age.
The rarity and fragile nature of packaging contributes to its value. Who would have thought to have kept a full bottle of Fairy Liquid from the 70s for example? This complete bottle of Fairy Liquid from the 70s, illustrated left, sold for a phenomenal £425 on eBay recently.
However, you can still collect packaging for a lot less. Tins are the most durable items and often cost only a few pounds.
Teak Sunburst clocks from the 1970s £100 to £300
As the 70s becomes more appreciated, large flamboyant decorative items are rocketing in value. Teak Sunburst clocks have become highly collectable in recent years.
Look out for very large sunburst shapes with teak points. They are usually battery operated, but don't expect the clock to keep perfect time.
Makers to look out for are Seth Thomas and Anstey & Wilson. Expect to pay £150 to £300 for a Seth Thomas clock and £100 to £200 for an Anstey and Wilson one.
Look for Sunburst clocks on eBay
Rocket lamp (1960s to 1970s) £50 to £200
A perfect complement to the teak sunburst clock is the rocket lamp. Made from spun fibreglass with teak legs, the large floor standing model looks amazing. These are very collectable now. They were made from the late 60s into the early 70s. Expect to pay upwards of £100 for a large floor standing lamp in top condition.
Look for Rocket lamps on eBay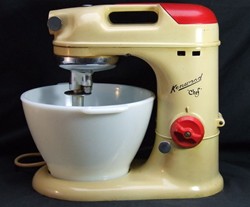 Kenwood Chef A700 (1950 to 1960) £50 to £225
This is not the Kenwood Chef designed by Kenneth Grange in 1960, but its predecessor, the Kenwood Chef A700.This model had similar mechanicals but looked more utilitarian than Kenneth Grange's sleeker 1960s' model.
In the 60s the A700 looked dated and would have been more at home in a professional kitchen than a smart suburban fitted kitchen with Formica units. However, with a strong following for professional chefs, its functional appearance mixes modern taste with 1950s nostalgia.
Expect to pay up to £200 for a top quality working example in near mint condition with some of the original packaging and accessories. You should get a good solid working example with some signs wear for £100, and £50 will get you a restoration project.
Look for Kenwood Chef a700 mixers and accessories on eBay
Prinzsound 2001 8-track player and radio (1970s) £80 to £200
This groovy little radio and 8-track player (who remembers 8-track?) was marketed by Dixons in the 70s. It was manufactured in Japan by Weltron and is sometimes known under that name.
8-track players enjoyed a brief period of popularity in the 70s, often as car entertainment systems. Long forgotten now, the 8-track player belongs to the era of The Sweeney. This particular player, in bright yellow and styled to look like a spaceman's helmet, was perfect for a 70s' bachelor pad.
They came in yellow or white, both colours are equally valuable. Be careful of white cases which have yellowed badly.
Search for Prinzound 8-track players on eBay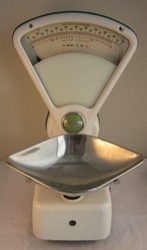 Shop scales £50 to £150
Remember ordering a quarter of sweets, half a pound of bacon or a pound of apples? Well, these are the scales the shopkeeper would have used to weigh your purchases. These white enamel scales were found in all sorts of small shops, groceries and the deli counter in supermarkets from the 50s to the 70s.
Now we have gone metric they are probably not much use to the trade any more, but are sure to jog a few memories.
You can still pick up reasonable examples for less than £50 on eBay, but expect to pay upwards of £100 for near mint examples.
Your comments