Vintage Othello and Reversi
Vintage Othello and Reversi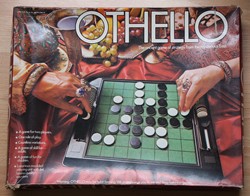 Goro Hasegawa launched the modern version of the board game Othello in 1971. It became a national Japanese pastime.
Othello came to the West in 1975 when Gabriel launched it in the United States. Peter Pan Playthings first sold the UK version of the game in 1976.
The box on the UK version of the game says 'The ancient game of strategy from the mysterious East'. Yet the game was invented in London just one hundred years before the UK Othello.
Mr Frederick Henry Ayres of games maker F H Ayers sold a game called Annexation. He claimed Mr John W Mollet BA invented 'Annexation' in 1876. Annexation was like Othello in principle. Opponents' pieces were 'annexed' or reversed. It may have used a different style of boad and a different number of squares. We know this because in 1888 Mr Lewis Waterman took Ayres to court. He claimed that Ayres had infringed his trademark name 'Reversi'.
Othello timeline
1876 - John W Mollet invents 'Annexation'
1883 - Jaques start selling 'Reversi' invented by Lewis Waterman
1888 - The Court of appeal rules that the name 'Reversi' cannot be a trademark
1971 - Othello launches in Japan
1973 - Spears Games launches new version of 'Reversi'
1975 - Gabriel launches Othello in the USA
1976 - Peter Pan Playthings launches Othello in the UK
'Reversi' was a similar game which Waterman himself invented in 1883. The well-known games maker Jaques sold Waterman's 'Reversi'. Waterman registered the trademark 'Reversi' in 1887.
Jaques sold 'Reversi' without a board, instead it was played on a standard chess board.
'Reversi' was successful and generated £2000 worth of sales by 1888. [£180,000 in today's money]. We assume 'Annexation' was less succesful. Ayres changed the name to 'Annex a game of reverses'. This was the reason for Waterman's legal action.
Waterman was successful, but Ayres appealed and three judges ruled in his favour. They removed 'Reversi' from the list of registered trademarks.
Yet 'Reversi' was the name that stuck. In 1973 Spears Games launched a new version in the UK.
Collecting
The Jaques version of Reversi comes up on eBay from time to time. It has the printed signature of Lewis Waterman on the box. Expect to pay £10 to £20.
The Spears version of the game is common. Prices range from £5 to £20.
The original version of both the UK and US games are common. You should be able to get one on eBay for under £10. Look out for the original packaging. It changed in the 1980s.
How old is my Othello?
You may find the following useful to identifying the age of your Othello or Reversi games.
Jaques Reversi
This has a small box with Waterman's signature and no board. This is the original version of the game which dates from 1883. I am not sure for how long it was manufactured.
It had black and red counters
Spears Reversi
1973-82 Red box, green and yellow board, red/blue counters
1983-91 Yellow box, Othello style board and counters
1991 - large green box with plastic moulded lining, Othello style board and counters. Has the logo: 'Traditional Spears Games - Est 1878'
Peter Pan Othello
1976 - Box has oriental scene with man and woman's hands playing Othello
1983 - Red box has picture of Othello board
1984 - Black and white box has picture Othello board
1987 - Blue box, the squares on the board have raised edges
Your comments