Ridgway Homemaker range
Homemaker was produced over a period of thirteen years. There was a huge range sold at the time and there were two different basic shapes: Metro and Cadenza. When Cadenza was introduced in 1966, most items were not changed, and the original Metro shape continued for most pieces. The Cadenza shape seems only to have been used on the hollow ware (teapots, coffee pots, milk jugs and tureens).
There were also some rare experimental ranges. Homemaker was, for example, produced in red and white, and green and white, although very few of these pieces were sold and they are incredibly rare today. There were also some rare individual pieces, such as the bon-bon dish.


Teapots/coffee pots
There are two distinct styles of Homemaker teapot and coffee pot: the original Metro design by Tom Arnold, which was made from 1957, and the new Cadenza shape, designed by Margaret Simpson, which superseded it in 1966 (right Metro coffee pot, far right Cadenza teapot).



Milk jugs/sugar bowls
The original milk jug was black with white inside (second right). The sugar bowl (first right) also had the same style and was also black with white inside. From around 1966, there was a Cadenza shape milk jug decorated with the Homemaker pattern (third right).
The original black jug and sugar bowl have no backstamp, thus making identification difficult.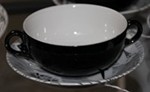 Cups and saucers
Homemaker saucers had the Homemaker pattern applied, but the cups were plain black, usually with white inside. There was no backstamp applied to the cups.
There were three different sizes of cup: a small coffee cup, a teacup and a large teacup.
Soup bowls
The Homemaker soup bowl is similar to the cup, black with a white inside and with a saucer, but the bowl has two handles.
Plates

There were a variety of different sized plates in the Homemaker range. Round plates were sold in 7-inch, 8-inch, 9-inch and 10-inch sizes. If you cannot measure the size, you can work it out by the number of motifs on the design. There were six motifs on the 7-inch plate, eight on the 8-inch, ten on the 9-inch and twelve on the 10-inch.
There were also oval plates made in four different sizes from very small up to a large serving plate.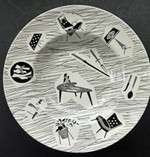 Bowls
There were a variety Homemaker bowls and dishes. They were made in the coupe (rimless) style fashionable in the 1950s, but there were also fruit bowls with a rim for stones, as well as soup plates. I have seen:
Round oatmeal bowl - diameter 6.5"
Oatmeal bowl, flat base - diameter 6.5"
Fruit bowl with rim - diameter 6"
Cereal bowl - diameter 7"
Soup plate - diameter 9"
On the right is a round oatmeal bowl (top) and a soup plate (bottom).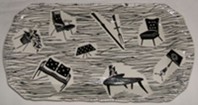 Sandwich plates
Ridgway made two different styles of sandwich plate. There was one in traditional style with fancy edging (see left), as well as a sandwich plate in the Metro shape with rounded corners (below left).
There are two varieties of the Metro sandwich plate: one is relatively flat, the other has a more curved base with edges that form carrying lugs.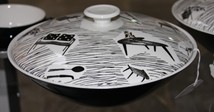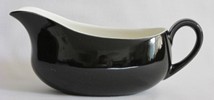 Tureen
The original Metro tureen is shown right. There is also a Cadenza tureen (not illustrated) which has a more curved lid.
Gravy boat
There was a Homemaker gravy boat which was black with no pattern. See photograph below, right.
Cruet set
There was an all black Homemaker Cruet set comprising a salt and pepper pot.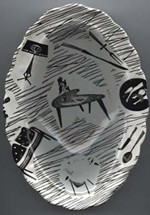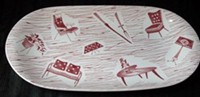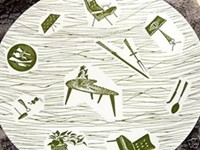 Rare pieces
Bon-bon dish
This is a very rare piece (left) and may have been only produced for an experiment. The shape is not from either Metro or Cadenza, but is a traditional fancy style.
Red and green Homemaker
You can find Homemaker pieces in red or green as well as black. They were probably produced by Ridgway for experimentation. They are extremely rare.(see the two photographs on the right).
By Steven Braggs, May 2014
Your comments
Comments
It is true that red Homemaker was produced for the Australian market, though I have no idea how many shipments there were. However whilst some pieces are very rare, the most commonly found are 10" Dinner Plates. I have never known one fetch the £500-2000 quoted here. I have bought and sold a dozen or so over the years and generally they go for between £200 & £350.
Hello, I?ve been hunting Ridgway Homamker for a while now, it seems the red collection was made for the Australian market, it didn?t really take off there very well, they only made 1 container full and shipped it out circa 1960, most of them were thrown away, smashed etc, if you come across any of them, they are extremely rare, the 10 inch dinner plates can fetch between ?500-2000.