Ridgway Homemaker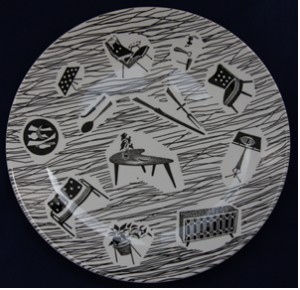 Production run: 1957 to 1970
Designers: Enid Seeney (pattern), Tom Arnold (Metro shape), Margaret Simpson (Cadenza shape)
Manufacturer: Ridgway Potteries, Stoke-on-Trent
Special features: Award winning coupe (rimless) design, motifs of contemporary furniture
Retailer: Woolworths
Cost new: from 2½d per piece
Value today: up to £100 depending on piece
Range: Guide to Homemaker range
Buy:
A newly married couple setting up home in the 1950s or early 1960s might have chosen the cheap, but contemporary, Homemaker range of ceramics for their dinner or tea service. Homemaker combined an award-winning modern shape, Metro, by Tom Arnold, with a pattern by Enid Seeney showing contemporary furniture and household items against a background of black lines.
Enid Seeney designed the pattern in 1956 for new shapes designed by Tom Arnold. She called the new design 'Furniture'. However, executives thought it might be too radical for public tastes and public reaction at an exhibition in Blackpool was disappointing. However, Seeney still believed in the design and her team produced a prototype coffee set.
Homemaker came to the attention of Woolworth's only by chance. A buyer visiting Ridgway (yes it is spelt like that, not Ridgeway) in May 1957 saw a prototype coffee set made up by Seeney. He thought it would sell and immediately placed a large order for it.
Homemaker was mass produced ceramics. It would have been impossible for a design sold by Woolworth's to be hand painted. Ridgway used a new printing process, the Murray-Curvex litho process. The pattern was applied in reverse to the bottom of a gelatine pad (or 'bomb'). The wet paint was then transferred to the piece in a way that would allow it to mould to the shape. This process made all-over patterns such as Homemaker possible.
Tom Arnold designed the shape onto which the Homemaker pattern was applied. It was known as 'Metro'. Metro along with the 'Conference' pattern by another designer, Pat Albeck, won the coveted Council of Industrial Design, Design of the Year Award in 1957. Homemaker was later produced on different shape, Cadenza.
Homemaker brought good quality design to a mass market. The pattern itself displayed some of the most exclusive designs of furniture from the early 1950s including a chair by Robin Day, a sideboard similar to a Gordon Russell design and a two seater-sofa by Swedish designer, Count Sigvard Bernadotte. These designs would have been far too expensive for people who bought Homemaker.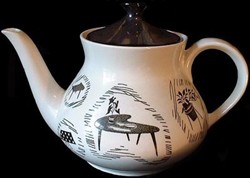 At the time, Homemaker would have been a far from subtle contemporary statement. The Woolworth's buyer was spot on. It was just the thing that would appeal to a young working class couple wanting a contemporary look to their home.
Today Homemaker is loved by anyone into modern design from the 1950s and 1960s.
Shapes
Homemaker was produced on two shapes. The original Metro, designed by Tom Arnold from 1957 and Cadenza (see teapot in picture above, right) designed by Margaret Simpson from 1966. The Cadenza shape can be seen in a different style of teapot, coffee pot and milk jug and also in a different style tureen (vegetable dish).
Backstamps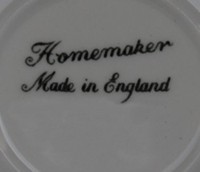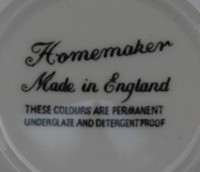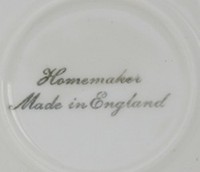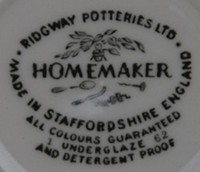 There were five different styles of backstamp used on Homemaker. The first three (above) were used on early pieces up to around 1962. The first one is probably the oldest, from 1957. The text "THESE COLOURS ARE PERMANENT UNDERGLAZE AND DETERGENT PROOF" was probably added later.
The fourth back stamp was used from 1962 onwards. You can see a date on the fourth photograph above, it is on the second line from bottom on the right hand side, '62'. I have seen 62, 63, 64, 65, 66, 67, 68 and 70. There is also another number on the left hand side, a '1' shown here. It represents the first or second half of the year. You will see either '1' or '2'.
This style of backstamp was also used without the date information.
The fifth style of backstamp (not illustrated) was the similar to the fourth (fourth photograph above), but larger with HOMEMAKER printed in a larger font.
Homemaker was also produced with no backstamp.
What is on the Homemaker pattern?
I have been able to identify a number of important contemporary designs on the Homemaker pattern:
Reclining chair by Robin Day (design 1952)
Two-seater sofa by Count Sigvard Bernadotte (design 1954)
Sideboard similar to one designed by Gordon Russell (the legs on the Russell design are not splayed)
Kidney shaped table
Chair without arms similar to G-Plan Brandon (the G-Plan one also has buttons on the seat)
Plant holder and lamps with slim metal legs
Values
Values of the rarer pieces are quite high. You will need £100 for a coffee pot in perfect condition. However, the plates and teacups are still reasonably priced. This guide is from the latest sold prices on eBay.
Coffee pot (Metro shape) -£80 to £100
Sandwich dish 11 inches - £40 to £60
Milk jug, Cadenza shape with Homemaker pattern, not all black - £30 to £60
Soup bowl 9 inches
Vegetable dish 9.5 inches - £40 to £80
Dessert bowl - £5 to £10
Plate 7 inches - £5 to £10
Plate 8 inches - £5 to £10
Plate 9 inches - £10 to £20
Cup - £5
Sugar bowl - £5
Cup & saucer - £10 to £20
Saucer - £1 to £5
Coffee and tea pots are also quite rare, as is the Homemaker tray.
Buy Homemaker
My recommendation would be to You will get the best price and the widest choice. You will, however, need to be aware of your facts to successfully buy on eBay.
A number of the photographs used in this piece were supplied by you can buy pieces in their eBay store.
A number of these photographs were supplied by
Reference and further reading
For more details on the Homemaker range see our guide to the Homemaker range.
In compiling this guide I found Homemaker: A 1950s Design Classic
by Simon Moss extremely useful. If you want to be a serious collector of Homemaker, I strongly suggest you buy a copy. The second revised edition contains some interesting extra information about rare pieces. It will also help you make informed buying decisions on eBay and not be caught out by the hype.
The Guardian - Enid Seeney Obituary
I also found Ceramics of the '50s and '60s: A Collector's Guide (Miller's Collecting Guides)
to be useful.
By Steven Braggs, April 2014, corrections May 2014
Your comments

"Thank you for this very informative and interesting article Mr Braggs. My mother still uses her Ridgeway plates today. Design was super cool and has stood the test of time. These days it seems a clean white plate, with no apparent art is the norm... how boring we have become! LL [ http://www.v4vintage.com ]" Leila London 23/02/2015
"This took me immediately back to childhood. But my mother wasn't 'working class' more 'war class' with a propensity for budgeting." F.Stewart 19/06/2016
"Really helpful article-I've only recently come across the Homemaker design and your advice will be invaluable. Thank you!" Sarah Robinson 13/02/2017
"just found a coffee set while clearing out a house. shame it will be stuck in a cupboard as i have no where to display it." karen woodmass 25/10/2017
"Thanks you so much for the info. I have 2 different sized cups? Do they have the same value?

Regards
Kelly" Kelly 07/03/2018
"My partner has four 7" Plates that belonged to his late parents. They are in perfect condition. He would like to sell them. What is the best way of getting a fair price other than e-bay?" Beverley Butler 15/04/2018
"Why not eBay? A dealer will want to build in a profit for any price he/she offers you. Auctions have higher costs and are often on weekdays, so only dealers buy.
All the best" Steven 16/04/2018