Chivers Jellies giveaways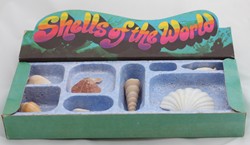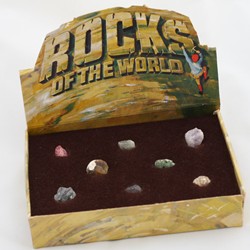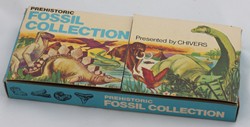 Does anyone remember these fantastic giveaways from Chivers Jellies in the 1970s? I remember saving up the labels for the fossil collection and getting my Mum to send for it. We only just made it and had one of the last ones. It took ages to arrive. They always said allow 28 days for delivery.
Coin collecting was a classic hobby. But the shells, rocks and fossils were themes in tune with the era. After the scientific progress of the 1950s and 1960s, there was much more interest in the natural world.
Chivers Coins of the World 1971
The coin collection was well-timed. Britain had gone decimal and our new currency fitted in with the rest of the world. More than a few of the countries in the collection no longer exist. This is the full list:
Austria - 2 Groschen
Bahamas - 1 cent
Colombia - 1 Centavo
India - 1 Paisa
Czechoslovakia - 1 Haler
Formosa - 1 Chiao
East Germany - 1 Pfennig
Ghana - ½ Pesewa
Finland - 1 Penni
Israel - 1 Agora
Quatar & Dubai - 1 Dirhem
Yugoslavia - 1 Dinar
Of these Czechoslovakia, East Germany and Yugoslavia are no longer around. Formosa is Taiwan. The President of Formosa was Chiang Kai-shek. He used to claim that this tiny island was the Republic of China. Mao Tse Tung forced him out of power in 1948. The American Government refused to recognise Mao. So Chiang Kai-shek was able to get away with it.
Chivers - Shells of the World, 1972
Shell collecting was trendy in the 1960s and 1970s. It was helped by Ursula Andress' character, Honey Rider, in the 1963 Bond film, Dr No. She collected shells in the infamous Crab Quay.
The Chivers' collection included scallops and clams, as well as a turrietella snail. It was a tall spiral shaped shell.
The complete collection was:
Ark shell
Clam
Stromb shell
Moon shell
Money cowrie - some African tribes used them as money
Turritella snail
Cerith
Scallop
Chivers mentioned Eaton's at 16 Manette Street, London W1. It was a small shop specialising in sea shells.
Fredrick Mayer founded the business in 1983 as the Eaton Bag Company. He sold his first shells in the 1950s and that became his main business. It still trades today, but online only. See www.eatonsseashells.co.uk for more information.
Rocks of the World 1972
Also in 1972 Chivers offered a 'Rocks of the World' collection. Chivers based it on an idea by Miss Jennifer Deeley of Surbiton in Surrey. She was the first to write to Chivers suggesting the idea.
The collection had small samples of coloured crystals:
Rose quartz
Aragonite
Rhodonite
Calcite
Biotite
Agate
Amethyst
Rock crystal
Did it inspire anyone to study geology?
Prehistoric Fossil Collection 1973
I was into dinosaurs in the early 1970s. I thought this fossil collection was cool. My favourite was the fossil shark's tooth which was 25 million years old. The oldest was a bryozoa (moss animal) from Williamson County, Tennessee. It was an invertebrate sea creature that was 440 million years old.
To get the fossil collection you needed to collect 18 stars from the Chivers' packs.
Add your comments
Comments
No comments yet. Be the first!