Drinking in the 70s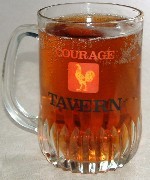 Watney's Red Barrel and Party Seven are everyone's idea of drinking in the 70s. It was also the decade of the growing consumption of lager and branded wines, such as Mateus Rosé, Blue Nun and Black Tower.
Keg v Cask
A battle was raging for the hearts and minds of Britain's drinkers in the 70s. It was a typical struggle between two equal and opposite forces - progress, in the form of pasteurised keg bitter and tradition, in the form of the Campaign for Real Ale (CAMRA). At the beginning of the decade, keg bitter dominated Britain's pubs. Brands such as Watney's Red Barrel, Double Diamond, Younger's Tartan, Whitbread Tankard, Worthington 'E' and Courage Tavern were the taste of the 70s. In the end CAMRA won and as far as I know none of these "classic" 70s beers are still in existence.
All the same, the advertising slogans from some of these keg bitters have almost entered the language. Most people know that "Double Diamond works wonders" and that Whitbread Trophy is "the pint that think's it's a quart".
The 70s was also the age of lager. The British form of this continental drink was increasing in popularity every year. Top brands from the 70s were Carling Black Label, Skol and Harp. Most lagers from the 70s are still available today - so you can try a taste of the decade!
Mateus, Blue Nun and Martini

Think of 70s wine and most people think of Mateus Rosé, a slightly fizzy pink wine. In the 70s the bottle often ended up as the base for a lamp. In spite of some wine pundits comments, it is actually quite drinkable and you can still buy it, but the makers decided that the ironic 70s' charm of the bottle was not suitable for today's market and they changed the label design. The wine is the same though!
The other favourite from the decade, Blue Nun, is still around. Sweet German wines were popular in the 70s and 80s. Our palates though, have moved onto drier wines. Black Tower was another wine with a distinctive bottle that was a big hit in the 70s.
The 70s would never have been complete without Martini - "Any time, any place, anywhere". The heavily promoted Italian vermouth sold well throughout the 70s; most people's drinks' cabinets contained a bottle. Another firm favourite was Advocaat, used to make the favourite Christmas cocktail, the "Snowball".
A snapshot of 1970s' tastes in alcohol
This list of drinks from Peter Dominic Wine Shops from 1973 gives an idea of Britain's favourite drinks in the 1970s.
Wine
Carafino Rouge (1 litre) - 67p
Beaujolais Baron - 67p
Valpolicella Belvedere -63p
La Cour Pavillon - £2.25
Chianti Classico - £1.20
Liebfraumilch Little Rhine Bear - 83p
Le Piat de Beaujolais - £1.10
Chanterelle Brut - 89p
The selection includes some 1970s' favourites including Boudeux and Beaujolais. There is Liebfraumilch from Germany and the Italian Chianti Classico came in the traditional whicker chianti bottle.
Sherry and fortified wine
Croft Distinction - £1.74
Croft Original - £1.25
Domecq Double Century - 95p
Dubonnet - 99p
Crabbie's Ginger Wine - 59p
Cinzano Bianco - 96p
Martini Red - 94p
Fratelli Dry (Vermouth) - 88p
The other favourite sherry from this era was Harvey's Bristol Cream.
Beers and ciders
Dominic Vintage Cider - 17p
3 cans Harp Lager - 9p each
Pilsner Urquell - 17p
Watneys Party Seven - 79p
Whiskies
Haig - £2.39
Johnnie Walker Red Label - £2.39
J & B Rare - £2.53
Bell's - £2.52
Haig was Britain's best-selling whisky in the 1960s. This changed in the 1970s. Teachers and Bell's were gaining ground on Haig and surpassed it by the end of the decade.
Other spirits
Dry Cane Rum - £2.75
Smirnoff Vodka - £2.48
Gilbey's London Dry Gin - £2.39
Booth's Gin - £2.43
Bols Advocaat - £1.69
Hennessy Fine Cognac - £3.99
Gilbey's Triple Crown - £1.09
Southern Comfort - £4.36
Drambuie - £3.43
Mixers
Schweppes Bitter Lemon - 5½p
Canada Dry Ginger Ale - 5½p
Hunts Tonic ½litre - 8p
Add your comments
Comments
Does anyone remember the name of this 1970s drink. we would order it with a posh meal out or get one in for special occasions. It had a hardwood disk with a brass goblet within it? You could actually take out the little goblet and my daughter used them in her dolls house. Not sure if I have got the bottle shape or colour right in my little sketch.
Another impressive piece of digging. When I first went to pubs in the 70s, I drank Younger's Tartan, not really a choice based on anything other than the fact that others I knew drank it. I soon switched to lager. I'd be curious to try some now but as the author points out it's no longer with us. Incidentally the ad for Whitbread Trophy ('the pint that thinks it's a quart') with the huge glass was filmed in the local 'working mans club' where I lived. A friend was there and said the 'head' on the big pint was made with egg whites, leaving us all disillusioned with the magic of television.