Drinking in the 70s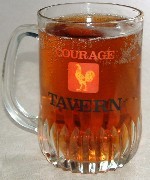 Watney's Red Barrel and Party Seven are everyone's idea of drinking in the 70s. It was also the decade of the growing consumption of lager and branded wines, such as Mateus Rosé, Blue Nun and Black Tower.
Keg v Cask
A battle was raging for the hearts and minds of Britain's drinkers in the 70s. It was a typical struggle between two equal and opposite forces - progress, in the form of pasteurised keg bitter and tradition, in the form of the Campaign for Real Ale (CAMRA). At the beginning of the decade, keg bitter dominated Britain's pubs. Brands such as Watney's Red Barrel, Double Diamond, Younger's Tartan, Whitbread Tankard, Worthington 'E' and Courage Tavern were the taste of the 70s. In the end CAMRA won and as far as I know none of these "classic" 70s beers are still in existence.
All the same, the advertising slogans from some of these keg bitters have almost entered the language. Most people know that "Double Diamond works wonders" and that Whitbread Trophy is "the pint that think's it's a quart".
The 70s was also the age of lager. The British form of this continental drink was increasing in popularity every year. Top brands from the 70s were Carling Black Label, Skol and Harp. Most lagers from the 70s are still available today - so you can try a taste of the decade!
Mateus, Blue Nun and Martini

Think of 70s wine and most people think of Mateus Rosé, a slightly fizzy pink wine. In the 70s the bottle often ended up as the base for a lamp. In spite of some wine pundits comments, it is actually quite drinkable and you can still buy it, but the makers decided that the ironic 70s' charm of the bottle was not suitable for today's market and they changed the label design. The wine is the same though!
The other favourite from the decade, Blue Nun, is still around. Sweet German wines were popular in the 70s and 80s. Our palates though, have moved onto drier wines. Black Tower was another wine with a distinctive bottle that was a big hit in the 70s.
The 70s would never have been complete without Martini - "Any time, any place, anywhere". The heavily promoted Italian vermouth sold well throughout the 70s; most people's drinks' cabinets contained a bottle. Another firm favourite was Advocaat, used to make the favourite Christmas cocktail, the "Snowball".
Add your comments

"Another impressive piece of digging. When I first went to pubs in the 70s, I drank Younger's Tartan, not really a choice based on anything other than the fact that others I knew drank it. I soon switched to lager. I'd be curious to try some now but as the author points out it's no longer with us. Incidentally the ad for Whitbread Trophy ('the pint that thinks it's a quart') with the huge glass was filmed in the local 'working mans club' where I lived. A friend was there and said the 'head' on the big pint was made with egg whites, leaving us all disillusioned with the magic of television." Mike 13/02/2020