What happened in the 50s?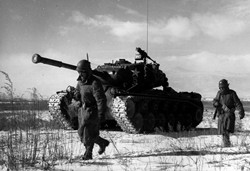 1950
23 February - in the general election Labour held onto power with a majority of just five.
26 May - petrol rationing ended.
25 June - The Korean War began.
1951
3 May - King George VI opened the Festival of Britain on the South Bank in London.
25 October - Clement Altee (Labour) called another general election. He hoped to increase his majority, but lost to Winston Churchill (Conservative) who formed the next government.
British spies Burgess and Maclean defected to the USSR.
1952
6 February - King George VI died.
5 July - the last London tram ran from Woolwich to New Cross.
4 November - Dwight D. Eisenhower (Republican) beat Adlai Stevenson (Democrat) to become the US President. The previous President Harry S Truman withdrew from the race for the Democratic Party Nomination.
14 November - The New Musical Express (NME) published the first hit singles chart.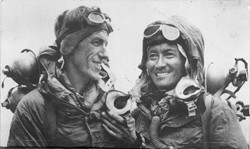 1953
29 May - Edmund Hillary and Tenzing Norgay became the first men to climb Everest.
2 June - The Coronation of HM Queen Elizabeth II.
27 July - The Korean War ended.
1954
4 July - all rationing ended.
6 May - Roger Bannister ran a mile in under four minutes at the Iffley Road Track in Oxford.
1955
6 April - Anthony Eden succeeded Winston Churchill as Prime Minister.
22 September - Commercial television was first broadcast in the UK.
13 July - Ruth Ellis became the last woman to be hanged in the UK.
Mary Quant opened her first boutique, Bazaar, on the King's Road in Chelsea, London.
1956
5 November - British and French paratroopers landed along the Suez Canal.
6 November - Dwight D. Eisenhower (Republican) beat Adlai Stevenson (Democrat) for a second time to hold onto the US Presidency.
Britain's first transistor radio, the Pam 710, went on sale.
1957
In 1957s Lee Cooper, Britain's home grown jeans label took out adverts in the national press. This signified jeans were being officially pushed for leisure wear as well as work wear.
9 January - Anthony Eden resigned as Prime Minister and Harold Macmillan succeeded him.
1 June - ERNIE (Electronic Random Number Indicating Equipment) picked the first premium bond winners.
4 October - Sputnik, the first artificial satellite, launched by the USSR.
November - CND (The Campaign for Nuclear Disarmament) started.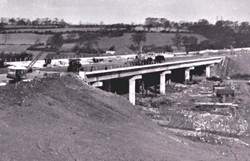 1958
In the course of 1958, more than half of UK households had television sets for the first time
1 January - The European Economic Community (EEC) was formed.
29 August to 5 September - white working class youths rioted in Notting Hill. The riots were racially motivated.
5 December - Prime Minister Harold Macmillan opened Britain's first stretch of motorway. It formed part of the M6. The M1 opened the following year.
1959
25 July - the first Hovercraft trip across the English Channel.
26 August - BMC launched the Mini in the UK.
11 October - postcodes were used for the first time.
17 November - duty free drinks were first sold at UK airports.
Read more
Your comments
Comments
No comments yet. Be the first!