Vintage novelty cigarette dispensers
Vintage novelty cigarette dispensers
Cigarette dispensers are almost as old as cigarettes. They were ingenious mechanical devices designed to amuse.
Black and White whisky bottle cigarette dispenser
I picked up this novelty cigarette dispenser in the shape of a whisky bottle at a vide grenier (junk market) in Landerneau, in Brittany, France.
It was just the thing for a 1960s' party - cigarettes and whisky combined!
It was made in Japan. The market for Japanese goods was opening up in Europe in the 1960s. America had been importing goods from Japan since the 1950s.
In those days Japan was getting into its stride as a producer of high-tech, but they were also still making simple mechanical devices.
The items is of very high quality. It has the look and feel of a real Black and White bottle.
The top lifts off to reveal the cigarettes and it plays a tune. I think there are several models of this dispenser that play different tunes. One of the tunes is 'Annie Laurie', a traditional Scottish song and another model plays 'Rain drops keep falling on my head" from 'Butch Cassidy and the Sundance Kid' (1969).
This one plays a tune that sounds very similar to the theme from Les parapluies de Cherbourg. Perhaps it was made for the French market? Japanese makers were very good at tuning their products for specific markets. After all, scotch was not a big in Japan in the 1960s.
How much is it worth?
These are rare. In good condition they can make over £100 in auction. Although some bargains do come up on eBay. Look for Whisky bottle cigarette dispenser on eBay.
Smoking Donkey
If you thought smoking was a filthy habit, then this was the dispenser for you. Push the donkey's ear and the cigarette comes out its ass. Perhaps the joke was on you for being a jackass and not giving up smoking?
There were several different versions in black, white or red. They were all made in Hong Kong.
They were probably made in the 1960s or 1970s.
Vietnamese cigarette and cigar dispenser
This one is a real piece of history. There is a plaque on the front that reads 'From General Nguyen-Van-Thieu, Chairman of the National Leadership Committee, Republic of Viet Nam'. It looks like a personal gift from Thieu. The inscription dates it to between 1965 and 1967. Thieu was head of the military junta in South Vietnam between those dates. He became the President in 1967.
Thieu was ousted from power in 1975 when communist North Vietnamese forces stormed Saigon.
The lid hinges back to reveal three rows of semi-circular grooves, two for cigarettes and one for cigars.
New Haven clock cigarette dispenser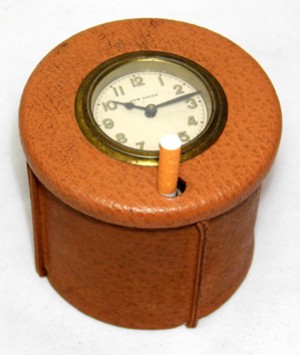 This neat dispenser with a clock probably dates from the 1930s. It was made before 1956 when New Haven stopped making clocks.
By Steven Braggs, August 2021
Add your comments
Comments
No comments yet. Be the first!