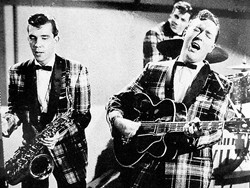 50s Music
Rock'n'Roll
Most people associate Rock'n'Roll with the music from the 50s. However, it did not actually begin until the middle of the decade. Prior to the mid 50s, people listened to music by Perry Como, Frankie Laine and Eddie Calvert.
Rock'n'Roll came to the UK when Bill Haley and His Comets' hit, "Rock around the Clock", burst out from the credits of the 1955 film, Blackboard Jungle. It caused riots in cinemas; teddy boys ripped out seats and danced with their girls in the aisles.
Bill Haley took negro music from the US and gave it a white face. Rock'n'Roll was negro slang for sex in 50s America. In the UK it quickly became the music of choice for Britain's working class youth. It drew immediate condemnation from the older generation.
Billy Haley soon had a younger, more sexy, rival in Elvis Presley. His first UK hit was "Heartbreak Hotel" in 1956.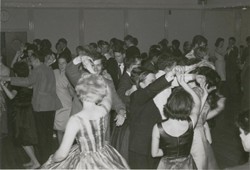 Skiffle
Skiffle was Britain's home-grown version of Rock'n'Roll. Bands used old washboards as instruments. Lonnie Donegan was one of the most well known exponents of this style of music. He had hits in Britain from 1956, including "Cumberland Gap" and "Gamblin' Man".
Jazz
If Rock'n'roll was the music of working class youth in the 50s, modern jazz was the middle class equivalent. The more thoughtful and introspective beatniks of the latter years of the 50s preferred jazz.
Lynne Reid Banks in "The L Shaped Room" describes a jazz club in 50s London as a crowded room in the crypt of a bombed out church; Sweaty bodies are moving slowly to the music, some almost appear to be dancing in their sleep. Far removed from the energy of Rock'n'Roll.
Into the 60s
These different strands fed into the music scene of the 60s. The music of the early sixties was little different from that of fifties. The intellectual beatniks were replaced by the hippies.
More on 50s music
50s music - links
See also: