1960s: Vichyssoise vert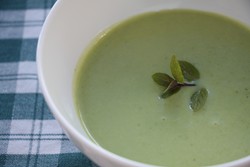 Vichyssoise is a cold soup made with leeks, onions and potatoes. Vichyssoise Vert uses peas and spring onions instead of leeks and onions. These give it a green colour.
My adaptation of Vichyssoise Vert is based on a recipe in Marguerite Patten's Round the World Cookery, published in 1964. The original recipe used a sieve to make the soup smooth. I found a blender was much more effective. I have also ommitted the salt.
This is a rich, creamy soup. It is ideal for a starter on a hot day.
Ingredients:
8oz (225g) potatoes
12oz (325g) frozen or fresh peas
6 to 8 spring onions
1 sprig of mint
2 chicken stock cubes (vegetable stock cubes would work just as well)
½oz (15g) butter
½oz (15g) cornflour
½ (250ml) pint of semi-skimmed milk
¼ (125ml) pint of single cream
Serves 4
Preparation time: about 1 hour. You will need to chill the soup for at least 4 hours, preferably overnight.
1. Boil 1½ pints (750ml) of water.
2. Wash and peel the potatoes and chop them into small cubes.
3. Chop the spring onion into small slices.
4. Dissolve the chicken stock cubes in the boiled water.
5. Put the mint, onions, potatoes, and the chicken stock in a large saucepan.
6. Bring the saucepan to the boil and simmer for 20 minutes, or until the potatoes are soft.
7. Pour the mixture into a blender or food processor. Blend until the mixture is smooth.
8. Add salt and pepper, if desired.
9. Put the butter in a small saucepan and melt on a low heat.
10. Add the cornflour a litle at a time and stir in with a heatproof spatula or wooden spoon.
11. Swap the spatula/spoon for a whisk and add the milk to the butter and cornflour and mix well You need to ensure that all the butter/cornflour is combined together.
12. Bring the milk gently to the boil over medium heat, stirring all the time so it does not stick. Simmer for 1 minute
13. Pour the soup from the blender back into the saucepan and add the milk and the cream and mix together.
14. Put the soup in a suitable container with lid, or cover with clingfilm. Chill in the fridge for at least 4 hours.
15. Once chilled serve with a sprig of mint on top.
Suggestions
For a lower calorie version replace the cream with milk, althougth this will make the texture of the soup thinner.
For a vegetarian soup, replace the chicken stock with vegetable stock. I recommend Marigold bouillon powder
References
[1] Round the World Cookery by Marguerite Patten
Add your comments
Comments
No comments yet. Be the first!