1960s: Vichyssoise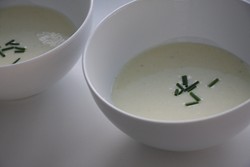 Vichyssoise is a cold soup made with leeks, onions and potatoes.
It was popular in the 1960s. The Savoy Grill Room listed Vichyssoise as starter in 1956 and it was still on their menu in 1969. It was also described in some cookbooks in the 1960s and continued to be a cookery book favourite in the 1970s. Cold soups in general were popular in the hot summer of 1976.
Vichyssoise was also one of the popular Crosse & Blackwell range from 1961 along with oxtail, mushroom, minestrone, chicken, goulash, vegetable, onion and bean with bacon. It was in their slightly more expensive selection, costing 1 shilling and 4 pence .
An alternative is Vichyssoise Vert which uses peas and spring onions instead of leeks and onions.
The colour of the soup can vary from a pale green to a cream colour depending on how much of the green leave part of the leeks you use.
Ingredients:
2 to 3 medium potatoes
3 medium sized leeks
1 medium onion
2 chicken stock cubes (vegetable stock cubes would work just as well)
1oz (30g) butter
½ (250ml) pint of semi-skimmed milk
¼ (125ml) pint of single cream
Serves 4
Preparation time: about 1 hour. You will need to chill the soup for at least 4 hours, preferably overnight.
1. Wash and peel the potatoes and chop them into small cubes.
2. Thinly slice the onion.
3. Remove the outside leaves from the leeks and thinly slice. If you want a creamy coloured soup only use a small amount of the green part.
4. Boil 1 pint (500ml) of water.
5. Dissolve the chicken stock cubes in the boiling water.
6. Fry the chopped onion and leeks in butter in a large saucepan until soft.
7. Add the chicken stock and the potatoes.
8. Bring the mixture to the boil and simmer gently for 40 minutes.
9. Allow the mixture to cool. Once reasonably cool you can put the mixture in a jug in the fridge.
10. Put the mixture in a blender and blend until smooth.
11. Stir in the milk and the cream.
12. Put the soup in a suitable container with lid, or cover with clingfilm. Chill in the fridge for at least 4 hours; chilling overnight allows the flavour of the soup to develop more.
13. Serve the soup with some chopped chives.
Suggestions
Using more of the green part of the leeks will give the soup a green colour.
For a vegetarian soup, replace the chicken stock with vegetable stock. I recommend Marigold bouillon powder
References
[1] Round the World Cookery by Marguerite Patten
Add your comments
Comments
No comments yet. Be the first!