Loose leaf tea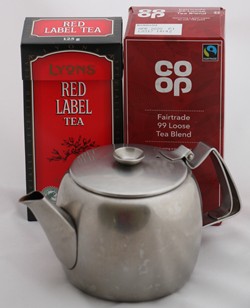 Tea was Britain's most popular drink in the twentieth century. We drank the most tea in the 1950s, but coffee was catching up. The advent of instant coffee helped tea become less popular in the years that followed.
In the 1960s we each drank about 9 lb of tea every year or five to six cups of tea per day [1].
Tea bags were first sold in the early twentieth century, but were not popular in the UK until the 1970s. Most people in the 1950s and 1960s made tea using loose leaf tea.
My parents bought PG Tips loose leaf tea in the 1970s. No-one called it loose leaf tea, it was just tea. More people were trying teabags in the 1970s, but my parents stuck to loose leaf tea.
How to make a cup of tea using loose leaf tea
Most cookery books of the era recommended boiling freshly drawn water. Another tip was to warm the pot first by putting hot water in it. I use a 1960s Old Hall stainless steel pot, so there is no need to warm it.
You will also need tea strainer to avoid getting the leaves in the cup.
To make a pot of tea:
1. Add one teaspoon of tea per person to the pot. Some older recipes say add one extra 'for the pot', but I found this not to be necessary
2. Boil the water
3. Pour boiling water over the tea
4. Leave to stand for 2 to 4 minutes
5. Pour into a cup using a strainer
6. Add milk or cream and sugar as desired (as an alternative, try lemon juice instead of milk)
I found the taste different from tea made from tea bags. It brought back a flavour memory from my childhood.
What tea did people buy in the 1960s?
The tea we drank in the 1960s was black tea from India, Ceylon and Africa. Most teas were blends of twenty or more different teas.
There was a huge variety of brands of tea available in the 1960s. This is a selection:
Brooke Bond Choicest
Brooke Bond PG Tips
Co-op (CWS) 99
Cullen 'Cingalee'
Cullen Special
Express Black Label Choicest
Express Maroon Label
Fine Fare Choice Quality (own brand)
Harrods Assam
Home & Colonial Dividend
Hornimans Dividend
Key Markets (own brand)
Kingsmere (Woolworth's own brand)
Lyons Red Label
Lyons Premium
Lyons Quick Brew Tips
PTA 'Plantation' Tea
Ridgways Country House
Ridgways Darjeeling
Sainsbury's Red Label
St Michael Extra Strong (Marks & Spencer own brand)
Tesco (own brand)
Thistle Scotch House Tea
Twining Blu Tips
Twining Ceylon
Ty.Phoo
Victor Value
United Dairies Summer Gold
Source Which? April 1968, published by the Consumers' Association, page 102
Of these, the most expensive was Harrods Assam, which cost 10s for a ¼lb. The cheapest were Kingsmere and Tesco, which only cost 1s for a quarter. (See Pounds, shillings and pence and Pounds & ounces for details on pre-decimal money and imperial weights).
Can you buy loose leaf tea today?
Yes. Most of the supermarkets still sell it. Teas available in the 1960s that you can still buy today are:
Co-op 99
Lyons Red Label
PG Tips
Sainsbury's Fairly Traded Red Label
Tesco Loose Leaf Original
Twinings Darjeeling
Twinings Earl Grey
In my opinion, Co-op 99 has a very good flavour and is the cheapest of these. If you want to find out what tea tasted like in the 1960s give one of these a go.
References
[1] Which? April 1968, published by the Consumers' Association, page 100
Your comments