Rommel goggles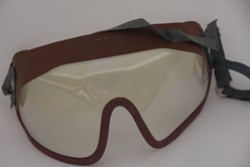 Field Marshal Erwin Rommel is the best-known German military leader from World War II. He had an eccentric style of dress, which included a tartan scarf and a pair of goggles worn on his cap.
The goggles were British-made.
Rommel served in North Africa. He was known as the Desert Fox because of his tactical genius. Sandstorms were a particular problem for soldiers serving North Africa. The German Army provided dust goggles or sand goggles. They were made from Perspex and issued in different tints. [1] But why did Rommel have British goggles?
There is a story that Rommel got his goggles from Major General Michael Gambier-Parry. Gambier-Parry was captured by Rommel's men. Rommel invited him to dinner. In their conversation the British General told Rommel that German soldiers had taken his cap. Rommel was furious and recovered Gambier-Parry's hat. In exchange Gambier-Parry gave Rommel his goggles. [2]
There is a simpler explanation. According to Agustín Sáiz in Deutsche Soldaten the Germans acquired large stocks of British goggles in both Europe and North Africa. [1]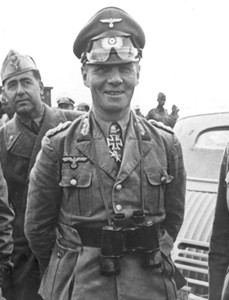 Rommel had a preference for British-made goggles. In several photographs he is seen wearing British goggles on his cap. Were they better than the German ones? Were the German goggles in short supply? Or was using the enemy's kit a kudos thing? British soldiers prized German binoculars, for example.
Rommel's choice of goggles was well known in the 1970s. The 1973 book 'Army Uniforms of World War 2' by Andrew Mollo and Malcolm McGregor has an illustration of a 'German General'. He just happens to be Erwin Rommel. He has goggles fixed on his cap and a pair of 10x50 Dienstglas binoculars. Mollo and McGregor also mention that the goggles were British.
In the 1970s and 1980s it was quite easy to pick up of pair of these goggles. They had been kept by the British Army in stores and were released as Army Surplus. In 1980 you could get a pair of 'Rommel goggles', worth $2.95, free with an order of a German Stahlhelm (steel helmet) or a replica American Civil War cap from Unique Imports, Alexandria, Virginia. [3]
'The Army/Navy Store Catalog' (1982) lists 'British Army antigas goggles' as "Desert Fox" goggles with a guide price of $3.95. [4] The catalogue incorrectly says that the "Desert Fox" goggles were designed to fit over an officer's cap. That is how Rommel wore them; they were not designed for him!
The British goggle were either Mk II or Mk III. They came in packs of six and are not particularly rare. Each soldier was issued a pack of six with his gas mask. You will see a date on the card folder indicating when they were made. You can see later stamps indicating that they may have been kept in stock until the 1950s. [5]
The goggles are packed flat. You need to shape them and fix two press-studs before using them. The do not look durable, so it is likely that Rommel used several different pairs, possibly one set came from the British General.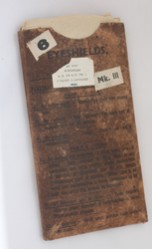 Buy Rommel goggles
If you want to own a pair of 'Rommel goggles' they are still easy to get.
They are cheap on eBay. Expect to pay £10-£20 or $15-$20 for a set of six, or up to $5/£5 each.
Buy Rommel goggles on eBay USA
References
[1] Deutsche Soldaten by Agustín Sáiz, published by Andrea Press, 2008 page 212
[2] 'Revealed: Desert Fox Erwin Rommel was given his legendary goggles by a British PoW in return for retrieving a stolen hat' by Hanna Flint for The Mail on Sunday, 12 April 2005
[3] Boys' Life, May 1980, page 69
[4] The Army/Navy Store Catalog by Andrew I Adler, Roger Adler and William G Thompson, published by Penguin 1982, page 69
[5] Anti-Gas Eye Shields Mk II published by talesfromthesupplydepot.blog on 19 January 2007
By Steven Braggs, May 2021
Add your comments
Comments
No comments yet. Be the first!