History of business class
History of business class flights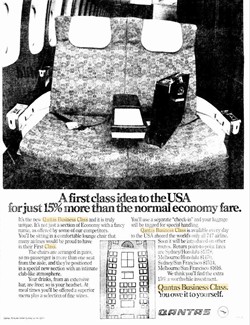 When were the first business class flghts?
From 1975 onwards airlines offered better facilities for full fare economy passengers. Business class began in 1979, when the first tickets, which were different from economy and first class, went on sale.
Which airline invented business class?
Many airlines can claim to be part of the evolution of business class. JAL (Japan Airlines) was the first to offer better facilities for full fare passengers, which included the Tachibana (Orange Blossom) cabin immediately behind first class.  Thai Airlines was the first to use the term 'Business Class' for its full fare economy cabin.
The first airline to offer a full business class service, different seating from economy and first class and a different class of fare, was Qantas, which launched the first true business class in 1979.
What about Pan Am?
Pan Am launched Clipper Class, a full fare economy service, in 1978 and converted this service to full business class in 1979, but was slightly behind Qantas.
What about Club Class?
Club Class is British Airways business class service. It began as a full fare economy service in 1977 with an 'Executive Cabin' along with other extras. It became a full business class service in 1981.
Before business class
In the early 1970s regular air passengers were sick of flying. They spent more time at the airport, and check-in queues were longer. Once in the departure lounge there was nowhere to sit or nowhere quiet at least. Holiday makers flying for the first time with their excited and noisy children filled the airport departure lounges. Once on board plane, it was the same. Where there was once quiet and space, there was noise and excitement.
Flying was not how it used to be. Business travellers had known it better. They were not looking back to a golden age of many years ago, but only back to the 1960s.
The 1960s' flying experience came to an end on 9 February 1969 when the Boeing 747, or Jumbo Jet, made its first flight. The new plane promised more space and more passengers. Airlines that had seen growing passenger numbers in the 1960s rushed to place orders.
Their timing was disastrous. A recession in the early 1970s and rising fuel prices meant the airlines had too many seats, too few passengers and escalating costs.
Pan Am, TWA and the other big scheduled airlines were not great at mass market travel. Of the small number of holiday makers that were brave enough and wealthy enough to fly, most booked a package and flew on a charter airline. The scheduled airlines' ticket prices were too high for most people. Economy Class travel in the 1960s was a luxury product.
Scheduled airlines could not simply cut ticket prices across the board. They needed to draw in new customers, but keep the old ones buying the old tickets at the old prices.
Holiday makers were happy to book in advance and travel on specific days, as they did with the charter airlines. Business travellers wanted flexibility and usually stayed for only a few nights. The solution was to offer cheaper tickets to passengers who could book ahead and stay for two or three weeks. In 1973, a typical full fare economy ticket for a return flight between London and New York cost £236 (or £1900 in today's money). By booking in advance and staying between 14 and 21 nights, the same flight cost only £165, a saving of 30%. By 1975 savings closer to 50% were possible. [1]
These cheaper fares worked. Demand for air travel was very price elastic and as prices plummeted, huge numbers of people who had always wanted to fly took advantage. It solved the airlines' cash flow problems, but it made flying a miserable experience for travellers who had loved it when the planes were empty.
Better facilities for 'full fare'
Business class flights - timeline
1969 - Boeing 747 makes its first flight.
1975 - JAL introduces the Tachibana cabin for full fare passengers
1975 - KLM indroduces 'Full Fare Facilities'
1977 - BA introduces the 'Executive cabin'
1977 - Thai airlines introduces 'Business class' for full fare passengers
1978 - Pan Am introduces 'Clipper Class' for full fare passengers
1979 - Qantas introduced first business class fare
1979 - Pan Am charges more for Clipper Class, effectively  making it the second business class fare
1981 - Pan Am, BA and TWA introduce larger seats in business class
The airlines valued these full fare paying business customers and were worried about losing them. Kenneth Hudson and Julian Pettifer made this point in Diamonds in the Sky (Bodley Head 1979). They describe new facilities for full fare passengers coming in 1978. In fact its origins go back to 1975.
However, the flexibility that business travellers needed was expensive for the airlines, possibly up to five times the cost of the flight itself. So bending over backwards to please the business customers might not have been in the airlines' economic interests. Nevertheless this is what they did. [2]
A few airlines started to make things better for full fare economy passengers. Japan Airlines (JAL) was the first to give full fare passengers something different. In March 1975 JAL introduced the Tachibana (Orange Blossom) Cabin immediately behind First Class. It gave full fare passengers what they craved, peace and quiet. Passengers buying discounted tickets occupied the two rearward economy cabins. Also in 1975 JAL extended the facilities of executive service lounge at Tokyo's Imperial Hotel, free of charge to full fare passengers. [3]
KLM also introduced a special package for full fare customers in 1975: 'Full Fare Facilities', FFF or triple-F. The benefits went a little further than JAL. They offered both recognition and better facilities. Triple-F passengers checked in at a separate counter at Kennedy and Schiphol airports, they had their own section in the plane away from other economy passengers, and priority baggage handling. Their ticket folders were stamped with FFF and they got special luggage tags. [3]
British Airways also started to give more to full fare passengers, but in a way that other passengers would not notice. In 1975 they raised the capacity of their 747s by changing the economy class seating configuration from 2-4-3 (9 abreast) to 3-4-3 (10 abreast). However, in the cabin immediately behind first class, the seating remained at 2-4-3. Whenever possible, they placed full fare passengers in this cabin and offered them an improved service. [4]
Other airlines had frequent flyer clubs and offered benefits such as lounge access to frequent economy passengers. However, they soon caught onto the idea of giving full fare passengers better service, regardless of the number of trips they took.
British Airways officially announced an Executive Cabin for 747 flights on 1 May 1977. The Executive Cabin was immediately behind First Class. There were no movies, no children, but:
- Hot linen towels after meals
- Additional free newspapers
- Fast bar and meal service (although the same food as economy)
- First pick of duty free
- Linen pillow and headrest covers
- Smoking and no smoking areas
- Distinctive boarding pass and cabin baggage tags [5]
Thai Airlines in December 1977 went further giving full fare passengers access to first class lounges and check-in facilities. On board the plane there was a free stand up bar, a special menu and free use of office equipment including calculators and dictating machines. They called the new class 'Business Class', the first airline to use the term, but it was still an economy class service.
Pan Am launched 'Clipper Class' in 1978. 'Clipper' harked back to Pan Am's old name for their flying boats from the 1930s. The Clipper Class cabin was immediately behind First Class. Clipper Class passengers had use of First Class lounges, free wine and headsets and a choice of entrées.
Air France launched a 'Business Class' service for full fare passengers in 1978. Typically French, the benefits included free champagne, cognac and French cheeses.
British Airways improved their full fare service in 1979 and renamed it 'Club Class'. Advertised by Robert Morley, the new service offered cuisine inspired by the reign of Elizabeth I. Possibly the attraction was for American businessmen whose experience of England was that of a tourist.
However, none of these new services were a true business class. The fare was still an economy fare; the tickets were economy tickets, class 'Y' and the seats were economy seats, albeit with a few deliberately left empty.
The first true business class
The pressure was building for a new class of fare. In July 1979 executives from Pan Am were talking to the US airlines' regularity body, the Civil Aeronautics Board (CAB) about charging a higher fare for Clipper Class.
However, it was Qantas, the Australian A irline, which made the breakthrough. In August 1979 Qantas announced a new way to travel on routes between Australia and the USA. Instead of First Class or Economy Class you could travel, 'Business Class'. For a higher fare, 15% above the standard (flexible) economy fare you could enjoy a new cabin with bigger seats and more legroom than Economy.
In the new cabin the seats were arranged in pairs, so that you were no further than one seat from an aisle. There were some benefits we expect as standard in Economy today: a free bar and free headsets for the inflight entertainment, which in 1979 was just a radio and a big screen movie. There were other benefits too: a special menu, fine wines and a separate check-in, avoiding the queues, and priority baggage handling. For all this you had to pay just 15% above the 'normal' Economy fare.
Pan Am's new fares were agreed in September 1979 and Clipper Class also became a business class fare. However, Clipper Class passengers were still sitting in economy class seats.
The other airlines rushed to catch up. More started offering enhanced facilities for full fare passengers, some offering their own business class fares. TWA launched 'Ambassador Class' on 15 April 1980.
Some passengers, however, were unimpressed with the frills of business class and thought them not worth the money. Writing to The Times in 1981 Mr P W McGrath thought the 'trivial extras' provided by British Airways Club Class, not worthwhile, but was happy with the comfort and service Qantas offered. [6]
BA soon made amends and introduced 'Super Club' in 1981 with much larger six-abreast seating. Pan Am and TWA also introduced larger seats in business class in 1981. TWA installed ex-First Class seats in a six abreast arrangement in their 747s for 1981. Pam's new Clipper Class seats were eight abreast, instead of ten which was more usual in Economy. [7]
Business Class became an entirely separate class of travel from Economy and moved further and further away from Economy in price and in comfort.
Looking back I cannot help thinking that a separate quiet cabin, with nicer food and wine and the chance to use a separate check-in for just a few pounds more than the economy fare sounds ideal. However, the 1979 Business Class fare was out of reach for most travellers and even those travelling in Business Class for work, often travelled in Economy when they themselves were paying. [8]
References
[1] Cheap long-distance air travel, Which? (January 1973)
[2] Tisdall, Patricia (1977), Cheaper by charter, it pays to shop around, The Times (Oct 18, 1977; pg. 20; Issue 60137).
[3] Carr, Stanley (1975), Notes: Airlines woo a new kind of VIP, The New York Times (Nov 2, 1975; pg. 374).
[4] Cranston, Frank (1975), saving in Seating Squeeze, Canberra Times, (September 9, 1975 p6).
[5]British Airways Executive News, 1977.
[6] McGrath, P W (1981), Class distinction, The Times (February 24, 1981)
[7] Davis, Ross (1981), Business Diary: Bottom dollars, The Times (Mar 6, 1981; pg. 17; Issue 60869).
[8] Grimes, Paul (1981), Practical Traveller: Is Business Class for You, New York Times (December 20, 1981 pXX3)
Bibliography
Hudson, Kenneth and Pettifer, Julian, Diamonds in the Sky, A Social History of Air Travel, (The Bodley Head, 1979)
Article by Steven Braggs, April 2017, revised March 2018
Your comments