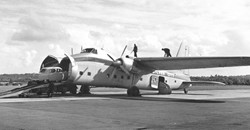 By RuthAS (Own work) [CC BY 3.0], via Wikimedia Commons
Air car ferries to Europe
These days taking your car to Europe means a boat trip. We can look with envy on the days when it was possible to fly your car to France. Travel times were of the order of forty-five minutes and you could turn up just forty-five minutes before the flight too. Prices were expensive, but by no means eye watering; it cost about £800 in today's money for a return trip to France for your car and four passengers.
The first car air ferry service started in 1948 from Lympne in Kent to Le Touquet in France. Silver City Airways flew two hundred cars and their occupants on charter basis in that year. In 1949 they began a scheduled service.
In 1954 Air Charter Ltd, run by Freddie Laker (later of Skytrain fame) launched a similar service between Southend and Calais.
Air Charter charged from between £7 5s to £18 depending on the size of the car and £2 16s per adult passenger with children over the age of two going half price.
The cost for a family of four going and returning from France with an averaged sized car would be £42 16s or around £800 in today's money: expensive, but not extortionate.
The two operators combined to form British United Air Ferries in 1962 and by 1967 they were offering a wide range of services from several UK airports to destinations in Belgium, Holland and Switzerland, as well as to France.
The passengers on these early flights must have felt very privileged indeed. Silver City used Bristol Superfreighters which could only carry three average sized cars or two large ones and their passengers. These planes were gradually replaced in the 1960s with Aviation Traders ATL-98 Carvairs which could transport five average sized cars.
However, in 1968 cross channel hovercraft services started carrying cars and were able to bring the crossing times down to thirty minutes between Dover and Calais, and at a fraction of the cost of air fair.
By 1971 the cost by boat was around £40 for a car and four passengers and the hovercraft was a similar price. The air ferry service was almost exactly twice the price at around £80. [In today's money these fares would have been £400 and £800 respectively]
British Air Ferries (they dropped the 'United' in 1968), struggled on until 1977 when it flew its last car ferry service.
Today the hovercraft too have disappeared. Operators have swapped speed for capacity and most people accept that a crossing by boat is the only way to get across the channel if you want to take your car.
Your comments
Comments
We travelled Lydd to Calais Marck in spring 1965 on the Bristol freighter. We were a Morris Minor 2 adults and six month old daughter, Sarah. Total return cost was £25.12s the 12s (60p) was for Sarah. On our return it was too windy for take-offs and we were told to drive to Le Toquet and they announced they would "try" a flight with just 2 cars! It was a good flight.