712 Field Trial Trimphone
The 712 Field Trial Trimphone - a collectors' guide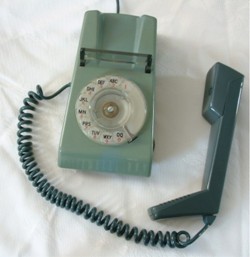 The 'Field Trial' Trimphones were used in the GPO's trials of the Trimphone from 1965 to 1967. The original plan was for 1000 phones to be available on a trial basis in the London North West area and for the phones to be available to everyone after the trial had finished. The trial lasted much longer than planned and field trial phones made in 1966 and 1967 can also be found. The Trimphone became generally available in 1968.
The original batch of 1000 phones were white. Standard Telephone Company (STC) supplied another 9000 phones between 1966 and 1967. The GPO then placed an order for 30000 phones.
The field trial phones are all of type 712 Mk1 or Mk2.
How do you spot a genuine 'Field Trial' Timphone? What do the numbers on the base mean? This is our guide to finding and buying a Field Trial Trimphone.
Identification
The main visible difference between the 712 and the 722, which replaced it is the absence of the plastic screw in the area where the handset rests. This was not needed, as the case was fixed by three screws underneath.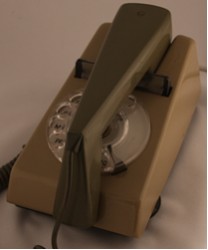 There was a nylon screw the top of the handset towards the back, not the metal screw on the back of the handset as seen on later models.
Colours
The first trial versions of the Trimphone (1965) were all two-tone grey. The following year, two-tone blue, and green/brown were added.
This is a 712 mk2 Field Trial Trimphone from 1967. You can clearly see the lettered dial on the photograph of the blue two-tone Trimphone above.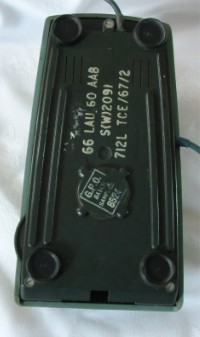 What do the numbers mean?
The numbers on the base of this phone also help to identify it as a Field Trial Trimphone
66-LAU-60
Identifies this as a 712 Mark 1 or 2.
AAB
The first letter can be 'A' or 'G'. It gives the climate rating of the phone. 'A' is for UK use, 'G' for tropical climates. I think the second letter refers to the type of dial. The third letter is for the colour:
A Grey-white
B Grey-blue
C Grey-green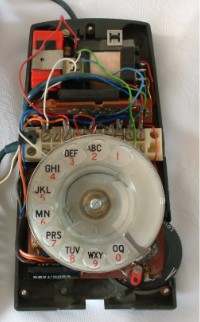 Circuitry
Inside the differences are clearer. For a sophisticated product, the original Trimphone was remarkably old fashioned. Most of the circuitry is the same as the much larger 706. It was a tight fit!
The 712 was also much heavier than the 722. Some of the problems associated with the 722 moving when dialling were less evident in the 712.
722 trimphone
The 712 was succeeded by the 722, which is much more common. The 722 was not the finished product. It went through a number of changes before arriving at 2/722, which was the Trimphone of the 70s.
Add your comments

"Can someone tell me if the prototype,needs a battery for operation of the ringer electronic. My phone is 66 lau 60 aab but does not show GPO, the handset does not have any screws so how you would change cord or service the M or T. I think this is a very early example which has place in the front below the dial to have something fitted, could it be for a battery. Pics of this are on Flickr look up migette2 to access." Peter Bent 23/01/2017
"I have already sent a message, more info on the 66 lau 60 aab prototype re battery required and my one has handset which is sealed no screws holding it together a complete mistery?" Peter Bent 23/01/2017
"Hi Peter Bent

The early handset No8 had a receiver cover held by two clips internally.

No battery needed - the space at front was to fit a 'shared service' switch if needed.

DaveW" D P Whistler 17/09/2020