RIP the Daily Sketch, 1909-1971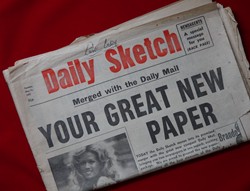 The last edition of the Daily Sketch came out on 11 May 1971. It was the end of the line for Britain's first tabloid which was first published in 1909.
Harmsworth Publications, which owned the Daily Sketch and the Daily Mail, finally decided that it could no longer operate both papers. The final edition of the Sketch was essentially a wrapper around the the new look Daily Mail, which had just changed from broadsheet to tabloid format.
A printing dispute meant that the last edition nearly did not go out at all; but in the end, a reduced number of copies were printed, making the final souvenir edition something of a rarity.
Although journalists at both the Mail and Sketch were made redundant, some key figures from the Sketch went to the new Daily Mail, including the editor, David English.
The last edition of the paper featured some discussion on whether Britain should enter the Common Market. The standard of living in Europe was higher, with Germans and French earning more, driving more cars and owning more washing machines and 'fridges than the British. On the other hand they paid more for butter, but less for fruit and veg.
There were some photographs of Mick Jagger and his bride-to-be, Bianca Pérez-Mora Macias and some discussion on what Mick would wear on the big day. He said it was Bianca's day and he would probably decide on the day what to wear, but he assured readers that he would not be popping to Moss Bros to hire tails.
In sport, Virginia Wade beat German Helga Masthoff 6-4 6-4 to win the Italian Championships' women's title.
On the back page readers were reassured that they would still be able to read Jean Rook and Gimcrack, and most importantly Fred Bassett would transfer to the Daily Mail.
Buy a copy of the Daily Sketch
Although the Daily Sketch has been out of circulation since 1971, you can still buy copies on eBay. You will have to stump up £200+ for a copy featuring the sinking of the Titanic, but editions from the 1960s and early 1970s sell only for a few pounds.
Buy Daily Sketch newspapers on eBay
By Steven Braggs, May 2015
Your comments