Ink wells and dip pens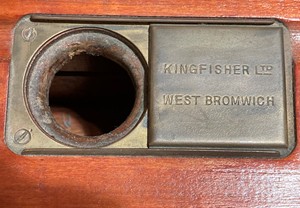 Ink wells in school desks will be familiar to anyone who went to school in the twentieth century. I remember them on the desks at my primary school, which was built in c1964 and my secondary school built in 1961.
The name on the brass plate is Kingfisher Limited, West Bromwich. Kingfisher made school furniture. One of their products was a stackable school chair as well as desks. The firm closed in 1977.
To get at the ink, you slid back the brass plate. In my school days in the 1970s and 1980s there was only a hole behind the brass plate. The ink wells were never used.
For me they were a fascinating reminder of a bygone era. I imagined a former pupil sitting at my desk and dipping their pen into the ink well. It seemed like a distant time, but it must have been only five to ten years previous.
I know they must have been used at some time, because my primary school still had the pens. We once used them in an art class. In the days before health and safety we wrote with bleach on paper painted with poster paints. The bleach removed the colour leaving white writing.
I wonder what the teacher was thinking? School children and bleach! But I don't remember any accidents.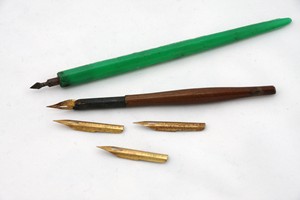 We never wrote with the dip pens with ink. We used either fountain pens or Bic biros, supplied from the same cupboard as the dip pens. At some schools the ink wells were used to fill fountain pens. We had to supply our own ink.
The desks were supplied as new equipment for both schools in the 1960s. It turns out the ink wells may never have been used. There was a law in the 1960s that exempted school desks from Purchase Tax (the forerunner of VAT). What was a school desk? One with an ink well. So schools ordered desks with ink well holes to save money, even if they were never used.
If you wanted to buy a child's desk complete with ink well, you could. In 1964 Mobo Toys offered a desk with sloped top and a 'non-spill' ink well for £3 19s 6d. I can't imagine many children would be pleased to unwrap a school desk on Christmas Day!
Does anyone remember using ink wells or dip pens at school?
By Steven Braggs, March 2022
Add your comments
Comments
No comments yet. Be the first!