School in the 1960s in the UK
School in the 1960s in the UK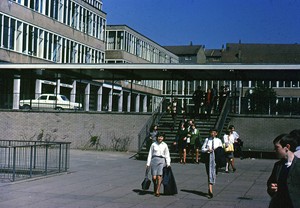 What was school like in the 1960s?
Big changes were happening in state education in the 1960s. At the beginning of the decade most children went to either grammar or secondary modern schools. Selection was at age eleven by the 11+ examination.
There were few comprehensive schools in 1960, but by the end of the 1960s, 26% of children of secondary school age went to comprehensive schools.
There was fierce debate amongst educationalists and politicians about whether to keep selection or abolish it.
What was school like in the 1960s compared to today?
Facts about school in the 1960s
In the 1960s the school leaving age in the UK was fifteen
The Certificate of Secondary Education (CSE) was introduced in 1965
The number of pupils getting five or more GCEs or equivalent rose from 15% in 1960/61 to 22% in 1970/71 [1]
In 1965, the Government issued Circular 10/65 requiring local authorities to submit plans to re-organize their secondary schools on comprehensive lines
The percentage of UK children at comprehensive (non-selective) schools increased from 5% in 1960 to 26% in 1969
Single-sex schools also declined in the 1960s. Still around 40% of secondary school children went to single-sex schools in the 1960s
Up to 1968, all children at state schools got one third of a pint of milk a day free of charge, after 1968 over elevens at secondary school did not get free school milk
Some subjects were gender-specific. Girls did cookery, needlework and typing; boys did woodwork and metalwork
In many schools boys were referred to by the surnames and girls by their first names, but this was changing
At what age did you start school in the 1960s?
School started at age five in the 1960s. Children started school at the beginning of the term in which they had their fifth birthday. They were usually aged four when they first entered the school gates.
What was the school leaving age in the 1960s?
The school leaving age throughout the 1960s was fifteen.
Children were able to leave in the term following their fifteenth birthday. Those old enough were known as 'Easter leavers'. The last year of school was the fourth rather than the fifth year for many children in the 1960s.
Leavers at fifteen usually left school with no qualifications.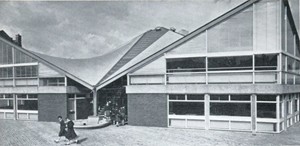 Types of school
In the 1960s there were primary and secondary schools as there are today. The age range at primary school was five to eleven and at secondary school eleven to eighteen.
Primary schools were organised into infants and juniors, as they were in the 1950s.
Children stayed at school beyond age fifteen to study GCE O-levels, CSEs (from 1965) and from sixteen to eighteen to study GCE A-levels.
For many children going to state school in the 1960s there was an examination taken in the spring term at primary school at age eleven, the 11-plus. It decided whether they went to grammar school, a technical school or a secondary modern.
In some areas the 11+ had been abolished and children went to a comprehensive school. In some there was a combination of grammar and comprehensives.
The Labour Government from 1964 pushed for an end to selection at age eleven and promoted comprehensive schools. In 1965 the Government published a circular which requested local authorities submit plans to convert to the comprehensive system. Some were eager; some complied; others delayed. The result was a wide variety of provision in different areas.
GCE results steadily improved throughout the 1960s, mostly under the tripartite system. They hardly increased at all in the 1970s under mainly comprehensive regimes.
How many children went to grammar schools in the 1960s?
This table shows the number of children at each type of school at two dates in the 1960s
| Type | 1963 | 1968 |
| --- | --- | --- |
| Secondary modern | 58% | 47% |
| Grammar | 26% | 23% |
| Technical | 3% | 2% |
| Comprehensive | 8% | 21% |
| Other | 5% | 7% |
Source: Secondary school reorganization in England and Wales, by Alun Griffiths, published Routledge and Kegan Paul in 1971, page 13
Subjects/Timetable
Some of the most popular subjects taken at GCE Ordinary level in the 1960s included:
English Language
Mathematics
French
Geography
English Literature
History
Biology
Physics
Chemistry
Art
Source: Derived from London University (Exam board) GCE results published in 'The Grammar School' by Robin Davis, published by Penguin 1967, pages 138-9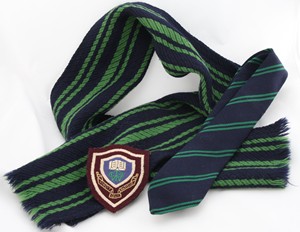 School uniform
School uniform was compulsory in grammar schools. Some secondary moderns also had school uniform; some did not. Pupils' attitude to uniform in secondary moderns was laxer than would be tolerated today. In the 1960s older boys at secondary moderns got away with jeans and winklepickers instead of smart trousers and black shoes. Some swapped the school blazer for a sports jacket or pullover.
In some schools girls wore blazers. In others the uniform was a skirt, cardigan, blouse and tie. Girls often wore summer dresses in the summer term. Traditional-style gymslips were much less common in the 1960s.
Discipline and punishments
Corporal punishment was still common in schools in the 1960s. The ultimate sanction was the cane administered by the head. In the film Kes (1969), Billy Casper and his friends get caned for smoking. The brutal headmaster thinks nothing of caning boys, although he admits it will do no good.
Form teachers also administered punishment using rulers, gym shoes and in one school wooden 'whackers' made by the woodwork master.[2]
Detention and lines were also common for lesser offences. Prefects also doled out punishments in many schools.
Films and TV about schools in the 1960s
To Sir, with Love (1967)
The Pure Hell of St Trinian's (1960)
The Great St Trinian's Train Robbery (1966)
Please Sir! (Television series 1968-72)
Not just about schools Kes (1969) based on Barry Hines' book 'A Kestrel for a Knave' featured scenes filmed at St Helen's County Secondary School, Carlton Road Barnsley. It was a typical newly-built secondary modern.
References
[1] 'Education: historical statistics' by Paul Bolton, House of Commons Library, last updated 27 November 2012, page 19
[2] 'Life in a secondary modern school' by John Partridge, published by Penguin in 1968, page 111
Image information
[Image 1] Published as part of the Britain an Official Handbook in 1962 under Crown Copyright. Duration of copyright is fifty years after publication. So this image is public domain.
By Steven Braggs, May 2021
Add your comments
Comments
No comments yet. Be the first!