Record players from the 50s and 60s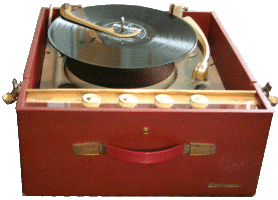 Introduction
Record players from the 50s and 60s evoke the first era of rock'n'roll and of the teenager with money to spend. Listening to records in a booth in a record shop, taking them home and playing them on a colourful modern record player in your own room was part of teenage life.
Record players from the 50s and 60s evoke the era of the first rock'n'roll music and of the
Every teenager in the 50s and 60s wanted a radio and a record player. Rock'n'roll began in the 50s and teenagers wanted to listen to the latest hits on a cheap, portable record player. Record players, though, were often not cheap, amounting to several months of saving, but nevertheless many teens made the sacrifice.
Today vintage record players evoke the era of Bill Haley, Elvis Preseley and the first rock'n'roll music. From the mid 50s two tone, often blue and white, or red and white record players which could take a stack of singles and play them back to back were the favourite.
It is these record players that collectors go for today. They made from around 1955 to 1965 and typify the golden age of the small record player. The Dansette brand in particular is a favouite with collectors.
The popularity of music in the 50s and 60s ensured that the record player was just as popular as the radio. They were always referred to as "record players"; to use the old-fashioned term "gramophone" in the late 50s and early 60s marked you out as a member of the square, older generation. Record players had come a long way from the wind-up gramophones popular in the 20s. The most well-known make from the 50s was the Dansette. It was popular with the teenage market and was used to listen to the latest "rock'n'roll" hits.
This Champion, above, has the ubiquitous arm for playing several records one after the other.
HMV was another firm making record players in the 1960s. HMV was a pioneer from the horn gramophone days. Their symbol, featuring the famous dog Nipper, was a mark of quality. HMV players were considered some of the best available in the 60s.
Stereo record players
By the early sixties, stereo record players were available. The Champion record player (above), is from the early sixties. It is a portable set, but judging by the weight I wouldn't want to "port" it too far! The arm across the record allowed you to stack around five singles and play them one after the other.
This model has a BSR turntable. This was a common turntable used on record players at the cheap end of the market. More sophisticated stereo equipment was available, but aimed at a small, specialised market.
Can you buy a retro style record player today?
Zyon Wooden Retro Turntable
The Zyon retro style turntable offers the best of all worlds. It is a retro style wood finish record player, but you can also play CDs and cassettes on it. So if you have all three types of music then this is the ideal record player. It supports all formats of vinyl: 33rpm, 45rpm, 78rpm, LPs and singles. Also of compact dimensions it fits most spaces.
Can you buy genuine 60s style?
The answer is yes. Unbelievably, Steepletone make a wonderful looking sixties record player in black or red leatherette. It looks the part and has the arm mechanism for playing several records. At last someone has made a product that really looks like it could have been made in the sixties.
Annie Nightingale played her first record, Elvis's 'Hounddog' on the One Show using one of these record players players.
50s Jukebox style record player
If you prefer the 50s Jukebox look, check out this black and chrome finish beauty, right. It is also available in red and chrome.
This record player offers 3 speeds, and FM/AM radio and an MP3 player.
Buy old record players
A good place to buy old record players is the National Vintage Communications Fair. There is a good selection of stalls selling radios, record players and telephones. Unfortunately, it is only held once a year.
However, there is always a great selection of vintage record players on eBay. Dansette record players are synonymous with the 50s and early 60s when Rock'n'Roll was still popular. Other favourite makes were HMV, Philips, Ultra, Pye, Fidelity and Alba.
Condition is everything. Well restored and working record players can sell for £100 to £200. Look out for good quality leather cloth coverings and no missing trim.
Cheaper record players can be bought in working order for £50 to £80. Again look for overall good condition, but not perfect. They might not be serviced. You will need to make your own judgment about electrical safety.
Non working record players should be no more than £20 to £30.
Shop on eBay for:
See also:
Add your comments on record players
Comments
When buying a vintage 60's record player you really have got to know what is what. Few record players from that era were actually safe or good quality. Avoid the popular cheaper end of the market 1950s and 1960's record players and tape recorders many have what is known as live chassis which if faulty (which most are by now) can instantly kill! The same applies to any radio or record player that is marked AC/ DC or straightforward DC SET. If you accidentally touch any metal part of any faulty AC set, the likelihood is you will survive. Not so with a faulty DC current set which will literally glue your hand to the chassis with the current till you are dead. Just a friendly warning! And don't trust in in sellers who tell you everything is freshly serviced When you take delivery and discover the servicing did not include the ancient wiring it is too late to get your money back when things turn out badly.
Critical in all old electronic equipment are the electrolyt capacitors sometimes other capacitors too. This parts have a life span of about 30 years and have to be replaiced. This components are in tube amps. The old turn tables often use rubber wheels in the drive. The rubber dryes out and also needs repacement. Ceramic cardridges are designed for valve amps. A ceramic cardridge direct connected to a transistor amp sounds poor. It was designed to connect to a valve radio. Many valve radios have a phono input on the back. The radio was used as an amp and it is a cheap solution.