Prinz binoculars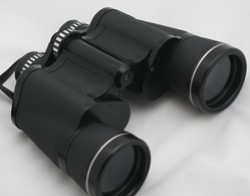 Prinz was a brand distributed by Dixons. Initially the Prinz brand was only used on binoculars. Later Dixons sold Prinz cameras, hi-fis, calculators and other products.
From 1960 Dixons, based in Edgware Road, advertised Prinz binoculars by mail order in the small ads of the Daily Express and Daily Mirror.
In 1960 they offered:
Prinz 8x30 - £8 19s 6d
Prinz 10x32 (1961 model) - £11 19s 6d
Prinz 10x50 - £16 5s
They competed with military surplus binoculars which were also advertised in the small ads.
Dixons charged extra for the case. Even allowing for this, the prices were rock bottom.
Dixons' formula was to import photographic equipment from the Far East. They offered cheap prices and easy terms, so much a month.
The adverts were high on superlatives. Binoculars were high on specification, but the quality was average. It was a successful formula and Dixons prospered.
Dixons introduced a variety of new Prinz binoculars. They were made in Hong Kong. Some were later made in Korea.
Prinz 13x70 (first advertised 1961) - £22
Prinz 12x50 (first advertised 1963) - £13 19s 6d
Prinz 16x50 (first advertised 1963) - £15 15s
Prinz 12x65 (first advertised 1963) - £17 19s 6d
In 1972 Dixons offered a Prinzlux range which included a 7-15x zoom binocular. Dixons introduced a more upmarket brand, Chinon, also in 1972.
They further expanded the Prinz range adding the Spacemaster in 1973 and the Extralite in 1975. Both these were targeted at the lower end of the market. As ever Dixons still specialised in big features, low prices and average quality.
How good were Prinz binoculars?
As an experiment I compared a 1958 Ross Stepruva 9x35 with a 1975 Prinz Extralite 10x50. Whilst the Prinz image was bright, as you would expect from a 10x50, the Ross was much sharper.
The Ross binocular had more of a quality feel to it.
Contemporary 'Which?' reports never rated the Prinz binoculars highly. In 1960 Which? found that quality and price were proportional. In 1969 and again in 1975 Which? favoured the slightly more expensive Greenkat binoculars over Prinz. Boots own brand did quite well in the 1975 Which? review. The Boots Pacer (Korean-made) and Pacemaker (Japanese) might be worth a look.
Add your comments
Comments
No comments yet. Be the first!