Denhill binoculars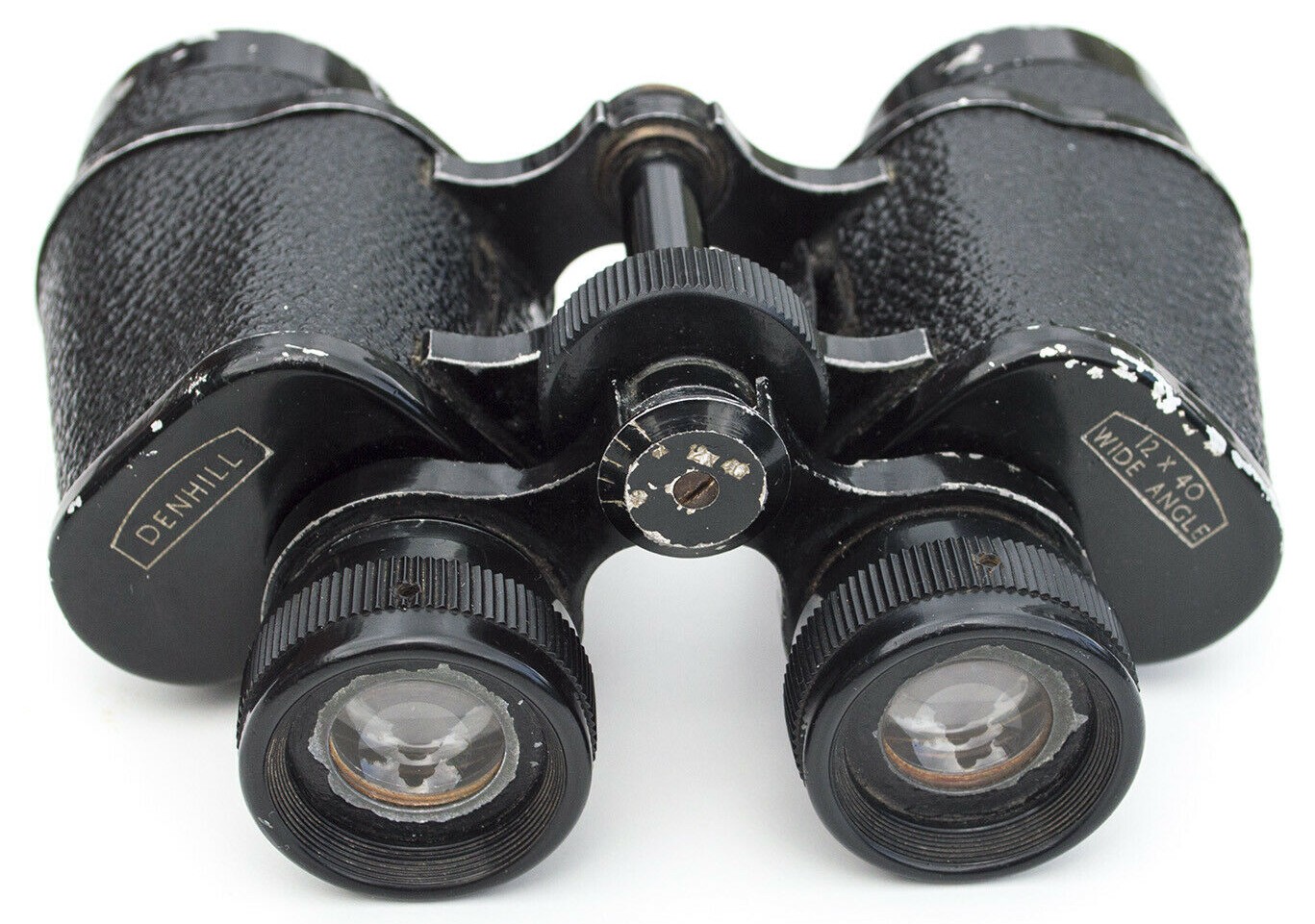 'Denill' was a brand of imported binoculars sold in the UK in the 1950s and early 1960s. They were by French and German makers.
They were sold by J A Davis which was a general mail order retail business.
Before the Second World War J A Davis & Co had a store at 94-104 Denmark Hill London. They sold a variety of products including jewellery, watches, Remmington electric shavers and eventually binoculars. In 1938 they advertised prismatic binoculars by Lumiere, Paris for 3 shillings deposit and 5 shillings monthly.
After the War J A Davis advertised ex-military binoculars by Kershaw.
In 1951 Davis' binoculars were once again made in France. They called the new binocular 'Denhill'. The brand was based on the location DENmark HILL.
In 1953, they recruited the sports commentator Raymond Glendenning to endorse the binoculars. Glendenning was well known for his handlebar moustashe. He commentated on horse racing and football. He was often pictured with a pair of binoculars. It was a great endorsement.
In 1955 Glendenning wrote the forward to a booklet published by J A Davis called 'How to choose a binocular'. For sixpence the booklet looked at the main uses for binoculars: horse racing, bird watching, football spectating and watching big game animals.
By 1957 there was a huge range:
Denhill 8x25 - £10 19s 6d
Denhill 8x30 - £12 12s
Denhill 8x32 - £12 19s 6d
Denhill 8x40 - £17 17s
Denhill 10x35 - £17 17s
Denhill 10x50 - £25 19s 6d
Denhill 12x40 - £13 19s
Denhill 20x40 - £18 18s
Denhill 20x50 - £22 19s 6d
They were most likely all made in France. The smallest model could be supplied in burgundy or Ascot grey finish for lady customers at no extra cost.
Denhill introduced the German-made Denhill Deluxe range in 1957:
Denhill De Luxe 8x30 Wide Angle - £21
Denhill De Luxe 10x35 - £25
Denhill De Luxe Wide Angle 10x50 - £25
By 1959 J A Davis was stocking a completely different range of binoculars.
Hartman 10x50 (German-made) - £37 12s 6d
Hartman 7x35 - £29 10s
Hartman 8x30 - £20 5s
German War Service (ex military) 6x30 - £15 15s
Colmont 10x50 (French) - £29 10s
Colmont 10x40 (French) - £23 10s
Colmont Douzix 12x50 (French) - £35 10s
Zeiss Deltritem 8x30 - £39 10s
Krauss 16x50 (French) - £48 10s
Zeiss Benutzer 8x60 - £55
Siebert 8x30 (German) - £23 10s
For the connoisseur there was a special bargain. They offered an ex-World War II German Zeiss 10x50 glass with coated optics for a staggering £48 10s or nearly £1,000 pounds in today's money.
One connoisseur who did order a pair of binoculars from Davis was Mr Nikita Krushchev, the Russian Premier. Mr Colin Davis, the director of the London store, received an order from the Russian Embassy in Tel Aviv for several items, including one pair of British binoculars as previously supplied to Mr Nikita Kruschev. It was his second pair.[1] It is strange that Mr K did not prefer Soviet-made binoculars.
In 1960 there was yet another range of binoculars. All endorsed by Glendenning.
Denhill Swift 8x25 - £5 17s 6d
Denhill Hawk 10x30 - £10 12s 6d
Denhill Eagle 12x30 - £12 12s
Denhill Rangemaster 25x60 - £24 15s
The Rangemaster offered incredible magnification. Denhill went for superlatives. Incredible magnification and incredibly small prices.
In 1961 they were aiming for the amateur astronomer. The Rangemaster now offered 35x magnification. The full range was:
Denhill Sportsman MkII 11x40 - 12 guineas
Denhill Starmaster MkII 13x50 - 14 guineas
Denhill Skymaster MkII 17x50 - 15 guineas
Denhill Spacemaster MkII 21x50 - 19 guineas
Denhill Rangemaster 35x61 - 23 guineas
I wonder how many of these binoculars still survive?
References
[1] 'Why should Krushcev buy binoculars and prefer to kep it dark?' by Logan Gourlay published in the Daily Express, 8 May 1959
Add your comments