Younger furniture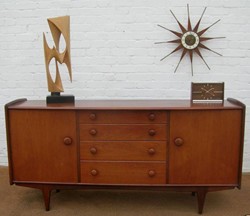 A Younger Ltd was a high quality British furniture manufacturer that led style and contemporary taste in the 50s, 60s and 70s. Younger furniture was low volume, well made and aimed at the top end of the market. Younger was amongst the first firms to make Scandinavian style furniture in the fifties and one of the first manufacturers to abandon the style in search of something more original in the late sixties.
Younger teak furniture
As early as January 1955 Younger marketed their first teak dining suite, Moselle. Two years later, they introduced Volany, a new range of teak furniture which they sold for a further ten years.
Younger's top designer was John Herbert, the firm's design director. He won three awards from the Furniture Makers' Guild in 1960 for a sideboard and two tables. All three were similar to contemporary Scandinavian furniture. The sideboard was constructed from solid afromosia, an African wood of similar colour and appearance to teak; manufacturers often used it to complement teak, because it was easier to work. John Herbert veneered the drawers in teak and completed the design with simple, round, wooden handles. The first of the two tables combined teak and rosewood veneers, a combination that was to become very popular later in the 'sixties, the other was made in solid afromosia.
In the mid sixties, John Herbert moved away from teak when he designed a new dining set in African walnut for Younger. The firm was indicating a move away from popular taste and pioneering a new direction in furniture.
Younger's 60s furniture
By 1967, teak was so popular that John Nickson, Managing Director of A Younger Ltd, commented:
"instead of finding it difficult to purchase a teak dining set - as it was twelve years ago - the problem now is to find anything else!"
Younger was ready for a radical departure.
John Herbert and his assistant, Alan Pledge, spent a few weeks locked away in Herbert's home in Kent thinking up new ideas. Their new furniture was modern, but had the imposing grandeur of traditional Spanish design.
There was a hexagonal dining table mounted on a large central pedestal on a hexagonal plinth. This went with high backed, upholstered, dining chairs which were completely different from anything else on sale.
There were grand storage cabinets, 6 ft 6in in length in several, different designs. One had ecclesiastical looking doors with arched windows, guarded by diamond wire mesh. Another had Georgian style paneled doors, with large recessed circles resembling the front door of a grand town house in miniature. Both were mounted on large plinths, with a hint of the classical pillar and a heavy appearance.
Younger offered several very different finishes. There was a new wood, louro, from central Brazil, finished in a traditional polish. Furniture with this finish could have belonged to an important Mediterranean official, perhaps someone like James Bond might have visited on one of his missions. Younger also offered an entirely different look to the same furniture by using coloured veneers. They offered red, green or black stains, all transparent so that the grain pattern of the wood showed through. The traditional veneer finish appealed to the older generation; the coloured pieces were for the young.
As well as these finishes, there was also a white melamine, painted finish.
Younger's furniture from this period was seen in some of the most fashionable middle class houses. There was a small Younger unit in the melamine finish in Cliff Brumby's living room in the 1971 Michael Caine film 'Get Carter'. Brumby's living room contained a role call of design classics from the late sixties. He also had G-Plan's World's Most Comfortable Chair and a Parker Knoll recliner.
Younger's new furniture was for the expensive end of the market. It might have looked exciting, but it was out of reach for most people. The fashion for coloured woods did not last. Furniture was an expensive purchase that most people wanted to last several years. Coloured woods might well have been fashionable in the late 'sixties, but people wanted to keep their furniture until at least the late 'seventies and some for the rest of their lives.
Younger Toledo
There were radical new ideas in furniture in the early seventies. In 1970 there was a brief craze for wet-look synthetic upholstered furniture. The fashion did not last for more than a year. In 1971, the novelty of the Earls Court Furniture Show was an early waterbed. Younger introduced several innovative ranges of furniture in the seventies. The most successful was Toledo from 1972. This range borrowed heavily from traditional Spanish style. The popularity of Spanish holidays led to a greater appreciation of anything from Spain. Paella was a popular dish and people had a taste for Sangria. Younger's furniture was not as popular as package holidays though and it remained an expensive and exclusive product.
Buy Younger furniture secondhand
If you are looking for Younger furniture, there is a small, but regular quantity of sideboards and dining tables and chairs on eBay.
Younger teak sideboards sell for £200 to £400 on eBay. The Toledo range from the early 70s is something of a bargain. You can pick up the storage units for less than £100. Given the quality of the original manufacture this is amazingly cheap.
There are a number of couriers that specialise in Furniture collection and delivery Even if the seller doesn't offer a courier, you can usually arrange for one to pick the item up and deliver it to you. Always contact the seller first though.
Your comments
Comments
We have a Younger display shelf.It has 4 deep shelves with a drawer beneath -26" wide tapering to 12" at the top approx 6ft tall ,standing on ball feet , is this a one off or has anyone seen similar? It is painted white but may have originally been afromosia or similar. Label is on the back of the drawer.