Schreiber furniture
Schreiber was a relative newcomer to the furniture business. Chaim Schreiber came to Britain in the war years to escape Nazi persecution. He started in business by making radio cabinets and he bought a bankrupt furniture business in 1957. By 1967, he was challenging Lebus and Gomme for domination of the furniture market. In the 70s, Schreiber introduced furniture centres, taking complete control of distribution, as well as manufacture. After economic problems in the mid-seventies and a merger with GEC, the Company continued to be one of the biggest names in furniture in the 70s.
Schreiber started in business making radio cabinets for Dansette and other larger electrical manufacturers. In those days, radios were either polished wood veneered or wooden covered with leather cloth. Schreiber learnt to make good quality and cheap cabinets to exacting specifications. The large electrical manufacturers controlled the market and demanded the cheapest possible prices. Schreiber needed to develop a manufacturing process that could deliver the best quality at the cheapest prices.
This business was doing well, but Schreiber wanted to break away from the control of these large organisations. In 1957, with the profits he made from radio cabinets, he bought the bankrupt furniture maker, Lubetkin. He scrapped the name and made his own furniture.
In the mid-sixties, he made bedroom furniture using a technique he called 'furniture engineering'. His furniture was at the cheaper end of the market. He entered the growing built-in bedroom market in the late 'sixties. His bedroom storage furniture was finished in teak. He was slightly behind the fashion in the late 60s, but nevertheless, the business was so successful that he was able to buy Greaves and Thomas in 1967, adding a quality name to the Schreiber Empire.
Although Schreiber achieved huge success in the late 60s, the Company really came to prominence in the early 70s. By then, Schreiber had an established reputation at the cheaper end of the market.
Chaim Schreiber was a man of strong principles. Always 'Mr Schreiber' to his employees, his management style was directive. However, he treated everyone equally and had a strong sense of what was fair. Schreiber cared deeply for his labour force. In 1970, he abolished clocking in and paid the workers in the same way as he paid the management. He disliked bad manners and admired honesty. If people working for him did well, he rewarded them accordingly.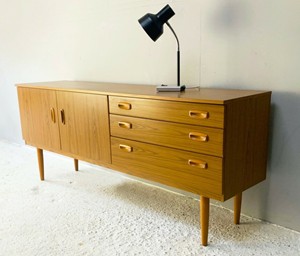 Schreiber was able to make good furniture cheaper than any other company. Unlike G-Plan, he never employed a designer, but copied and adapted other designs. The one revolutionary aspect of Schreiber furniture was the shape of the drawers. They were curved for easy fitting. The main reason for his outstanding success in the early 'seventies was his manufacturing skills.
By 1970, his turnover was ahead of that of Gomme. Schreiber's main competitor in the early 'seventies would have been Lebus, but their spectacular failure left the market open.
The furniture market of the early 'seventies split neatly into two sections: well-designed, but expensive furniture and furniture sold mainly on price. There was very little in between. Gomme was a master of design, Schreiber a master of price. These two firms exemplified the different marketing philosophies. Both were hugely successful.
Teak dining furniture also remained popular in all sections of the market. As mentioned earlier, Gomme continued to sell teak furniture successfully. Schreiber also made dining room furniture with a teak finish. Their Tivoli sideboard was very popular; it was simple, modern and inexpensive. The finish, however, was synthetic.
Schreiber also introduced new upholstered furniture in 1973. There was a new sofa and two new swivel chairs. The first, the 'Tivoli', was very similar to designs from the late 'sixties. The second, the 'Castello', was mounted on a circular base. It had deep, buttoned upholstery in imitation leather, Dralon or boucl material. Its padded armrests were similar to the G-Plan saddle range of 1969, but the more rounded shape was typical of the 'seventies.
Schreiber also announced new ranges of bedroom furniture in 1973: the 'Nova' in white and the 'Carolina' in rosewood and white. A nice touch, for the time, was a free set of coat hangers with each new wardrobe unit.
By 1973, Chaim Schreiber could claim to have furniture for the whole house. He added fitted kitchens to his already extensive range. An innovative deal with Chaim Schreiber's friend and GEC boss, Sir Arnold Weinstock, meant that GEC Schreiber kitchens could come with Hotpoint refrigerators and Cannon gas hobs built-in. Chaim Schreiber joked at the time that he would have taken over GEC, but Schreiber Furniture was not quite big enough.
Another innovation for 1973 was the 'Schreiber Furniture Centre'. Chaim Schreiber invited applications from the retail trade for shops to become the new furniture centres. They needed to provide 3,500 square feet of floor space and carry around 4,000 of stock chosen by Schreiber. The Schreiber warehouse would carry back up stock and Schreiber vans would keep the centre stocked via 'milk round' deliveries. Schreiber received 800 applications, from which he chose 280 stores.
As well as offering cheap furniture, Schreiber understood some of the frustrations of the buying public. He promised a 21-day delivery time on furniture once ordered from the furniture centres. People were used to having to wait much longer for deliveries. He was prepared to upset retailers in a bid to save costs. He refused to replace furniture damaged in transit. The retailer had to claim a discount and sell it at a cheaper price. Schreiber did not want the extra cost of taking it back.
Schreiber success continued in 1973; turnover and profits were more than double the 1971 totals.
1974 was a bad trading year for the British furniture industry and 1975 was even worse. Schreiber struggled in 1974 after years of phenomenal success. Chaim Schreiber put plans for a new factory at Runcorn on hold. A merger with former partner, GEC, saved his business. Chaim Schreiber became Chief Executive of domestic appliance makers Hotpoint and Morphy Richards, as well as Schreiber Furniture. His old friend Arnold Weinstock thought Chaim Schreiber's common touch would help solve GEC's customer complaints problems.
With high inflation and incomes falling behind, many people took to self assembly furniture in the late 70s. Schreiber catered to this new trend and introduced a flat-pack range. Their 'Nova' bedroom range, also in white with gold coloured handles, was available as a 'Take & Save' pack you could load into the boot of a small family car.
The vast majority of young couples setting up home for the first time still went out and bought teak wall units in the late 'seventies and teak dining room furniture. Schreiber was the most well-known brand.
The furniture trade suffered badly in the final years of the 70s. Several firms went out of business, but Schreiber rode out the tough economic conditions and is still a well-known brand in the home improvements sector today.
Latest news: Schreiber is now at Argos
The Schreiber brand is now at Argos. Argos stocks a range of Schreiber bedroom furniture.
See also
Your comments on Schreiber furniture
"I bought some bedroom furniture a couple of years ago it was cherry wood veneer I am looking to try and buy another wardrobe to match existing furniture. I originally bought wardrobes from MFI. Any Ideas" Wayne Short
Hi Wayne, I don't know if anyone is stocking Schreiber. You might get lucky on eBay though. There are quite a number of both modern and vintage Schreiber wardrobes as well as bedside tables changing hands on eBay. You might find some new old stock. Retrowow
"I had a Schreiber Camden range of bedroom furniture fitted recently, bought through MFI but MFI failed to send the curved rail for the corner unit!!! I now have a spacious corner unit I can't use - where can I get a curved rail, not just the curved bit but the whole thing?!" Marianna
Unfortunately I can't really help. Retrowow has no connection with MFI who formerly owned the Schreiber brand. Your best chance is to find something similar on eBay. Retrowow
"Can you help me find a supplier of the small plastic 5mm drawer runners to refurb my 1970s Schreiber chest of drawers Thank you" Les Walker
"We are just renovating our spare room which has housed a Schrieber wardrobe that I brought 2nd hand when my son was born and he is now 27. We need to break the wardrobe up to move it and it is proving to be very stubborn. My son stood on the drawer interior and it still refused to give way. He could not believe how well built it was compared to today's furniture. It is sad to think that with the demise of MFI Schrieber may disappear. " Joan
"I have a Schreiber Hiboard which I think we bought in 1970s. Still in good condition even though has been well used over the years as it had good storage capacity. Glass section for glasses etc. Pull down drawer unit for drinks or whatever a sliding door at the bottom and three drawers. Do you know if anyone would be interested in it." mary brett
"Is anyone stocking Schreiber in the UK as we were about to do our daughers room before MFI went into administration??" T Griffiths
As far as I know, Schreiber is no longer stocked. There is some information about the collapse of MFI on the BBC's Watchdog page. See the collapse of the MFI flatpack empire Retrowow
"I am looking for the plastic end stops on the drawer runners the numbers on the runners are 140.450 01. Hope that you can help as the drawers keep falling out onto my feet." Bobby Sharrocks
"I have schreiber bedroom furniture Boston Range in pearwood. I need more wardrobe space has anyone got items or ideas. Help Please." Jacqui Scott
"My husband and I will soon be celebrating our 33 wedding anniversary and are still using our dinning room furniture that we purchased from you when we first got married in May 1976. We have a dinning table and four chairs, that now need re-covering and three units that we keep glass and china in." B. Hudson
"I have Schreiber Pine wardrobe and chest of drawers for sale. Wardrobe has 3 doors - 2 double doors (left and middle) hanging space and 1 hanging and shelving (to the right) 5 drawers underneath (3 upper 2 lower) very solid wardrobe. Chest of drawers 2+4 also very solid pine. Just need the space now as we're moving and have built in furniture - photos available to send via e-mail if wanted - available 10miles South of Norwich. Have a price in mind but make me an offer. Lovely furniture, wardrobe disassembled; would not get rid if not necessary :o)" Bettina email: bettina.ratcliff@live.co.uk
"I'm desperately looking to add to schreiber bedroom furniture Boston Range in Pearwood. In particular, tall drawer chests. Can anyone help me!!!" Julie Anthoney
"I just bought 2 round trash cans I think Schreiber wood industries 1965. They have beigh round plastic tops. Were they trash cans or laundry hampers or what? Cant imagine how they ended up here in new mexico. I just thought they looked cool...paid $5.00 each for them. can anybody tell me what they are?" jeff martin goacher
"Where can I buy kitchen schriber other than MFI?" ken gresty
"I am looking for Schreiber bedside cabinet and dressing table to add to my existing suite in Pearwood. Can anyone help." Jacky
"Does anybody know where I can get a dressing table mirror in Boston pearwood please. I do have some spare narrow chest drawer fronts if needed." Wendy Watkins
"Hi! I bought a dressing table (Schreiber) today. It has 'princess-like' decorated drawers and a central jewellry drawer, with a red velvet sectioned insert. The table itself is elegantly long, and slim. It just screams glamour! When I tried the drawers, I could feel the quality. They glide on runners like only the most expensive items do today. Nice deep drawers with a teak finish inside.
Just needs some treatment for the outside finish has become cigarette smoke damaged. What an old fashioned habit - in the bedroom too! Price? Wonderful - 18. Found at the back of a second hand charity warehouse. Im definitely a Schreiber fan now!" fiona taylor
"I too am looking for the chest of drawer runners - do you know where I can get them or similar. " Frances Brown
eBay would probably be a good place to look. Try Retrowow
"A friend of mine gave me his Schreiber chest of draws that he kept in the shed for a few years. it has a musty smell. How can I get the draws smelling nice?" Rahima Macdonald
Hi, Getting rid of musty smells is difficult. Removing the draws and keeping it in an open well ventilated place, outside on a dry day will help. Another alternative is to stuff the draws with paper and remove the paper after a few days and throw it away. It will take time and patience. Retrowow
"I have an original Schreiber bedroom suite in teak comprising of one double wardrobe with central mirror one single wardrobe with built in shelves and shoe rack, dressing table with three drawers and two cupboards, continental four foot six headboard with attached bedside drawers, a tall chest of eight drawers all with the rounded drawers. This was purchased in July 1968 and I still have the original bills. It is in imacculate condition and has been well looked after. I am now thinking of selling it and would like to know the best way to do this and what it is worth? or are there collectors of this memorbilia?" Mrs S Heritage
Hi, Far and away the best place to sell Schreiber, or any retro furniture, is eBay. You will get the best price for it. I would split the lot into different pieces, emphasise the condition, date and the original purchase invoice. You will need some good digital photographs of each piece. There are also couriers on eBay who specialise in furniture delivery. Retrowow
"I am trying to erect a Schreiber wide chest 4 + 2 drawers. The narrow drawer divider panel is much thicker than the remaining panels and requires 3 locking nuts but these need to be longer so that the metal dowels will engage them. All the component fittings were supplied as listed but there is no reference to long locking nuts (the instructions show 13 locking nuts for the panels but in fact there should be 10 plus these 3 longer ones). There has been no trouble with the other chests that I have assembled so far - all of the furniture was supplied by Homebase but no-one there can help. Any suggestions on this problem which is obviously a manufacturing fault." Keith Ashby
"HELP! HELP! I have ordered four wardrobe doors and by an error the order stated four Ivory glass doors and not oak how can i get them changed when the store will not change them.so now I have four doors 670878 in ivory white and wanted four oak doors 659419. How can you get a store to change them." wayne lorden
Comments
Have a Schreiber bureau the drawer of which requires two replacement drawer runners. The drawer is wooden sided with a groove slightly over 3/8" width x 1/4" depth. The Runners have a tongue for the groove 38" width and the runners overall width is 3/4" which snap into the cabinet frame with plastic / nylon studs moulded into the runner. Anyone know where I may source replacements?
I CAME ACROSS THIS SITE WHEN TRYING TO DATE THE SCHREIBER BEDROOM FURNITURE MY PAFRENTS BOUGHT MANY YEARS AGO, I HAVE JUST LISTED THE ITEMS FOR SALE ON EBAY. WHITE AND LIGHT WOOD DRESSING TABLE, COMBINATION WARDROBE, 5 DRAWER CHEST. I THINK THEY ARE 1970s ? IF ANYONE IS INTERESTED YOU ARE WELCOME TO CONTACT ME.