Vintage sun loungers and garden chairs
The sun is out. You've got your sunshades on and a transistor radio. What you need for the perfect summer afternoon in the garden is a sun lounger.
In the 1960s there were a few to choose from, but the Dutch-made 'Three-in-One' was popular. It could be a chair, a sun-lounger or a bed. You could use it as a spare bed or a camp bed if you wanted to.
Over a million of these were sold in the 1960s. In 1962 you could purchase one from the Anglo-Dutch Rubber & Trading Co Limited of 170 Deptford High Street, London SE8 for 65/- plus 3/- carriage. (read more about pounds, shillings and pence). By 1969 you could buy them for 47/6 from the House of Holland. The lounger cover came in three colours, blue, orange or green.
House of Holland
House of Holland was an outdoor leisure chain in the UK. In 1968 it had just four stores, all in London. By the end of the 1970s it had stores all over the country. The business went into receivership in 1986.
Mercury Traveller garden chair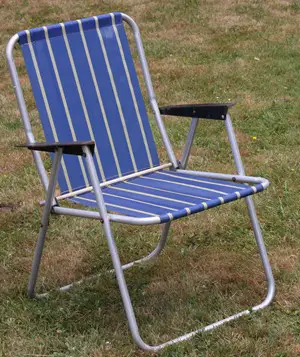 This garden chair by Mercury was introduced in 1962. It had an aluminium frame and was light and easy to carry. It was ideal to put in the boot of the family car for a picnic or to take on holiday to the beach. I remember the difference aluminium-framed chairs meant when you carried one back up a cliff path after a day on the beach.
The cover was nylon and lasted well.
These were expensive chairs in the 1960s. They cost £2 10s in 1963 or about £40 in 2022 money. You could get one with for 30/- with two Maxwell House coffee labels. (Read more about vintage coffee brands)
Mercury was a brand name of Antiference Limited based in Bicester Road, Aylesbury Bucks. The company was founded in 1938 and made aluminium tube products.
These are just a couple of examples, there are many more great vintage chairs and loungers you can find.
How much do vintage garden chairs and sun loungers cost?
Sun loungers
Vintage chairs and sun loungers go great with vintage VW Campers and Dormobiles, so there is a strong market for good original items in usable condition.
Expect to pay around £50 to £100 for vintage sun loungers in good condition. Vintage patterned fabrics will increase the value.
Expect to pay £100 to £200 for a pair of matching sun loungers in good order and a vintage pattern.
Damaged items with rusty frames are worth a lot less - in the £5 to £10 range.
Garden chairs
It is possible to find bargains in the £10 to £20 range. A matching pair of good quality garden chairs will cost £40 to £80.
eBay will give you the best choice, but bear in mind shipping will be expensive. You might get a better deal from a garage sale, charity shop or vintage fair.
Read more:
By Steven Braggs, July 2022
Add your comments
Comments
No comments yet. Be the first!