Secondhand Ercol furniture - buyer's guide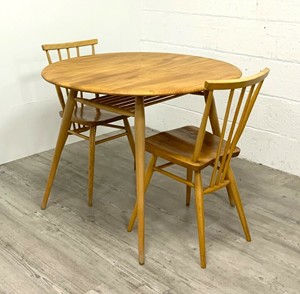 There is a strong market for secondhand Ercol furniture on eBay. I recommend eBay for anyone who wants to buy or sell Ercol. As a buyer you will get the widest choice and the best prices. As a seller you will get the best price.
Our estimated prices are based on achieved prices on eBay.
Ercol Windsor Chair
The Windsor Chair is the classic. It was the design that the brand was built on and the characteristic that is carried forward to the modern Ercol brand.
Pay from £50 to £100 for the classic Ercol Windsor Chair on eBay.
Sets of four or six chairs in excellent condition can cost up to £700. For that you get matching chairs and can expect them to be in excellent condition.
At the other end of the scale chairs in need or work can still be found for £10 to £20.
Ercol Fleur de Lys chairs are less well sought after. You should be able to pick up a set of four for around £50 and a set of six for under £100.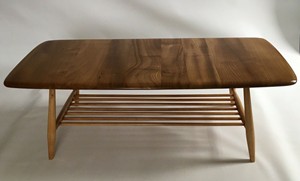 Coffee table
This is my favourite of the Ercol range. The coffee table has a lovely blend of modern design and craft tradition. It captures the spirit of Ercol design. The coffee table can be used on its own to create a retro look, or to complement other Ercol pieces.
Pay from £100 to £200 on eBay. Bargains can be had if you want to do some restoration work.
Dining table and chairs
Ercol is particularly suited to dining rooms. The classic family dining table from the 1960s was made in English elm. It is now impossible to get.
Expect to pay £500 to £1,000 for Ercol Windsor dining tables in good condition.
Also look for Ercol dining chairs separately on eBay.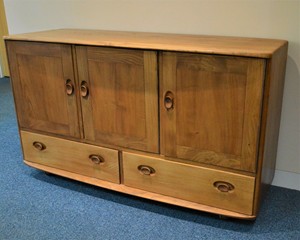 Ercol sideboard
To complete the dining room layout, add a vintage sideboard. The Ercol sideboard from the 1960s combined modern styling with traditional workmanship and materials. It is a well-made and practical piece, better suited to smaller rooms than some of the large Scandinavian style sideboards that were its contemporaries.
Pay from £200 to £500 for the classic Ercol sideboard.
Ercol daybed
The daybed is a very original design. It can be used as a sofa, or occasional bed. These are very popular today. Expect to pay £500 to £1500 for a good one.
Collection and delivery
If you are worried about transport, there are several couriers that specialise in furniture collection and delivery. If the seller doesn't offer a courier, you can usually arrange for one to pick the item up and deliver it to you. Always contact the seller first though.
By Steven Braggs, updated March 2022
Your comments
Comments
I have a tall Ercol bookcase I wish to sell as it's too big for the house I've downsized to. I think it's a Mural 3751 from the 1990s. It's the wood tone that's a bit darker than golden dawn, might have been called "traditional". It's in really good condition. I'd post a picture but I can't work out how to on this site.