Archie Shine furniture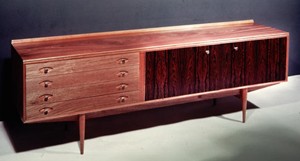 Archie Shine was a British furniture manufacturer which produced some high class Danish inspired designs in the late 50s and throughout the 60s.
Archie Shine pioneered the Scandinavian style in Britain in the late 50s. The Scandinavian, and particularly the Danish look, was simple, elegant and with long, low lines. It was always high quality craftsman made and well proportioned. Teak, afromosia and rosewood were the favourite woods. The Danish look became classic middle class good taste in the late 50s, usurping more traditional looking furniture and the lighter looking modern furniture favoured at the time of the Festival of Britain in 1951. The Danish look became much more mainstream and popular in the 60s.
Robert Heritage designed the famous Hamilton sideboard for Archie Shine. It was based on the classic Scandinavian, long, low lines. Robert Heritage won a Design Centre Award for this sideboard in 1958.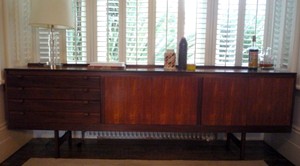 Archie Shine continued with this style of sideboard into the 60s. Their sideboards are typically large, long and low, in the Scandinavian style.
Robert Heritage's design career continued to develop in the 60s. He did lighting design for Rotaflex as well as working for Gordon Russell.
Buy Archie Shine furniture
Today the best place to find Archie Shine furniture is eBay. It was quality, expensive, furniture when it was new, but today it is still relatively well priced. Expect to pay £300 to £500 for an Archie Shine sideboard in good condition. Hamilton sideboards will be worth more, around the £1000 mark. Archie Shine dining room suites fetch £200 to £400. Although there are often bargains to be had on eBay.
Archie Shine furniture on eBay
Add your comments on Archie Shine
Comments
Archie Shine was an amazing character. He operated at 38-40 Upper Clapton Rd., E5, where my Dad also had a furniture factory, so as kids we used to see a lot of him. He was extremely flamboyant and also had a hair trigger temper, but also a short memory!
Back in those days Archie was the King. His veneer matching skills were what made his name. He had the talent to make wood come alive. He was also clearly a very astute businessman, who made a lot of money.
Back then people worked collaboratively and the local factories shared things. My Dad often helped Archie repair or mend machinery but he would never accept any money for helping, which drove Archie mad.
One day my Mum took us over to the works. Archie pounced. He bundled us into his beautiful blue Rolls and off we went for a drive around town. Chocolates, sweets and a massive bouquet for my very embarrassed Mum, which Archie bought in a florist while we waited on double yellow lines, for what seemed like an eternity.
Currently at V & A looking at Heals Staples archives which include full size drawings for Archie Shine pieces still being made in 1976 including Dorrington and Bridgford and also a few of Gazelle and Monte Christo ranges which I've not seen before. Notice that a couple of people on here have a Gazelle table and would love to see photos . Andrew Tavroges