Cats, Kitsch and the 1950s
Cats, Kitsch and the 1950s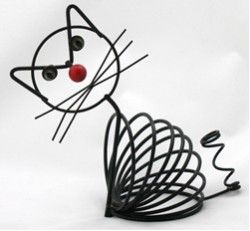 As people became more affluent in the 1950s, there was opportunity to spend money on frivolous things. Kitsch is the word for mass-produced 1950s' artifacts.
The cat was a popular motif in the 1950s. It reflected a love of the exotic in the form of everything Parisian. Think "black cats". They were popular for jewellery as well.
This 'Miss Kitty' letter rack was made by bending wire and spraying it black. Black wire and coloured balls were popular in many decorative items. It is a style that definitely says "1950s" as loud as a car with fins and lots of chrome. It was used in all things from magazine racks to flower pot holders. The style was known as 'cocktail cherry' or atomic. Think of a cherry on a cocktail stick or atomic models showing the protons and neutrons. Science influenced art and people saw nothing wrong with these symbols of progress.
The cat's tail forms a pen holder. It was a popular gift in this period.
Later models in brass-plated wire date from the 1960s.
Ceramic long necked cats and dogs were also popular. This Siamese cat is from the 1950s. Poodles were also popular as small china ornaments.
Where to buy?
The Siamese cat is quite common on eBay. These are still pretty inexpensive. Expect to pay from £5 to £20. Look for a good one with no chips or cracks.
1950s ceramic Siamese cats on eBay
The Miss Kitty letter rack is a bit rarer, but still comes up on eBay. It is worth waiting for one that is complete with no damage. Expect to pay £20 to £30.
Miss Kitty letter racks on eBay
Add your comments
Comments
No comments yet. Be the first!