Soda syphon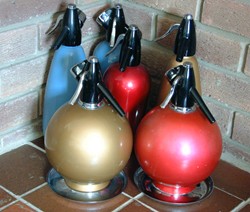 The retro style soda syphon (or soda siphon), once a symbol of kitsch and bad taste, is now the height of retro cool. The Sparklets Soda Syphon was a hit at 70s parties. However, its roots go back to the era of the Boer War.
The Sparklets Soda Syphon was originally used as a way of bringing sparkling or aerated water to hot climates at the far reaches of the British Empire. Invented in the 1890s, Sparklets bulbs were used during the Boer War.
Before the introduction of Sparklets bulbs, carbonated, or aerated water, as the Victorians preferred to call it, was a luxury product. It was expensive to make, and there was no way to do it yourself. The invention of the Sparklets bulb popularised it as soda water. The original device was called a 'Prana' Sparklet Syphon, and the Company stressed that it was as easy for a housemaid in Bayswater as for an orderly in South Africa to use the device.
In 1920 Sparklets Ltd was acquired by BOC, the British Oxygen Company. By the 1960s Sparklets specialised in diecast products for the domestic industry. Naturally the Sparklets Soda Syphons were a big part of the business, but Sparklets also made diecast parts for washing machines, hairdryers and vacuum cleaners, as well as for cars.
The Sparklets bulb method may not have changed much since the days of the Boer War, but the style of the syphon moved with the times. Three basic types were around in the 60s and 70s.
Streamline
The Streamline captured the classic lines of the traditional soda syphon. There is a hint of Art Deco in this 1940s style Streamline Syphon pictured right. The hammered finish was a feature of early versions of this design. Streamlines were also sprayed in familiar reds, golds, and blues. A chrome version with red or black stripes added a touch of glamour.

Hostmaster
The Sparklets Hostmaster is the soda syphon most people are familiar with. Its profile suggested up to the minute modernity in the 60s. Used as a prop in many 70s dramas ensured it became it became a symbol of 70s kitsch.
In the 70s, Sparklets gave the Hostmaster a new look with different patterns, circles and abstract shapes.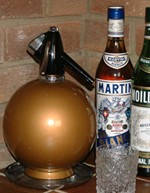 Globemaster
The Globemaster was the ultimate party soda syphon. It took two sparklets bulbs, so it would last twice as long without a refill.
The Globemaster was the most expensive soda syphon in the range. Its ball shape fitted in well with a modern house.
Party Seven?
The growth of sales of beer in party containers, such as the Watney's Party Seven, prompted a new use for the Sparklets bulb. It could now be used to produced draught beer on tap. The device was originally partnered with Davenports for their Drum Bitter, but was soon available from Watneys for the ubiquitous Party Seven.
More on Sparklets Soda Syphons
www.easyontheeye.net/soda/index.htm has a description of the Sparklets range.
Soda syphon bulbs
You can buy bulbs for Soda Syphons. These ISI, right, are available on Amazon.
See also
Your comments on retro soda syphons
"Where can I find cartridges for my HOSTMASTER ? I am living in Paris, France. Thanks" JF Bordier
You can buy Sparklets bulbs on eBay. However, I think the ISI bulbs will also fit the Sparklets soda syphons, including the Hostmaster. Perhaps someone can confirm. I haven't tried them myself as I bought the last bulbs when Sparklets was still around. Retrowow
"I have a globemaster which needs a new seal (to stop leaks of gas!) where o where do we buy one?" Chris Harris
"I have a few BOC syphons (circa 1960's), but I need the cartridge holders. Any idea where I can buy some to fit those bottles? I did buy some generic cartridges, but they did not fit. Thanks" mo
"I have purchased a streamline and it leaks from the handle, also the taste is not at all nice, or very fizzy? can you help please." p sheehan
"I am looking for a drip tray for my soda syphon globe master any idea where I could purchase one." Cathie Clarke
"Heb een aantal BOC spuitwatersysphons maar weet niet exact hoe ze werken. Heb het geprobeerd met de patroonhouder van de slagroomspuit. Past wel maar geeft maar heel even een 'sissend' geluid, maar doet verder niets. Kun je de patronen van een slagroomspuit (Tefal) ook gebruiken voor de BOC sisphons? De houder past dus wel. heeft iemand een afbeelding van een patoon/cilinderhouder van een BOC, serienr. SHUV?" Helen
Translation from Dutch to English (thanks to Google): BOC have a number spray water syphons but do not know exactly how they work. Have a go with the cartridge of the spray whipped cream. Fits but also gives a very 'hiss' sound, but does nothing. Can the patterns of spray whipped cream (Tefal) also use the BOC sisphons? The holder fits so well. someone has a picture of a Paton / cylinder holder of a BOC, serial. SHUV?
"Where can I buy seals for sparklet soda syphons Many thanks" Derek Bensted
" I have some old cartridges (about twenty or thirty years old) for my Globemaster and am wondering if they would be safe to use." Carol
Comments
A lot of people are asking about seals for Sparklets Syphon heads. These are usually O-rings. O-rings are readily and cheaply available in many sizes - eBay will have a lot of adverts. Measure the old one with calipers and order some as close to the original size as possible - slightly smaller is better than slightly larger if you have to chose.
Just to let the readership know we have just set up a new website to sell and recondition old Sparklets (and some other brands too) soda syphons back to working condition. We cover the range from the Type C's from the 1920's to the Aquarius in the 1980's. You can find us at www.AcquaSpumante.co.uk. We have also posted some instructional and information videos to help users on YouTube; search for "AcquaSpumante" here. Most of the syphons we we see for repair just need the seals changing in the neck and head and they are ready to go again. Robert