Retro luggage - the 60s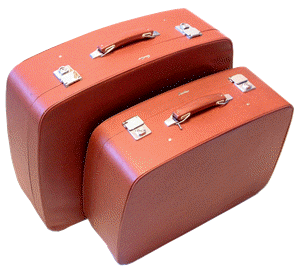 Luggage in the 50s and 60s took on an aura of glamour. The world of air travel was beginning to open up for large numbers of people. Even if they could not afford a holiday in the sun, at least their luggage could reflect the glamour of the jet set era.
The picture shows:
Spartan (2 green cases) - a cheap brand
Revelation travel bag (also green in front of the Spartan cases) - top brand
Revelation Rev-Robes (blue in centre of picture) - see below
Antler Airstream (red cases) - top brand
Fashionable cases in blue, unnamed brand - far right
Samsonite Silhouette
The pace setting suitcase from the 60s was the Samsonite Silhouette. Introduced in 1958, its streamlined shape was modelled on the needs of air travellers. Based around a magnesium frame, it was light and strong; it was an ideal suitcase for the jet age.
The shape of the Samsonite Silhouette set the trend for suitcase design in the sixties. Its curved, tapering silhouette, replacing the boxy look of the past, was much imitated. The recessed metal locks and simple handle were also copied by many other manufacturers. The owner of a Samsonite Silhouette was clearly a discerning traveller.
The Samsonite Silhouette was not cheap. A large suitcase (25 inches in length) cost £27 10s in 1967; that would be a staggering 345 in today's money.
In 1969, Samsonite introduced the world's first polypropylene case, the Saturn. The Saturn set the trend for hard plastic suitcases in the seventies and eighties.
Revelation Rev-Robe
Favoured by Ian Fleming's 007, who carried a battered pigskin Revelation suitcase everywhere, British maker Revelation produced this luxury gentleman's suitcase in the 60s - the Silverline Rev-Robe.
Complete with coat hangers, pockets, compartments and a detachable lid, it was a superb suitcase for the travelling businessman. There was also a ladies' version available too.
Revelation stressed the style of their suitcases in their advertising. This case was available through Green Shield Stamps. They rated it it "the finest in the land". Nevertheless the Samsonite, probably had more kudos.
Antler Airstream
Antler was another upmarket manufacturer of luggage in the 60s. Their Airstream model was clearly aimed at the newly flying public. The Airstream had a one piece moulded fibreglass lid and base, reinforced with stainless steel. The shape borrowed heavily from the Samsonite Silhouette. The Airstream suitcase was listed in the Council for Industrial Design's index.
Antler Airway
The Antler Airway was another design specifically for air travel, or to at least to give the impression that the owner travelled by air. The Airway was a vinyl suitcase with a soft top, but hard sides. Like the Airstream, it was selected for the Council for Industrial Design's index.
Add your comments
Comments
Good evening, I am head of design of LALELA Leathergoods. For our new collection we are doing research in the 50ies and 60ies. We want to create a travel bag (a weekender) inspired by travel bags of the 50ies and 60ies. So could you tell me how travel bags (not suitcases) looked ? Do you have pictures and fotos? All the best, Birgit Lagler