Pyrex glass ovenware
Pyrex glass ovenware has been essential kitchen equipment since the early twentieth century. It was first marketed in the UK just after the First World War and became a hit with many households. Top London stores Harrods and Selfridges proudly advertised Pyrex cookware. In the 50s Pyrex took on a fresh, new, modern look thanks to designers Milner Gray, Kenneth Lamble and John Cochrane. These designs had a timeless elegance that make them just as good today as they were in the 50s and 60s.
Pyrex was first marketed in 1915 by Corning Glass Works in the US. Corning developed it from glass used to make lamp bowls for the US railroad. The railroad needed the lamp bowls to be hard wearing and stand extremes of temperature. The formula was also ideal for glass cookware.
Corning used the trade mark 'Pyrex' to sell this new glassware to the domestic market. Pyrex bowls could withstand oven temperatures without cracking and made better use of heat, reducing cooking times and making sure of even cooking. In the UK Pyrex cookware was available from Harrods as early as 1919. The original advert from Harrods stressed that you could see the food in Pyrex bowls, making them more attractive to serve food in than old pots and pans. The original Pyrex range of bowls and oven glassware included Pyrex oval and round casserole dishes, Pyrex round baking dishes and pudding dishes, a Pyrex covered stew pot, Pyrex au gratin dishes and a flat Pyrex serving tray. The casserole dishes had ornate lids.
From 1923 the English glass maker James A Jobling of Sunderland started to make Pyrex under licence in the UK. Harrods stocked the full range of Pyrex ovenware made in the UK by J A Jobling. Harrods' 1923 offerings included Pyrex oblong utility dishes for roasting Yorkshire pudding, Pyrex casserole dishes, Pyrex round cake dishes, Pyrex tart dishes and Pyrex oval eared dishes for fish. There was also a Pyrex gift set for 30 shillings which included a range of Pyrex cookware products: casseroles, bread and cake dishes, round and oval Pyrex dishes and Pyrex ramekins.
By the 1920s, it was possible to get most of the Pyrex cookware you would expect to buy today. As well as the familiar Pyrex ovenware, J A Jobling also made Pyrex laboratory glass. Selfridges also sold Pyrex cookware and advertised Pyrex cooking demonstrations in the 1920s to customers, which were held in their china and glass department on the third floor.
Pyrex was such a novelty that it was advertised as a leading product in these top British department stores. In those days it was more often bought by the lady of the house for use by her servants. Its unbreakability was a key selling point.
Pyrex was also manufactured in Germany in the interwar years. William Wagenfeld studied design at the influential Bauhaus School of Design and in the early 30s he produced a range of new designs for Jenaer Glaswerk, which manufactured Pyrex in Germany. The designs were simple and elegant and a significant advance over what James A Jobling was producing in the UK. UK consumers had to wait another twenty years for more modern looking Pyrex cookware.
Pyrex glassware in the 50s and 60s
Like many companies J A Jobling continued with designs little changed from the pre-war days in the early years after the Second World War. However, in the early 50s they engaged Milner Gray and Kenneth Lamble of the Design Research Unit to revamp their range. Milner Gray help set up the Design Research Unit in the War years to produce Utility designs for the Government. After the War it became a design business.
Gray and Lamble's designs were simple and modern. They designed the very familiar Pyrex casserole dish with a flat lid for J A Jobling, as well as a range of Pyrex tableware.
Designer John Cochrane also worked for J A Jobling in the 50s. His designs included Pyrex oblong roasting dishes, and Pyrex round bowls.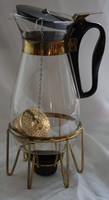 J A Jobling found other uses for Pyrex glass in the 50s. They introduced a range of fashionable tea and coffee making equipment. Drinking tea was a suburban ritual in the 50s. This elegant tea maker, right, has an infuser suspended on a chain. It dates from 1959.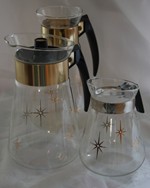 Coffee though, was the drink of the time, with coffee bars springing up all over Britain. Coffee became the drink of the young in the 1950s.
This Pyrex coffee set, left, would have been purchased by a young couple in the early sixties, for a fashionable modern home. The pattern has gold stars, which was a very fashionable look in the early sixties. This design represents a departure from the elegant, but functional, look of the Pyrex cookware. From the late 50s, glamour, as well as modern design was an important selling point.
In the 60s J A Jobling produced these patterned Pyrex casserole dishes. pictured right. They represented a departure from the clear cookware the Company had previously made. The casserole dish on the stand could be kept warn with a candle, or spirit burner underneath. The pattern illustrated on the right, comprising different vegetables, was known as 'Harvest'.
This design was also produced in other patterns. Left, Gaiety, comprising snowflakes.
Pyrex sold well in the 60s, but J A Jobling was keen to maintain its selling price. However, in 1965 J A Jobling announced that it would no longer enforce retail prices and that the retail price was a recommendation only. Supermarket chain Victor Value immediately cut prices of Pyrex cookware by fifty percent.

Pyrex in the 70s
For the 70s Pyrex produced these attractive tumblers with a coloured plastic base and handle. There was a brief fashion for this type of glassware in the 70s. There were cheaper imitations as well as this Pyrex classic.
JAJ Pyrex
Although, Pyrex sold well in the 60s and 70s, its profits were dependent upon raw material costs. In 1973, J A Jobling's parent, the Thomas Tilling Group, sold its majority share to the original US makers of Pyrex, Corning Glass Works. Pyrex in the UK had come full circle back into US ownership. For collectors a clue to the date of UK Pyrex glassware is the presence or absence of the letters JAJ of James A Jobling.
Older Pyrex is often referred to as JAJ Pyrex by collectors.
For 1974, Pyrex marketed Stack'n'Store jars with cream or milk chocolate coloured plastic lids. They sold for £1.78 for two one litre jars with different coloured lids. Pyrex cookware continued to sell well in the 70s and 80s.
Pyrex today
Pyrex still makes its classic range of glass cookware. The casserole dishes are of similar design to the clear glass designs produced since the 50s. There is now an improved grip on the handles. For more on modern Pyrex designs see www.pyrex.com.
Reference and further reading
Miller's Collecting the 60s by Madeleine Marsh (published 1999 Octopus)
Miller's Collecting the 70s by Katherine Higgins (published 2001 Octopus)
Design in British Industry, a Mid-century Survey by Michael Farr (published 1955 Cambridge)
Designers in Britain edited by Herbert Spencer (published 1957 André Deutsch)
Pyrex collectors's resources
Check out
Your comments about Pyrex
"Where can I buy a measuring jug, the one with the one pint and two pint lines in red on the glass?" Thomas Harvey
Hi Thomas, You can buy the 2 pint (1 litre) Pyrex Classic measuring jug at Debenhams and John Lewis. Although, the Pyrex Classic measuring jug holds 2 pints, the graduations only go up to 1.5 pints. The lettering is in red. A 1 pint (0.5 litre) Pyrex measuring jug is also available. Retrowow
"I wish to obtain pyrex oval casserole with lid size - 21cms/8 1/4" long can you advise me where they may be obtained - thanks for your assistance."
"Also trying to obtain pyrex oblong serving plate - any pattern " Judith E Berry
Hi Judith, We have found Debenhams and Robert Dyas both sell Pyrex. Retrowow
"Pyrex in Europe today is manufactured under license by ARC International and in North America by World Kitchen. The trademark Pyrex is still owned by Corning." sb
"I was wondering if you could send me some information about your fox hunt set. I have over 100 pieces and was wondering what the value of it and when it was discontinued. I have seen several pieces on the ebay website that I am going to purchase from other people to add further to my collection many thanks. I love all of your sets they are just lovely" SARAH DUFFIN
Hi Sarah, Thank you for your very kind comments. I usually find the best way to value something is to look at eBay completed listings for similar items that have sold. You should be able to build up a feel for how much your Pyrex Fox Hunt set is worth, from what other pieces sell for. Retrowow
"Where can I get a 12oz glass round casserole?" Pauline Munckton
"Where can I obtain a Pyrex tumbler to replace a breakage. (as shown in picture above in Plastic coloured base). I need one for an Old Hall stainless steel base and handle." J Bankes
eBay would probably be your best bet. You might find one in an antique market, boot sale or charity shop. They were quite common in the 70s, but are not made now. Retrowow
"Looking for a clear glass lid for a 2.5L round baking dish. Dish decorated with symbols of raw vegetables. Can you help???" Connie Myers
"We have a Red Pyrex Cassorole about 8 inches across and about 2.5 inches deep that is red in color with a matching red flat lid. It was given to my Mother-in-law for a wedding present in the early 50's. We are wondering if it is still made and what it might be worth today." Robert Beebe
Hi Robert, I don't think it is still made today. Value would probably be around £10, but have a look on eBay to see what similar pieces sell for. Retrowow
"I love the Pyrex pie plates, especially the 10" size. I have two of them and I have been looking for some years for more. I am unable to find them. Can you tell me where to purchase them." Diane Harvey
"I'm desperate to replace my Pyrex 2 litre measuring jug that my dear husband managed to smash on our tiled kitchen floor the other week. It was in the current style of measuring jug - the open bottom handle type, red lettering. I've looked on the official pyrex website for the UK, but it is not shown there, so i'm assuming it's been discontinued. Also looked on Ebay. I must have had mine for a good 8 years. So useful as a mixing bowl. Can you help please ?" Carol Kastner
Hi Carol, Pyrex don't seem to do a 2 litre jug. There are plenty of 1 litre ones on eBay. If they did on in the past the best hope is to wait for one to come up on eBay. You can save a search for Pyrex 2 litre jug. Retrowow
"Hi.. I recently acquired the following Pyrex items: Gravy Boat and Dish, 2 x 7 inch casseroles with lids, 4 side plates, 5 salad plates and 5 dinner plates all in the same solid 'gold/beige' colour. I cant find this colour anywhere. I've tried ebay, Google, your site and others.. also the lids do not look like the rounded flat lids, rather an inch deep with a flat top. Just wondered if you had any more info on this style please. All pieces are stamped with the Pyrex stamp. Thanks for your help." E Wright
Hi, Usually, if it is an old design eBay is the best place. You might need patience to wait for the right design to come up. If is not on eBay it must be pretty rare. That makes finding it in a shop even more difficult. Retrowow
"just bought a jaj glassware dining set blue with white vine leaves pattern gold edge could anyone help with an approximate valuation please thanks" emma keenan
I don't know the actual pattern. JaJ Pryrex sets tend to go for £20 to £30 on eBay. Retrowow
"Could you please tell me if my Harvest pattern casserole dish which was bought as wedding present in the 1960's, is safe to go in the microwave & dishwasher. Many thanks" Anne Garside
Pyrex made in the 60s was designed with oven use in mind, however, it was probably not designed for use in microwaves or dishwashers. I'd say the risk of damage is probably low, but I wouldn't risk it if it has sentimental value. Retrowow
"There is a flickr group called Pyrex Love and another called Pyrex in Action where you can find many pics of Pyrex designs, both UK and US." Tonya
"Hi! I wonder if you could possibly help me, I have a few Pyrex JAJ dishes/bowls which I am trying to identify, as well as trying to find out about the pattern, I am trying to find out if the numbers on the bottom mean anything? Casserole dish, white inside, green outside with blue star flower pattern in a square, then in relief in a circle. Base has no. 9 an a series of dots. Also has 505 on it. Grey mixing bowl with white inside. Has no. 3 and 3 lines of 2 vertical dots Red mixing bowl with leaves and fruit in white. Has a 1 and a series of dots and a 2 and a series of dots. I would appreciate any help you could give with my query. Many Thanks and kind regards" Lorna
"Hello, I would very much like to know if its possible to get a pyrex paella dish, I would so very much like to own one, : would be grateful for any help, thanks in advance. regards LIZ." Elizabeth Dolphin

"I am looking for a oval glass pirex dish, that fits into a stainless steel chaffing dish 9 x 13 1/2 2 to 3 inches deep" Don Paone 01/05/2010
"I have purchased a pyrex casserole with lid oval in shape. It is clear glass with red design. What era is this from and where can I find more?" Shirley Pagel 11/05/2010
"Where stocks the greatest variety of pyrex dishes. I can only find places that sell odd items." Pam Mellor 25/05/2010
"Hi my father managed to break my mum's half pint pyrex measuring jug, where can i get a replacement with a full handle not open ended as mum has arthritis in her hands and feels more comfy with a full handle. Thanks sue davies" sue davies 20/08/2010
"i have some baby glass bottles still boxed and teats inside r they colectable" ninnylee 30/09/2010
"I'm trying to source a 10fl oz/half pint measuring jug. I've only managed to get an
8 fl oz/half american pint so far.
it would hold aroung 300ml not 250ml so a quarter of a litre would be too small." Raymond Armstrong 12/12/2010
"Can you please tell me if it is safe to use Pyrex glassware made in the 1950s in a microwave ?
Thanks." Mariette Paes 17/02/2011
"i am looking to buy pyrex glass oblong dishes 12inx18in 3indeep 36 in total any one with info
larry" larry keenan 05/08/2011
"Today in Oxford I purchased three Pyrex nesting mixing bowls for £3 at a car boot sale. I felt like I stole them. They are pastel: pale yellow, pale pink, pale turquoise with no outer patterns. After getting them clean, the mark on the bottom is printed backwards and there appears to be an elongated, 3 prong crown with the PYREX cupping the crown, all letters backwards. I still have £3 worth of usable bowls but do I have a collectable or a fake?
Thank you" Donna Youngs 06/11/2011
"Need 3 quart, round glass pyrex casserole to fit into my silver chaffing dish. Can't find one ANYWHERE in the 3 quart ROUND size.
Any help is greatly appreciated.

Marlene 11/28/2011" Marlene Stanley 28/11/2011
"where is the nearest store that I can purchase pyrex dishes and bowls I live in portavogie county down N.I.post code BT22 1DY." george mcmurray 07/12/2011
"I have two salad bowls with JaJ UK on the base. They hold one and a half litres of water. I am wondering if they are dishwasher safe and heat proof? I have looked on Ebay and see nothing like them. What value may they be please?" Fay d'Arcy 09/02/2012
"Where can I get another one pint oval glass casserole dish? My cat broke my very last one, and I use them all the time. They are extremely useful for microwaving asparagus, long beans, tenderstem broccoli, fish etc. I can't find any anywhere, and it's my favourite item of cookware. The only oval casseroles |I can find are much too big." C Lancelyn Green 04/05/2012
"I have what I think is a lid, marked 726 on one handle and pyrex on the other handle (scalloped), on the inside of the flat face is raised ' oven use only', and a turkey leg motif.....I have been in touch with 'worldkitchens.com', they could not identify it either, maybe it is a European design?" Diane Schneider 06/07/2013
"Hi, I have a clear glass Pyrex rolling pin with red plastic end seals. The glass has no mark. The end seals have moulded PYREX (upper case) beneath a single large "J". There's no other mark such as crown etc. Any advice as to date, please?" Carol Stevens 15/04/2014
"Hi Carol,
I would guess that the J stands for Jobling, dating it to before 1973. More than likely it dates from the 50s or 60s. Best regards" Steven 15/04/2014
"Hello
I am wondering if you could please share the history of Pyrex that is clear glass and in a silver serving tray. I recently found one, that I believe is a meat tray. The clear glass tray has four feet and fits nicely into a silver (plate? oxidized?) serving tray. I am so excited to use it the next time we grill!
Thanks so much,
Lori" Lori 26/06/2014
"Hello, I have 3 Pyrex turquoise Snowflake saucers. They have the JAJ Crown logo but with backward lettering?

Someone above said the same but I'm wondering if these are a manufacturing defect/mistake hence rare?" Chris Wilson 27/05/2015
"Update.
Apparently the reverse lettering is consistent with the Sunderland JAJ (James A Joblings, Sunderland) Pyrex made under licence." Chris Wilson 29/05/2015
"I have the triangular Sunflower Pyrex dishes with no lids. Do you know who can supply they? If so at what cost?" R Holdman 29/06/2015
"Hi there
Just wondering if you could help me identify a back stamp of done early British heat resistant glass
It's stamp is a shield with three love hearts within the shield, there's also a crown sat upon the top of the Sheild and marked Made in England. I could send you a photo if that would help
Regards
Chris" Chris 24/10/2015
"Hi, I have just bought a Pyrex casserole dish in the black snowflake Gaiety pattern, and the PYREX lettering on the base is backwards...a Collector from America is keen to buy it from me,but I am unsure what to charge, is this very rare and what sort of value does it have ?
Would really appreciate any information on this one.
Thankyou. Jo x" Jo Nibbs 14/06/2016
"I have found a shallow JAJ Made i England dish in my cupboard.Is it microwaveable?
Thankyou." Edmund 16/10/2016
"I have an oval Pyrex casserole dish with lid which sits inside a white metal holder. some years ago the identical holder only was on an Antique Road Trip and was said to be WMF. Did Pyrex do this type of thing? The dish and holder were inherited from my grandfather, his birth date was 1892." Phyllis McColm 07/01/2017
"I have a cream and gold glass tea set bought by my parents around 1930 it comprises of 5 cups and and sauces tea plates large plate cream and sugar. It is a joblings of Sunderland product, how much is it worth than you Doreen" Doreen Hall 08/07/2018
"I have come into possession of quite a sizeable quantity of pyrex bakeware that was given out to customers by Mobil Oil. It is called Pyrex by Corning Non-Stick, made in Sunderland, and is clear glass coated inside with black silverstone. I have searched online but cannot find any reference to pyrex ever having made that range. Perhaps you could help?" Madelaine 18/11/2020
"Are you aware if lead was used in the decoration of JAJ Pyrex, such as the black on white Gaiety design that we have, which was bought in the early 60s.
If so, is it a problem. Thanks." Carol Wilson 12/01/2021