Players No 6 collectables
Player's No 6 collectables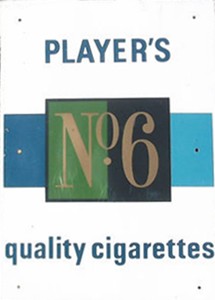 Player's No 6, is now all but forgotten, but in the 70s it was Britain's most popular cigarette. It appeared from nowhere to gain that title in 1965 and was stubbed out equally quickly by changes in tax law at the end of the 70s.
To sustain that popularity, Player's produced a huge amount of marketing material around the Player's No 6 brand. The biggest thrust of the marketing was around magazine and newspaper advertising. Coupons which could be exchanged for free gifts also played a significant part in the popularity of No 6.
No 6 branded merchandise included:
Magazine and newspaper adverts
Metal advertising signs
Coupons and catalogues
No 6 Beer mats
Playing cards
Decanters
Cuff links
From a collector's point of view, these items represent a particular period in time. Like the Ford Cortina, Player's No 6 represented working class aspirations from the mid 60s to the late 70s. It was a cheap brand, but nonetheless associated with a trusted name in the tobacco industry.
As views about smoking have changed since the 70s, smoking related collectables have had reduced appeal. However, No 6 was such an iconic symbol of the 70 and there is sufficient distance between it and the current controversy over smoking to make a rise in the value of No 6 collectables likely.
Player's No 6 metal signs
Painted and enamelled signs were used outside newsagents and tobacconists for many years proclaiming the names of popular brands of cigarette. Everyone has heard of the 'Player's Please' campaign. However, for the cheap brands these signs were often the only form of advertising. Wills relied almost exclusively on signage to sell Woodbines from the 20s to the 50s.
Although No 6 was backed by a huge magazine and newspaper campaign throughout its life, these signs were heavily used to promote the brand in the 60s and 70s. Many a corner shop would display a No 6 metal sign.
The sign on this page (above) dates from the 60s. It uses the green and black background to 'No. 6' as seen on older packs.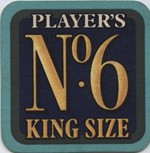 Pub related advertising
Back in the 70s smoking in pubs was common. Cigarettes were sold by landlords, either over the counter or from vending machines. Pubs promoted tobacco brands on beer mats and ashtrays.
The beer mat, left, is from the late 70s after tax rules made King Size cigarettes better value.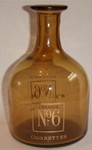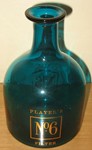 Also look out for Player's No 6 decanters. They were made in a blue/green or brown glass reflecting the colour chosen for No 6 Filter and Plain packaging. They were more likely given away in exchange for cigarette coupons.
Coupons and catalogues
Like Embassy, collecting cigarette coupons was an important part of the marketing strategy for Player's No 6. The gift catalogues provide an insight into products people bought in the 70s. They are great to thumb through to see how things have changed.
Magazine advertisements
Player's promoted No 6 heavily in newspapers and magazines. The original advertisements explained the coupon scheme. The popularity of the brand was then promoted as 'Part of the British Scene'. Finally a selection of surrealistic images explained that No 6 Regular was joined by No 6 King Size. You see No 6 packets on the front of trains, on a rainbow, on two hot-rod vintage cars, on playing cards, in bottles washed up on a beach, brush painted on a wall, on balloons, on headphones and as space ships.
Resources
Look for Players No6 advertisements on eBay
Also Players No6 collectables on eBay
Look for
Also
Your comments on Player's No 6 collectables