Kleeware boat cruet 1950s
Kleeware boat cruet 1950s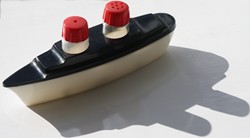 This novelty cruet set was made by Kleeware. It is in the style of an ocean liner with two funnels. The inspiration is the Art Deco era. It was, however, made after the Second World War.
Kleeware Limited was started in 1938 by Max Kleeman. The company started making combs and ashtrays under the brand name Kabroloid. In the Second World War Kleeware made combs and radio parts for the military. After the war the company returned to making plastic products for the civilian market. They also changed the brand name to Kleeware. [1]
The new range included construction kits for model cars and boats, dolls and doll's house furniture, and a toy building kit called Kleeware Littletown. One of the most collectable items today is the magnificent Kleeware Crusaders' Castle.
They also made sunglasses and household items, including this ocean liner cruet set.
The cruet set came in several colour variations. It could also be supplied to a hotel or guest house with their business name on it.
Today these are quite rare, but their value is only about £10.
References
[1] 'The Kleeware Story' by Harry Kleeman published in the Plastiquarian, No. 9, winter 1991
By Steven Braggs, March 2021
Add your comments
Comments
No comments yet. Be the first!