1970s fridge magnets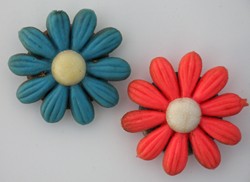 1970s fridge magnets? Was there such a thing?
Fridge magnets are so ubiquitous. Surely they have always been around? Actually, no. They were not common in the UK in 1970. There were magnets and there were fridges. Some people may have worked out that you could stick a note to your fridge with a magnet.
The earliest commercial example I could find in the UK was an advert for '100 magnets' for 10 shillings. Wagonhouse of 480 Holloway Road, London offered one hundred individual rubber-coated magnets for sale. They were handy to hold up notes on metal cabinets or refrigerator doors. They could also be used to make pictures and patterns. [1]
Wagonhouse sold innovative novelties through the small ads in newspapers. In April of the same year they advertised the 'Super Snooper Scope'. It was a 50x magnification miniature telescope. It folded down into a small cylinder, the size and shape of a fountain pen, complete with the pocket clip. It was great for star gazing, bird watching or just plain spying on your neighbour! It was yours for just 25 shillings (£1.25). [2]
In the USA fridge magnets started in the 1960s. They were called memo holders. They were usually plastic fruits with a magnet on the back. They were usually sold in packs of ten and usually made in Japan. The earliest example I have seen so far was dated 1967.
Fridge magnets were more common in the USA in the 1970s. Some websites claim that William Zimmerman patented the fridge magnet. He didn't. But according to Faine Greenwood he did get the first contract to make Disney fridge magnets. He also sold his own 'Magic Magnets' in the USA.
In 1971, in the UK, Boots the Chemist offered something closer to a real fridge magnet. They were magnetic memo holders. Each magnet was topped with a plastic flower, fruit or vegetable. They were designed for sticking memos to a fridge or cooker. They cost 15p a pack. [3]
I remember my Aunty Molly having these early fridge magnets (above) in the 1970s. They might be the Boots ones. She stuck them on her boiler and claimed it was 'flower power'. She used the fridge magnets, as we do today, not as memo holders, but purely for their decorative value.
For the next example in the UK I found an advert for Citroen 2CV or VW Beetle badges in wood in 1985. They were wooden cuts outs of the front or side view of the cars. Lark Rise Crafts of Millington, Pocklington, York offered them as key rings or fridge magnets in red, blue or green. [4]
The original fridge magnets had a purpose. The idea of collecting them for their own sake began for Louise J Greenfarb in the 1970s. She was the world record holder for the largest collection of fridge magnets and became known as 'The Magnet Lady'. Her last recorded total was over 70,000.
For most, the craze for fridge magnets did not begin until the 1990s. By then they were bought for their own sake - not to hold up memos, but just for decoration or holiday memories.
References
[1] The Times 23 May 1970 page 5
[2] The Times 11 April 1970 page 4
[3] 'Counterpoint' in The Times 13 August 1971 page 9
[4] The Guardian 16 November 1985, page 18
Add your comments
Comments
No comments yet. Be the first!