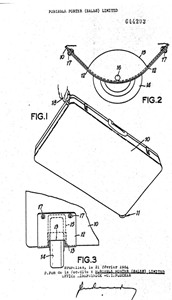 The first suitcases with wheels
The first suitcases with wheels
What was the first suitcase with wheels?
Theophilus Hokkanen filed the first patent for a suitcase with wheels in 1921. However, the first commercial suitcase with wheels was the Portable Porter Rol-y-case launched in the UK in 1963.
What about Bernard Sadow?
Bernard Sadow's design for the US Luggage Corp for a suitcase with four castors went on sale in the USA in 1970. It was probably the first commercially successful design.
Who invented the first suitcase with retractable wheels?
Helga Helene Foge and Hans Thomas Thomsen patented a design for a suitcase with retractable wheels in 1972. It was manufactured by Cavelet in Denmark.
Who invented the cabin bag with wheels?
Airline pilot, Robert Plath, fixed two wheels to the bottom of a small suitcase and attached retractable handle to the top. He called it the 'Rollaboard' - Roll Aboard. He patented the design in 1989 and was selling these bags through a company called Travelpro in 1992.
Suitcases with wheels - the whole story
Today suitcases have wheels, and engineers and inventors are developing evermore sophisticated designs. But have you ever wondered who invented the first suitcase with wheels and when we first started to use them?
The consensus on the internet is that the wheeled suitcase was invented by Bernard Sadow in 1970. Joe Sharkey, writing in the New York Times in 2010, describes Bernard Sadow's 'Eureka moment' when he saw a worker pulling a heavy machine on a wheeled skid.[1]
It is likely that Bernard Sadow did have a completely independent idea for wheeled luggage, and he was the first person to have a large scale commercial success with wheeled luggage. However, he did not invent the wheeled suitcase, and nor was his company the first to market a wheeled suitcase.
The internet's second answer to the question of whom invented the first suitcase with wheels is Anita Willets Burnham, who invented the rolling case in 1928. According to her book 'Around the World on a Penny', she took her family on two round the world adventures on a shoestring. She also had the idea of a suitcase with wheels. For her it was all about saving costs on tipping porters. An article on the Winnetka Historical Society website describes how she persuaded her son, Bud, to fix two wheels from an old pram and a retractable handle to her trunk in 1928. [2]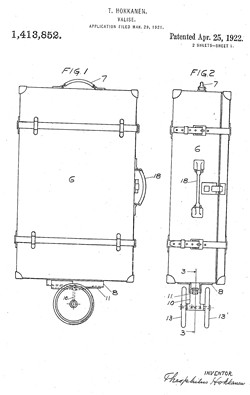 Anita Willets Burnham never marketed or patented her idea. However, there is a patent which describes suitcases with wheels which predates her idea. Theophilus Hokkanen, who described himself as a Finnish citizen living in Manhatten, filed a patent for a suitcase with two wheels fixed centrally to the bottom of the case on 29 March 1921. He described: "... valises of that type commonly known as suitcases, hand bag, etc. and its primary object resides in the provision of receptacles of this character conveyable on wheels so that it will not be necessary to carry them."[3]
The idea was further developed by John B Pinheiro from Oakland California. In 1929 he patented a collapsible wheeled support for a suitcase. In the patent he described a device with two wheels that could be folded up when not in use. The device could either be manufactured as a separate product or as part of the suitcase. [4]
So both wheeled suitcases and suitcases with retractable wheels had been patented before 1930 more than forty years before Bernard Sadow's invention. However, I have found no evidence that these cases were sold commercially or whether prototypes were even made.
Rolling luggage - timeline
1921 - Theophilus Hokkanen patents a suitcase with wheels
1928 - Anita Willets Burnham fixed wheels and a handle to a trunk.
1929 - John B Pinheiro patents a suitcase with collapsible wheels
1963 - Portable Porter Rol-y-case launched in UK
1970 - US Luggage Corp (Bernard Sadow) suitcase with 4 castors goes on sale in USA
1972 - Cavalet suitcase with retractable wheels patented
1974 - Samsonite suitcase with wheels at corner patented
1980s - suitcases with wheels become popular
1989 - Robert Plath patented the Travelpro Rollaboard, the first rolling cabin suitcase
2004 - Samsonite Sahora 4 Wheel Spinner is the first 'Spinner'
2017 - Néit collapsible suitcase launched
So was Bernard Sadow the first person to market a suitcase with wheels?
In December 1949, Miss Christine Evans, an American Airlines stewardess, visited Bloomingdale's luggage department on the sixth floor of their New York store to demonstrate a new device to customers. Not a suitcase with wheels, but a kit comprising wheels and a handle that you could attach to your own case to give it mobility. The kit had two small wheels which attached to one corner of the case. The device was manufactured by MacArthur Products Inc, of Indian Orchard, Massachusetts, USA and was called the 'Portable Porter'.
This though, was not quite a suitcase with wheels, but the Portable Porter allowed you to make a DIY case with wheels.
In the UK a company called Portable Porter Limited, I do not think that there is a connection, also made a set of wheels that you could fix to a suitcase. The company, based in Surbiton, England, also made luggage trolleys, had the expertise to make a usable rolling case.
In 1963 they took the concept one stage further and made a suitcase with wheels, the Portable Porter Rol-y-case. It had wheels mounted at one bottom corner and a handle near the top on the opposite corner. You lifted one corner of the case off the floor and pulled it along by the handle. The company filed German, Belgian and Dutch patents for it in 1963. The Times correspondent, writing in 1965, thought the case would appeal mainly to women buyers. [5]
The Rol-y-case cost 4 guineas (or £4.20), which was very cheap for the time. A Samsonite case would have cost more than £25. The Rol-y-case was still on sale in 1968, but did not make a serious impact in the luggage market. Portable Porter concentrated on luggage trolleys, which it was still selling at the end of the 1970s.
Bernard Sadow, an employee of the US Luggage Corp was the first person to design a rolling suitcase that would sell in large number. Sadow told Corey Kilgannon of the New York Times in 2000 that the buyer at Macy's originally rejected his idea, but his boss thought it was great. Macy's began selling Sadow's suitcase, the US Citation Roll-away, in the winter of 1970. [6]
Sadow's suitcase had four casters mounted underneath and was pulled along with a strap. It sat on the ground in a horizontal orientation. Pulling it along was like taking a dog for a walk. Macy's buyer thought people would not like the idea of towing a suitcase around like this. There was a feeling that pulling a suitcase rather than carrying would not appeal to men and Macy's adverts always showed women pulling the suitcase along.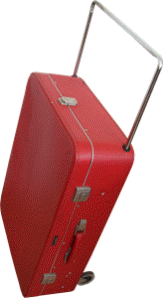 Sadow's design inspired other manufacturers in the luggage industry to want to catch-up and in the 1970s a number of new designs appeared.
The problem of what to do with the wheels when the suitcase was not being pulling along led to some ingenious solutions. Danish luggage maker, Cavalet, used a design with retractable wheels which was patented by Helga Helene Foge and Hans Thomas Thomsen in 1972. The Cavalet suitcase also had a retractable handle on one side and was pulled along in an upright, rather than a lengthwise orientation. In that way it looked more like a modern design. With the wheels and handle retracted it looked a contemporary suitcase.
Delsey also followed this principle in 1975 when it introduced a moulded plastic case with a recessed area for the wheels to fold into.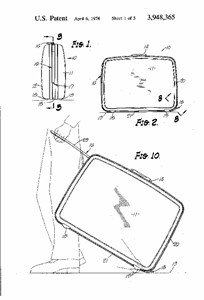 Samsonite, then considered the world's leader in luggage design, patented their first wheeled suitcase in 1974. Samsonite's design with small wheels at the back and pulled by a strap at the front, set the standard for wheeled cases for the rest of the decade and for the 1980s.
Rolling suitcases did not make all other cases obsolete overnight. It took at least another ten years before the idea really took hold. The buyer at Macy's who rejected Sadow's case may have had a point.
Suitcases with wheels were still a novelty in 1977. Elderly reader Alice Bragg, aged 75, explained to The Times that her large rolling suitcase, pulled along with something similar to a dog lead, always drew attention on train and underground platforms.
In Britain, 'Which?' the Consumer's Association magazine reviewed suitcases in 1974 and did not choose a single wheeled case to review, although there were several on the market by then. Argos only added wheeled suitcases to their range in 1978.
'Which?' kept pace with changing consumer taste and produced a special report on wheeled luggage in 1978. The report covered not only suitcases with wheels, but some alternatives such as collapsible trolleys and wheels that could be attached to standard suitcases, including a trolley made by Portable Porter. They reviewed seven different wheeled suitcases from Cavalet, Samsonite, Antler, Spartanite, Constellation and British Home Stores. Only the Cavalet, the most expensive case costing cost £52, or £272 in today's money, stood up to their tests, but they found it fell over if you let go of the handle. [7]
Rolling suitcases on sale in 1978 were:
Paul Stephens* Cavalet - £52
Antler Airstream World Tourer - £49
Samsonite Saturn 2 Pullman - £37
Spartanite Jumbo - £34
Japinda Constellation - £27
British Home Stores Pova - £15 [7]
*UK distributor for Cavalet
Suitcases with wheels became more popular and by the mid-1980s they were the norm rather than a novelty. Cases in the 1980s followed the Samsonite model of two small wheels at the back towed by a handle on the front of the case. Today suitcases are oriented differently. They are upright when pulled along and have recently been joined by a four-wheeled model known as the Spinner.
Two further innovations brought us to the modern wheeled suitcase, and carry-on bag. The first came from a man outside the luggage industry, but well acquainted with the travel business. Airline pilot, Robert Plath, wanted to save himself lugging a heavy case and wanted a suitcase that could be carried on board the aeroplane. He fixed two wheels to the bottom of a small suitcase and attached retractable handle to the top. It was similar to the Cavalet case, but much smaller. He designed it specifically as cabin and not check-in luggage. He called the case the 'Rollaboard'- Roll Aboard. He patented the design in 1989 and was selling these bags through a company called Travelpro in 1992. [1], [8]
The Rollaboard type case is one of the most common types of carry-on bags in use today. The other is the 'Spinner' with four wheels on the bottom. The jury is still out as to which type will win. The Spinner came along in 2004 when Samsonite, launched a new case, the Sahora 4 Wheels Spinner. [9]
The look of what we carry when we travel has changed a lot from the first commercial wheeled case in the 1960s. New designs are introduced each year and it is likely that luggage will continue to evolve. The latest development in luggage technology is the collapsible suitcase by Néit, which is a spinner case that can fold completely flat. Its design makes it ideal for storage when not in use, and it does not take up much space in your hotel room. S
[1] Sharkey, Joe (2010), Reinventing the Suitcase by Adding the Wheel, The New York Times, (4 October 2010), accessed via http://www.nytimes.com/2010/10/05/business/05road.html
[2] Before Her Time: Anita Willets-Burnham's Rolling Suitcase - http://www.winnetkahistory.org/gazette/before-her-time-anita-willets-burnhams-rolling-suitcase/
[3] Valise US patent US1413852A, retrieved from https://patents.google.com/patent/US1413852A
[4] Collapsible wheeled support for suitcases or like receptacles US patent US1808864A, retrieved from https://patents.google.com/patent/US1808864A
[5] The Look of Luggage, The Times, (17 May 1965, page 15)
[6] Kilgannon, Corey (2000), From Suitcases on Wheels to Tear Free Onion Slicers, The New York Times, (6 August 2000, page WE1)
[7] Luggage on Wheels, Which?, (July 1978, page 424)
[8] US Patent US4995487A, filed 8 August 1989
[9] Suitcase Shopper: Brand-New Bag, The Wall Street Journal, (3 December 2004).
Article by Steven Braggs, April 2017, revised March 2018
Your comments
Alfred Krupa (1915-1989) invented and used the first modern wheeled suitcase as we know and use it today, the one which we can see on all airports. The wheeled suitcase of Krupa (1954) is almost identical to the one of Sadow (1970). - Alfred Freddy Krupa MFA 19/2/2020
Comments
Alfred Krupa (1915-1989) invented and used the first modern wheeled suitcase as we know and use it today, the one which we can see on all airports. The wheeled suitcase of Krupa (1954) is almost identical to the one of Sadow (1970). https://interestingengineering.com/who-actually-invented-the-wheeled-suitcase