Midwinter pottery in the 50s
Midwinter pioneered modern design in mass market ceramics from the 1950s to the 1970s. Under the leadership of Roy Midwinter, the firm brought the style of West Coast America to the UK. Roy Midwinter was not formally schooled in design, but had an eye for where the market was going and which new shapes the public would take to. He steered the firm's output from the organic shapes of the 1950s, through cylindrical modernism of the early 1960s and the flower power motifs of the late 60s, to the mother earth naturalism of the early 1970s.
Midwinter was founded by Roy's father, William Robertson (W R) Midwinter, in 1910. The firm's original output comprised teapots and less than glamorous sanitary ware. Business went well and by the the 1930s Midwinter was making tableware, including some Art Deco style tea services. However, other firms were showing the lead in terms of design.
Roy Midwinter served an apprenticeship with W R Midwinter learning all aspects of the business. On a sales trip to Canada in 1952 he was disappointed at buyers' reactions to the company's products. He discovered that a new style was selling well in North America and was keen to find out more. On a trip to the West Coast of the USA he looked at work by Eva Zeisel and Russell Wright which epitomised the new organic flowing shapes of mid century modern good taste.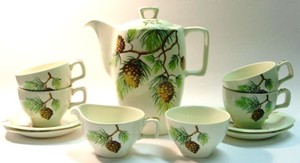 He adapted their ideas for the UK market. Whilst the US taste favoured rimless or coupe plates and bowls, UK buyers still wanted a rim on their tableware. So the first new range, Stylecraft (1953), still had rims, but brought in more fluid forms and a distinctive 1950s' TV screen shape for plates and saucers.
Midwinter launched Stylecraft at a very exciting time for British design. Rationing and Utility were coming to an end, and the public had a taste for new design fuelled by the very successful Festival of Britain Exhibition in 1951. In other fields 1953 was also a turning point. G-Plan furniture launched in that year and new bright and colourful textiles and wallpapers became available. Contemporary ceramics needed to fit in with contemporary taste in the home. Stylecraft was perfect. Midwinter took a lead in the market for contemporary ceramics leaving other manufacturers to copy and play catch up.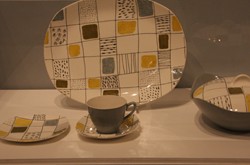 Midwinter needed to stay ahead and produced a huge number of new designs. Roy Midwinter encouraged design talent both from within and outside the firm to keep his products one step ahead of competitors. In-house designer Jessie Tait put her name to over thirty new patterns in the 1950s. Midwinter's external designers included Terence Conran, who produced a design showing his famous three-legged plant pot holder and several other contemporary patterns, ornithologist and artist Peter Scott, and Hugh Casson, whose Riviera/Cannes design became one of Midwinter's longest runs .
As well as having a keen eye for modern design, Roy Midwinter also had an eye for how to market products. G-Plan had done away with traditional suites, selling one piece at at time. Midwinter introduced starter sets, which freed customers from having to buy a whole dinner or tea service in one purchase. They could add to the set they had originally bought with some confidence that the design would not disappear from the shops after a few months.
In 1955 Roy Midwinter upgraded his Stylecraft shape with a new design called Fashion. Whilst Stylecraft was a little cautious, Fashion was full blown 1950s' organic shape. Fashion remained in production for many years, carrying many designs from cutting edge contemporary to more conservative floral patterns.
Always alert to new developments, Roy Midwinter pioneered an innovative plastic range of tableware called Midwinter Modern. In the 1950s there was a fear in the potteries that traditional ceramic ware might be replaced by Melamine.
By the end of the 50s, Roy Midwinter thought the organic forms of Fashion and Stylecraft were looking a bit like last year's fashion and in the 1960s introduced a new range based on the cylinder. The Fashion shape continued though, but appealed to more conservative buyers wanting to be modern, but not too cutting edge.
1950s ranges
These are Midwinter's contemporary ranges of tableware from the 50s
1953 - Stylecraft
1955 - Fashion
1956 - Saladware
1958 - Modern (Melamine tableware)
How to tell Stylecraft from Fashion


Plates, saucers and dishes
Fashion was a development of Stylecraft. The plates, saucers, cups and dishes are similar. Look out for a rim on the plates, saucers and dishes on Stylecraft. Fashion is rimless; the technical term is coupe.
Compare the Stylecraft plate with a rim (right), with the coupe Fashion plate (far right).


Coffee and tea pots
Stylecraft tea and coffee pots have a more traditional look and are much less flowing and organic than Fashion. Compare the Cannes coffee pot, (far left) in the Fashion shape with the Wild Geese coffee pot (left), in the Stylecraft shape.
Popular patterns
Midwinter produced a huge range of patterns in the 50s and 60s on the basic Stylecraft and Fashion shapes. Some were by well-known designers and many by in-house designer, Jessie Tait. These are some of the most popular today.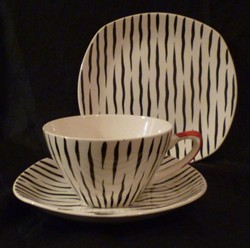 Zambesi by Jessie Tait (1956) on Fashion
The black and white striped Zambesi pattern with red detail was a contemporary trend in the 1950s. Stripes are also seen on Albert Hallam's strange shaped vases and dishes for Beswick (1954) and much copied elsewhere. It was among the first Midwinter patterns to become collectable.
Values
Zambesi achieves good prices on eBay and there seems to be a good market for it.
Zambesi Coffee Pot - £100 to £125
Zambesi Tea Pot - £100 to £160
Sets or collections - £100+
Plate, cup and saucer - £20 to £30
Gravy boat, complete with spoon - £60 to £90
Large serving dish - £50
Cruet set - £50
Single large plate - £10 to £20
Single small plate - £7 to £10
Look for: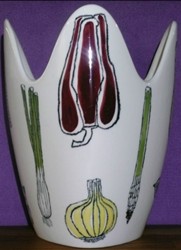 Midwinter Saladware 1956 by Terence Conran and Roy Midwinter
Roy Midwinter worked with Terence Conran to produce Saladware. It was a range of dishes, bowls, plates, cups, saucers, teapots and salad dishes decorated with informal style drawings of vegetables. The most exciting piece is the celery vase (right).
This range show's Conran's early thinking. It might very well have been on the shelves of Habitat a few years later. It appealed to people happy to venture further afield for holidays and bring back a more relaxed lifestyle. The vegetables illustrated: red pepper, marrow, gherkin, cress, tomato, sweet corn, radish, garlic clove, mushroom, spring onion, artichoke and carrot would not look out of place in a modern kitchen. This must have been advanced taste in 1950s Britain.
Values
Saladware Celery Vase - £50 to £100
Set of six plates or bowls - £50 to £75
Single small plate - £15
Look for :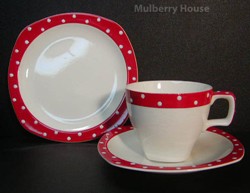 Midwinter Domino (1953) by Jessie Tait
Domino is a delightful polka dot pattern on the Stylecraft shape. One of the earliest Stylecraft patterns, it was very much in vogue in the early 1950s.
Domino is usually red and white, but blue and green versions also exist. A black version is very rare.
Values
Trio (cup saucer and plate) - £20 to £30
Tea pot - £20
Set of six plates - £20 to £30
Cake stand - £40 to £70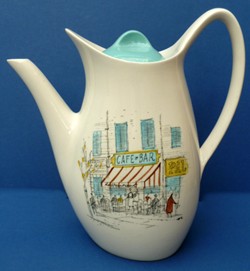 Midwinter Riviera (1954) and Cannes (1960) by Hugh Casson
These are my favourite Midwinter designs. They bring back memories of holidays in France. It shows French café bars and harbour scenes.
Riviera was drawn by the architect and artist, Hugh Casson. Hugh Casson was a significant architect who had a passion for drawing. He was director of architecture at the Festival of Britain, but also enjoyed working on sketches and water colours. It was his sketches of the Coronation route that drew his attention to Roy Midwinter.
His drawings for Riviera were and adapted to the Stylecraft shape by Jessie Tait. Riviera became Cannes in 1960 when the design was applied to the fashion shape. Cannes/Riviera was one of the longest running Midwinter designs with a production run that lasted to the 1970s.
Values
Trio (cup saucer and plate) - £10 to £25
Tea pot or coffee pot - £50
Set including tea or coffee pot- £75
Single plate - £5 to £12
Look for: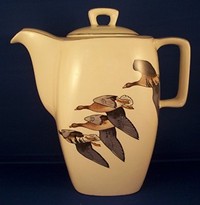 Wild Geese (1955) by Peter Scott
Wild Geese features a picture of three geese in flight. It captures the mood of Autumn evenings. Wild Geese was drawn by Peter Scott, better known for founding the Severn Wildfowl Trust at Slimbridge in 1946 (now the Wildfowl and Wetlands Trust). It was made for the Stylecraft shape.
Wild Geese is a relative bargain, perhaps because of the naturalistic subject.
Values
Trio (cup saucer and plate) - £5
Tea pot or coffee pot - £30 to £50
Set including tea or coffee pot- £60
Single plate - £2 to £5
Look for:
By Steven Braggs, February 2013
Your comments
Comments
Hi,
I would like to get an evaluation on the Fashion Shape Rosta range
2 x small sever plates 6-66, 12-64
1 x big server plate 7-64
4 x dish bowls with lids 2-66, 3-66, 1-65(x2)
8 x coffee cups (1 chipped)
13 x coffee saucers 12-65(x2) 3-66(x4) 2-66(x4) 4-66(x1) 6-66(x1) 1 unmarked
6 x tea cups
5 x tea saucers not marked
1 x coffee pot with lid 1-68
2 x tea pots with lid 5-66, 1 x unmarked
1 x milk jug not marked
1 x sauce jug 1-65
2 x small black bowls (sugar) 1-66, 1 x not marked
22 x side plates 2-66(x1) 6-64(x2) 3-66(x2) 1-66(x3)11-64(x5) 4-66(9)
15 x small plates (for fish I pressume) 11-64,4-66, 12-64,3-66,7-86, 10-64(x4) 7-66(x6)
10 x dinner plates 11-64(x1) 5-66(x4) 7-64(x5)
17 x Pudding bowls 4-64(x1) 3-66(x1) 11-64(x5) 4-66(x10)
13 x soup bowls 10-64(x1) 7-66(x6) (3 chipped) 11-64(x6)
3 x salad bowls 5-66(x2) 7-64(x1)
Inhereted from my grandmother
I HAVE A CONTEMPORARY STYLE DINNER SERVICE BLUE BAND GOLD STARS A WEDDING GIFT GIVEN TO MY MOTHER AND FATHER MID 1950s 1 LARGE SERVING PLATE 6 DINNER PLATES 6 SMALL PLATES 6 BOWLS A BIT OF DAMAGE AND A GRAVY BOAT CAN FIND NO INFO OR PICTURES OF THIS DESIGN ANY IDEA OF VALUE HAVING A CLEAR OUT AS I LOST THEM BOTH LAST YEAR