Ronson Varaflame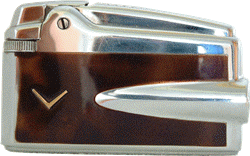 The Ronson Varaflame, introduced in 1957, set new standards in lighter design. There was more than hint of jet age styling to this lighter. The Ronson Varaflame VF500, above, cost 82/6 in 1960, around £60 in today's money.
The Ronson Varaflame was filled up from a single Butron multi-fill, which cost 3/6. It lasted a whole year. The Varaflame also boasted an adjustable flame.

A number of Ronson patents protected the design of the Varaflame, but it did not stop other manufacturers copying it. In the early 60s, Ronson had to take legal action to defend its patent against Japanese copies of the Varaflame. A 1962 ruling saw that Ichikawa Sangyo, Aiwa Kaguku, Toho Sangyo and Toyo Aerosol Kogyo agreed to stop production of lighters that infringed Ronson's patent.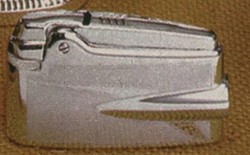 Ronson Varaflame Premier
The Ronson Varaflame Premier was also launched in 1957. A similar model is available from Ronson today. The modern Ronson Varaflame Premier is available in three versions: there is a chrome model with a gold V, very similar to the 1950s original; there is a version that can be customised with a monogram; and a 50th anniversary gold model.
For more on the modern Ronson Varaflame Premier, visit www.ronson.com.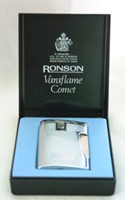 Ronson Varaflame Comet
In 1965 Ronson introduced the Varaflame Comet. The Comet was a light weight lighter made in plastic and available in a number of different colours. This model, left, was made in the 70s, it is a chrome version of the original design.
The Ronson Varaflame Comet also still available. It is retailed as the 'Super Comet' and available in brushed chrome or black finishes.
Buy Ronson Varaflame
There is a good market for Ronson Varaflame lighters on eBay. Prices vary from £10 or £20 to up to £100 depending on condition and whether the lighter is working or not.
Also look out for Ronson spares on eBay.
Your comments on the Ronson Varaflame
"I just purchased an old Ronson Veraflame Premier and I'm having some problems with not getting any gas flow. I've tried using another lighter to ignite the flame and no go. I have cleaned the gas jet as well. Any suggestions would be very helpful. Thanks! " Phil
"Hi. Do you know of anywhere I can purchase the burners, valves and valve replacement tools for the varaflames. Just cant seem to locate any. Your help would be much appreciated. Thanks. Carl." Carl T
"Where can I find the screw and spring combination that holds the flint for my chrome Varaflame? Thanks" Peter McGlone
"Hello I wonder if you know anywhere that I can purchase the filler valves for the varaflame Thanks Richard" Richard Davies
"Can you please advise me where I can purchase flame and filler valves and fitting tool in order to service Ronson Varaflame Lighter With thanks, D. Foster." Dennis Foster
"Hi,as with another customer ,where can I purchase inlet and burner valves for my ronson varaflames? thanks." garry sives
"i have the ronsom varaflame premier and i take out the parts to clean and now i have problem to put them back , can you help me please with any way ?? please answer me , i am from cyprus and if you want i can send it to you to fix me please" antonis fotiou
"hi love your lighters got one from my mother years ago belonged to my dead dad sadly im having a few probs with it could you tell me if its possible to get the tools to try and fix it also have another 2 i got on ebay but having the same problem with them thanks" frank holden
"Salts of Coventry are a Ronson service centre, they will do a complete overhaul including any new parts and post it back to you for about 24. Their phone number is 02476-223475." Steve Harris
"i own a vara-flame lighter like the one above but with tight lines running through the body i wouldnt mind knowing how old or age bracket i can put the lighter in please help many thanks Andy" Andrew Gregory
"I tore a wall out in my basement and found two Ronson lighters. One is a Varaflame and the other is a Varaflame premier. The premier is in very good condition the other needs a litTle TLC, not sure how long they were there but believe it or not one actually still had gas in it but the flint stick is missing. Does anyone know of a place that services these kind of lighters?" Larry Champion
"How to get flints to my very old ronson" harald solen
"i purchased a new unused ronson varaflame from a collectors shop in wolverhampton with emblem land rover i was lead to believe this lighter was given to a leaving member of staff my problem is i cannot get it to work i have inserted flint with much difficulty but now wheel will not strike flint" e doherty
"i would like to know if i can get it fixed" alan sinise
" I have a Ronson varaflame Premier Mk II 57019. Since I wish to sell it can you kindly let me know the market value? Than you in advance for your kind reply" Manlio Ferrarini
Hi Manlio, Ronson Varaflames go on eBay for £20 to £50. More depends on condition than specific models. Retrowow.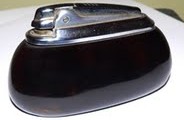 "Hi, i have a Ronson Varaflame Jupiter. It is a table lighter, the top is chrome like any Varaflame and the botton is a big black rounded kind of bakelite. Can not find any information on the web for this model, never seen one for sale on ebay. Can you give me information on this model, are they worth something? Thanks" pierre durocher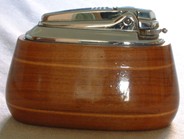 Hi Pierre, I've not come across this model before. However, the top looks very similar to a wooden table lighter Ronson made in the 60s. They produced a variety of table lighters in different designs. Some are rarer than others. Perhaps someone else can shed any light. Retrowow
"I would like to get an idea of what my lighter is worth. It is 'Varaflame Bell' fashioned by Ronson and made in the USA. I think it needs a flint." lynne haupt
Hi Lynne, I've not come across this particular model. Have a look on eBay for something similar. If you are an eBay member, you can search completed listings. Retrowow
"As with some another customer I do need inlet and burner valves for some of my Ronson Varaflames. Can you please let me know where can I purchase these items? Regards " Gianni Rocco
"hi,have got a ronson varaflame,chome diacut with unused engraving plate.vf-216.open to best offer. (njbthebatch@hotmail.co.uk)" nick
Comments
I have just spent days looking about for burner valve parts/repair items , and found on ebay user seehecht.2008 , he has all the o-rings and tools for getting the RONSON burner valve and filler valve going again , there are a few others but i purchased from seehecht and a very nice guy to work with (he has been doing it for years btw) , cheers .
Attention those with ignition buttons that won't move: Your lighter's flint has absorbed moisture, and swollen up inside the brass flint tube. The best way to remove the flint is to remove the flint wheel and related assembly, then carefully drill straight down through the flint. Sometimes you'll get lucky, and the flint will easily pop loose. Otherwise, slowly drill through the flint, taking care not to gouge the inside of the soft brass flint tube. It may be better to turn the drill bit by hand while holding it with a pair of locking pliers (vise grips). That way you have more control, and will be less likely to damage the tube. The brass tube may also have been split by the flint swelling up. If it has, you'll most likely need a new flint tube.