50s Radio - Bush MB60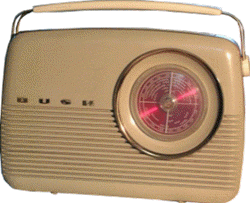 The MB60 was a portable radio from the late 50s. Its smooth, cream plastic case and iconic large dial made it an evocative design from the Rock'n'Roll era. This radio is still available today in reproduction form.
Bush had the knack of making radio and television sets that later became design icons. Their DAC 90 design from the late forties was on show at the Britain Can Make It Exhibition at London's Olympia. It later went on to grace many an early fifties kitchen table.
David Ogle designed the MB60. He later designed cars, including the Ogle SX1000 coup based on the BMC Mini. He was tragically killed driving one of his own converted Minis in 1962.
The MB60 was a portable valve radio. Although transistorised sets were available long before its launch in 1957, they were less popular in the UK. This radio was triumph of packaging over technology; it used miniature valves and could run off two batteries, one to power the filaments of the valves and a high tension (90v) battery.
Bush later transistorised this set and reissued it as TR82, which is the model still sold today. However, the new version adds VHF (or FM). Bush also released an FM version in 1961, the VTR103.
Vintage Bush radios on eBay
Your comments on the Bush MB60
"hi my mother in law ha found the bush mb60 in her loft is it worth anything" steve
Hi Steve, In good condition, no cracks chips etc and working they usually sell for between £20 and £40. Tatty, non working models will be worth a lot less. Retrowow
"Hi, I have an MB60 in A1 mint condition with Original power lead, I was quite suprized to see that thay only bring up to £40 as you dont see many about, Can you Please tell me how long thay made the MB60 for, from 1957 to ???? Thanks Sincerely Ian." Ian
Hi Ian, There are still quite a few of them about. If you go to RetroTechUK you will see a few for sale. Sorry I don't know when they stopped making them. It is often difficult to tell when something was not made. I guess the later transistor models replaced it in the early 60s, but I don't know for sure. Retrowow